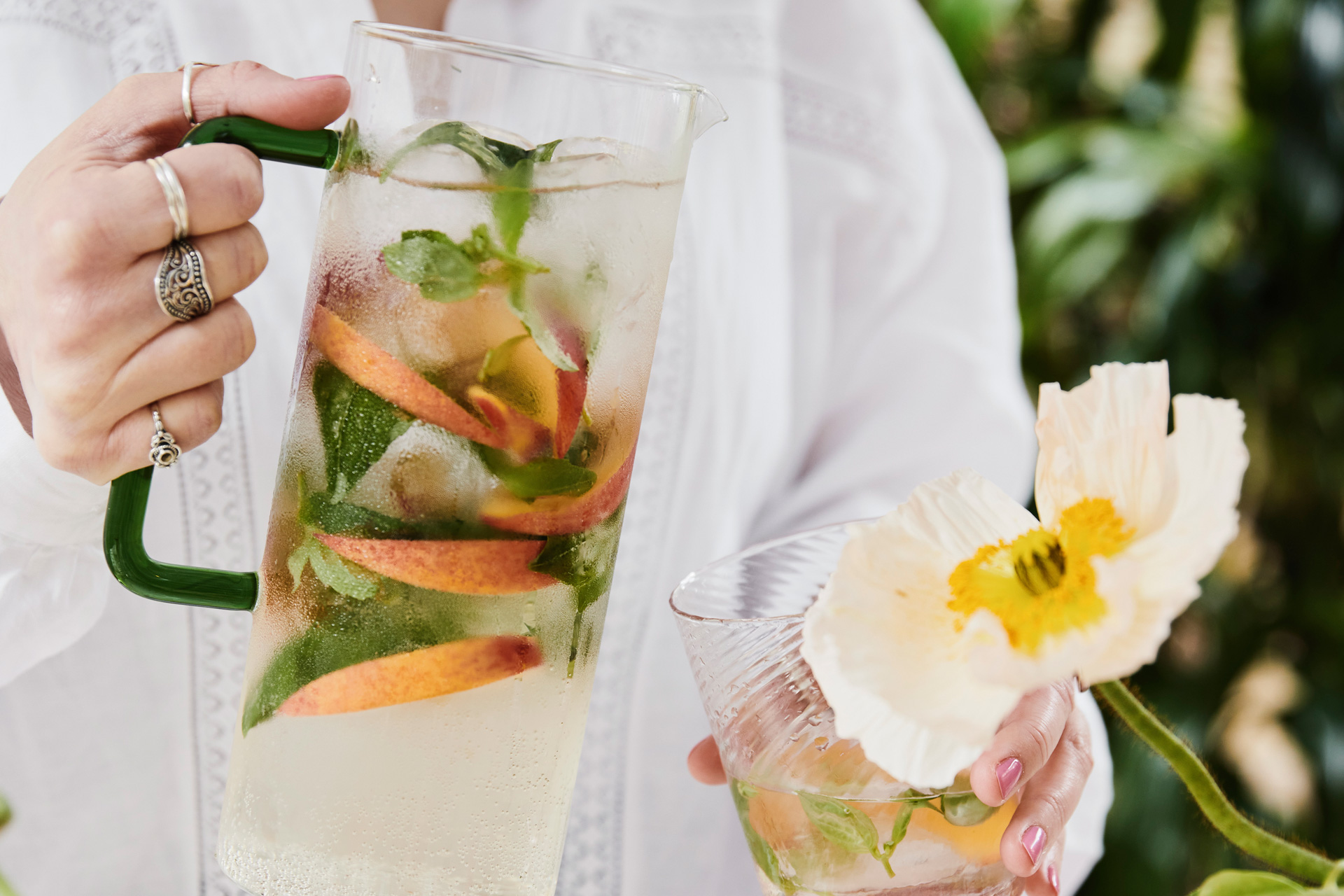 5 Coronation Cocktail Recipes
Royally approved tipples
Planning some coronation festivities for the Bank Holiday weekend? Get into the royal spirit by mixing up one of these special coronation cocktail recipes. From a shimmering gold negroni to a union jack-topped julep, these tipples are perfect for toasting to King Charles III.
5 Coronation Cocktail Recipes
PIMM's Coronation Spritz
Ingredients:
50ml PIMM's

2 teaspoons of strawberry jam

Juice of half a lemon (15ml)

Soda water

1 strawberry, peach slices and basil leaves to garnish
Method:
Add all the ingredients (except soda water) to a wine glass and stir vigorously. Fill with ice and top with soda water. Garnish with a strawberry, peach slices and basil leaves. 1.5 units per serve.
Recipe from PIMM's No.1 Cup Coronation Edition
CAMPARI Royal Negroni Sbagliato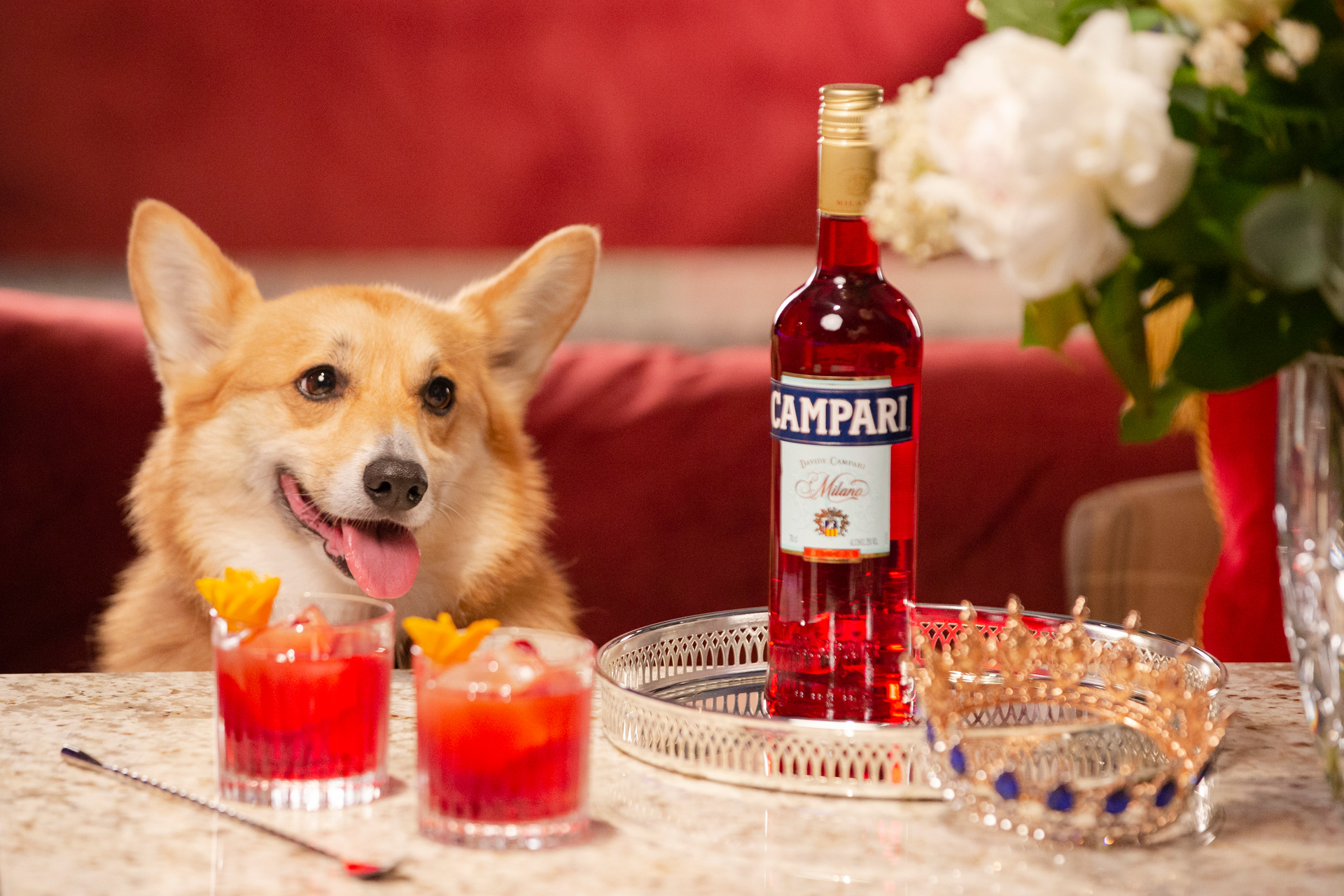 The three-ingredient cocktail, which rose to fame late last year, has a rich history dating back to 1972 at Bar Basso in Milano. Inspired by the classic Negroni Sbagliato, the CAMPARI Royal Negroni Sbagliato is elevated by substituting Prosecco for Champagne. The cocktail boasts a perfect 50/50 balance of sweet and dry vermouth alongside a touch of gold shimmer, honouring the Royal Coronation and the King himself.
Ingredients:
30ml CAMPARI

15ml 1757 Vermouth di Torino G.I. Rosso

15ml 1757 Vermouth di Torino G.I. Extra Dry

75ml Champagne Lallier R.018

Edible Gold Shimmer Powder
Method:
Stir the CAMPARI and two vermouths over ice and strain into a Champagne flute.

Top with 75ml of ice-cold Champagne and serve with a touch of gold shimmer.
Recipe from CAMPARI
Sweet Vermouth & Basil Spritz
Ingredients:
1 big bunch basil (washed & dried) 

2 'nearly ripe' peaches/nectarines 

300ml sweet white vermouth 

200ml soda water 

200ml prosecco 

Ice
Method: 
Remove the stone from your peaches & slice into thin wedges, add 1/3 to a jug with a few sprigs of basil and muddle. 

Add the sweet vermouth & mix together until just combined. 

Add ice & the remaining peach slices & basil leaves in layers to create an attractive cocktail. 

Finally, pour over the prosecco and soda water & use a long spoon to stir to combine. 

Pour into glasses filled with ice and garnished with a basil sprig & peach wedge.
Recipe from Sarah Turner, Head of Development at Social Pantry
Rhubarb Royale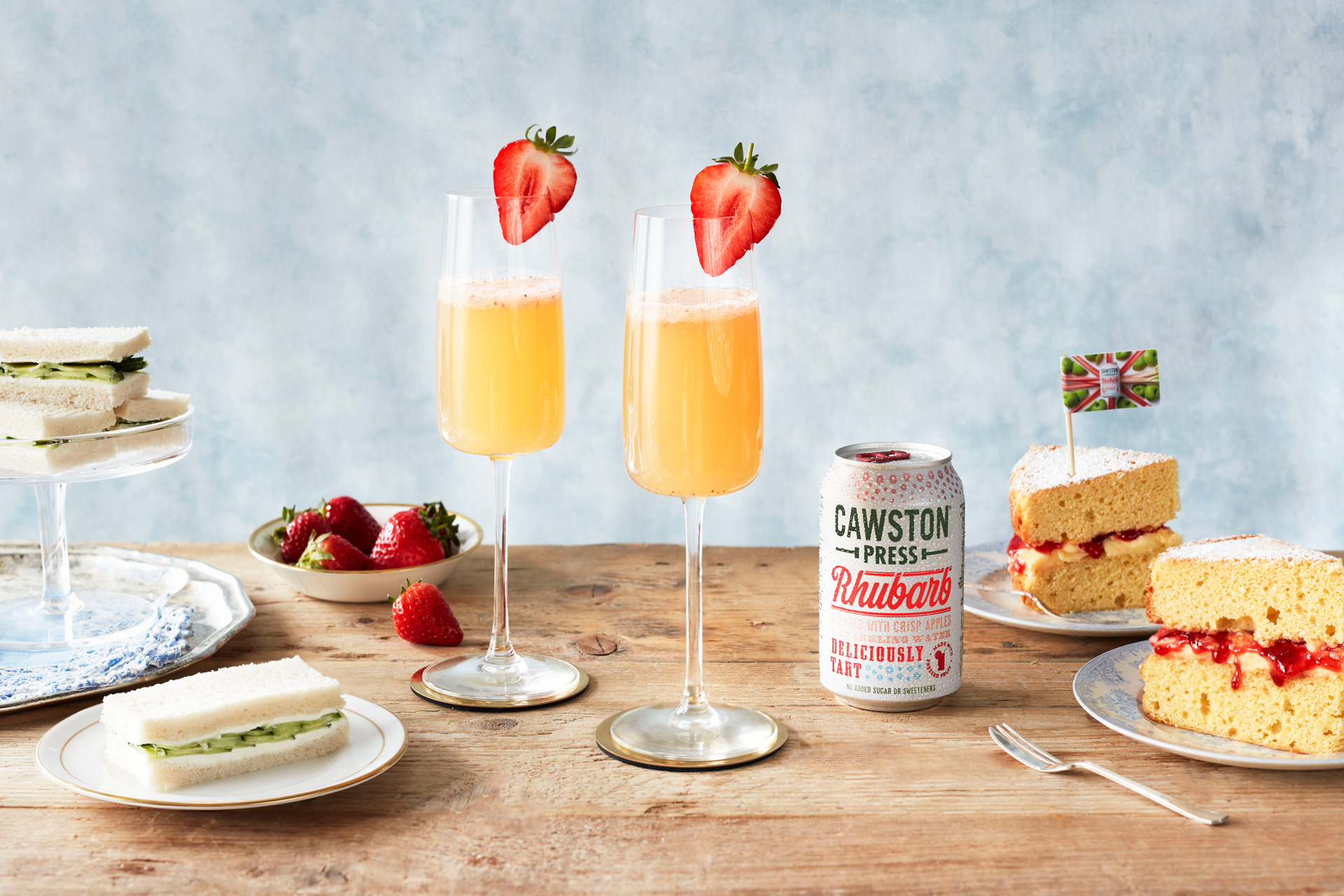 Ingredients:
7.5ml / 11⁄2 TSP Strawberry puree*

60ml Cawston Press Sparkling Rhubarb, chilled

40ml Sparkling wine, (ideally english), chilled
Method:
Simply pour all your ingredients into a champagne flute, give a quick stir and garnish with a slice of strawberry. 
*To make a simple strawberry puree, blitz fresh or frozen (defrosted) 100g of strawberries with 1 tsp of sugar, then sieve. We also recommend using a splash of strawberry liqueur in place of the puree.
Recipe from Cawston Press
Union Jack Julep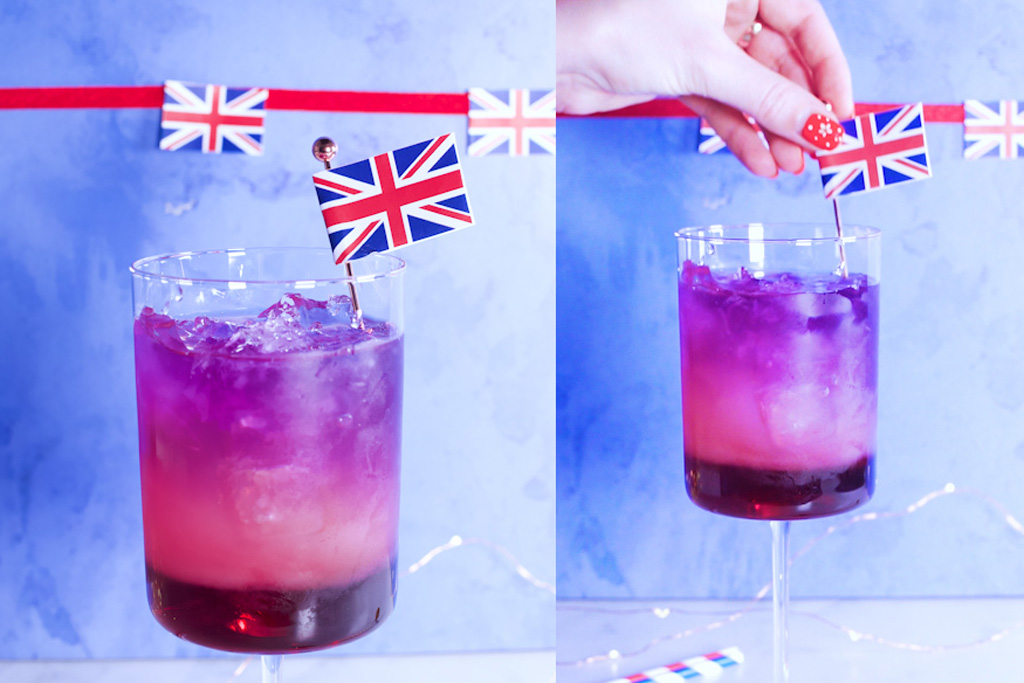 The visually stunning three-tone effect in this cocktail is created using crushed ice and different coloured tipples. At the bottom, there is grenadine, a pomegranate syrup that has a luscious red colour and a beautiful mix of sweet and tart flavours. The white middle portion of the cocktail is made with almond orgeat syrup and fresh lime juice. Last but definitely not least is the layer of bright blue butterfly pea gin.
Ingredients:
15ml orgeat (almond) syrup*

30ml lime juice

60ml butterfly pea flower-infused gin
Method:
Using a chilled Collins or highball (tall cocktail) glass, pour in the grenadine and let it settle at the bottom of the glass.

Next, carefully fill your glass with crushed ice.

Add in the orgeat syrup by carefully pouring it over the crushed ice.

Repeat this step with the lime juice and the butterfly pea flower-infused gin.

Top with a British flag (optional) and serve!
*Orgeat is an almond syrup you can easily buy online. Alternatively, it's easy to make your own. Simply add 100g of ground almonds to 300ml of Simple Syrup (equal parts sugar and water, stirred until the sugar dissolves and you have a smooth syrup.) Leave the mixture to rest for at least two hours, then strain twice: first through a sieve, and then through a coffee filter or muslin. The syrup will keep for two weeks in the fridge.
Recipe from the Craft Gin Club