Kick start your health plan for 2017. We bring you 10 of the top places to visit in London for the healthy food and drinks scene… 
(First published 5 Sep 2016)
Ignore the Instagram scene and go for the food – it's delicious and healthy. Standout dishes are the 'holy kale salad', the 'spicy immunity' raw cold pressed juice, and the 'chai spiced maca' smoothie. Everything on offer is organic, vegan and gluten, dairy and refined sugar free. But more importantly, it's actually good.
The trio of acai bowls are increasingly popular, but from time to time you do have to wait a bit for them. If you can get a seat on a Saturday, good on you – it's heaving  and rightly so. They also make the best matcha lattes in London (bold claim I know) made with homemade cashew milk. Smoothie rating 9/10. Address: 398 King's Road, London, SW10 0LJ 0207 351 2230.
With three locations in London, The Good Life Eateries are taking over London's foodie scene. For breakfast, you can't beat the paleo chestnut and almond waffles with Coyo, mashed banana and raspberry jam – they're reasonably priced and delicious.
Weekend lunches can get pretty rammed but you can still squeeze in. Order one of the warm bowls or superfood salads for a hit of nutrition and goodness. The best time to go is a weekday morning or tea time. The much Instagrammed juices are pretty delicious, and the mylks are exceedingly indulgent and rich. It's popular for a reason after all. Smoothie rating 6/10. Address: 20 Motcomb Street, London SW1X 8LB UK, other locations in Chelsea and Marylebone. 
The chia seed pudding here is so delicious it's hard to believe it's healthy. Their raw chocolates and 'cheezecakes' are as good as they look. An interesting selection of juices and mylks means you are spoilt for choice, and they have healthy cocktails.
The adventure salad bowls will make you feel smugly healthy and if you've never had coconut jerky, you must try the Tanya's version. Smoothie rating 7/10. Address: myhotel, 35 Ixworth Place, London, SW3 3QX.
Lord knows that 2016 has been the year of courgetti, Deliciously Ella and clean eating. So it's no wonder, that Ella Woodward decided to bank on this, with her Mae Deli. Her nearly 1 million followers on Instagram have been flocking to the healthy café, will daily queues and as a result a soon to launch second (and more sizeable) location.
Bestselling dishes include the salad bowls and falafel, energy balls and mae cake. Smoothie rating 8/10. Address: 21 Seymour Place, London, W1H 5BH.
5. Hemsley & Hemsley at Selfridges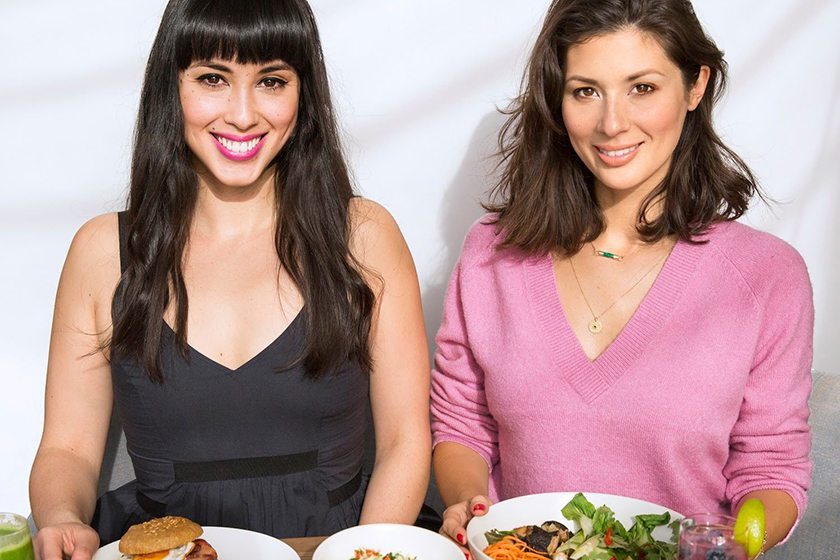 More of a restaurant than a café, the Hemsley sisters' foray into the restaurant business has been a relative success. Their exciting menu of organic, nutrient dense recipes includes smoothies, burgers and sweet treats (their famed paradise bars thankfully make an appearance).
Located on the third floor of Selfridges, in the Body Studio, it does feel a little odd to be eating in the middle of one of London's busiest department stores, but it is also rather handy if you fancy some retail therapy. Smoothie rating 6/10. Address: 400 Oxford St, London W1A 1AB.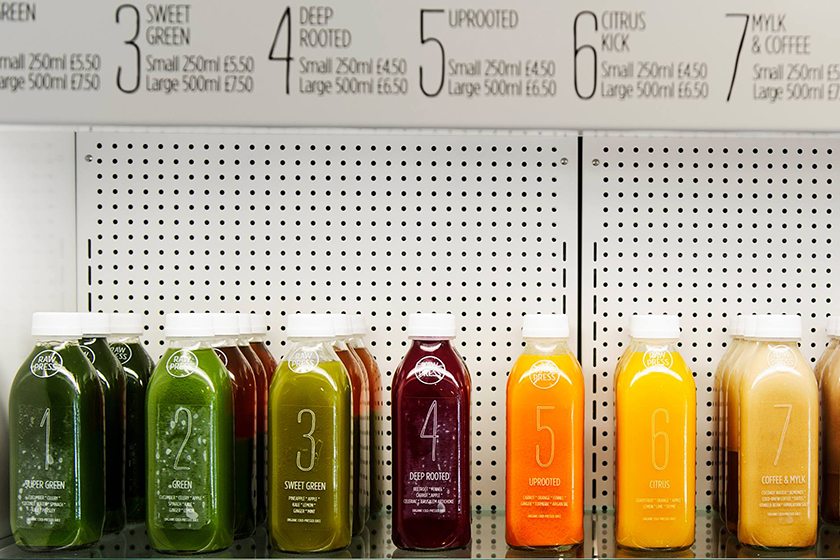 Famed for their cold pressed juices, Raw Press has opened two locations in central London. Focusing on health and wellbeing the menu at Raw Press consists of all the usual suspects, but with the addition of a coconut yoghurt frozen yoghurt machine which is soon to be a hit on sunnier days (watch this space, this could be the next acai bowl).
The lovely and chilled out interiors are perfect for sunny afternoons. Smoothie rating 7/10. Address: 32 Dover Street, London W1S 4NE or 3 Ellis Street, London SW1X 9AL.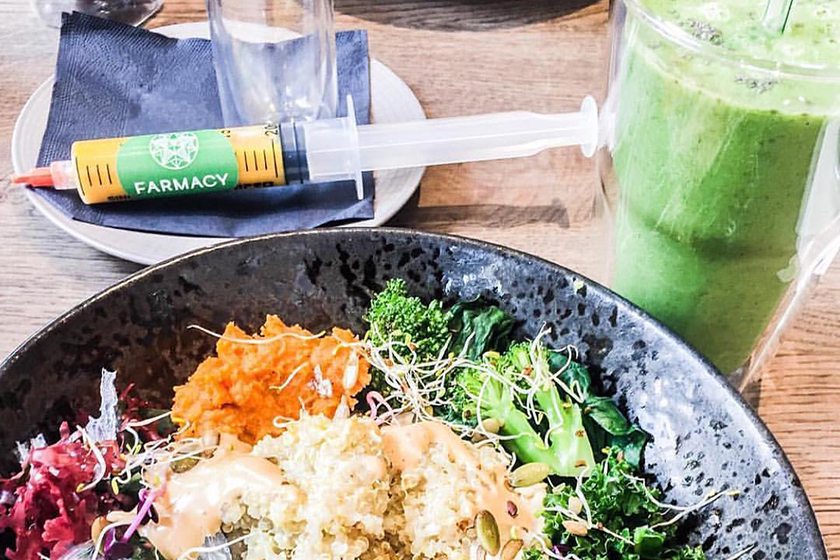 After an extensive feature in the September issue of British Vogue, the already popular Notting Hill restaurant is about to get even busier. Stylish, sleek and elegant, the interiors make this much more luxurious than the café- style counterparts.
The menu is intriguing, with many healthy versions of classic favourites such as nachos, pizza, and Caesar salad, with a heart injection of health (or should we say syringe…). The much talked about dairy and sugar free tiger nut ice cream is a must try, and beats Ben & Jerry's any day. Bookings can be tricky though. Smoothie Rating 6/10. Address: 74 Westbourne Grove, London, W2 5SH.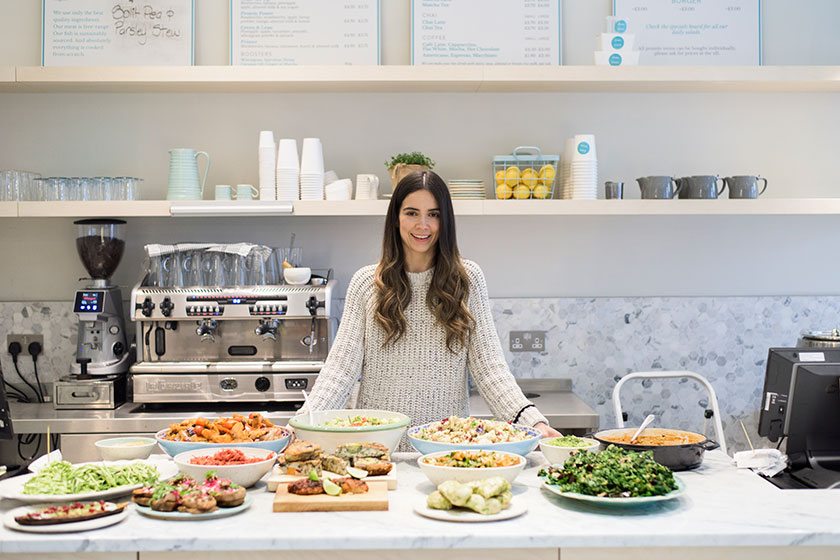 Founded by Lily Simpson (read our interview with Lily here), the Detox Kitchen started as a nourishing catering company, come home delivery service, and now deli and wellness brand, with a fitness studio.
The food is healthy, and temptingly beautiful, with big bowls of colourful salads and treats dotted around the bar of the deli. The menu offers plenty of choice and lots of unique, interesting options like an egg wrap (Lily's favourite) and miso aubergine with kale, apricot, tahini and coriander. The added bonus of a Pilates and yoga studio means you can kill two birds with one stone. Smoothie rating 7/10. Address: 10 Mortimer Street, London, W1T 3JJ or10 Kingly Street, London, W1B 5PJ.
9. Rude Health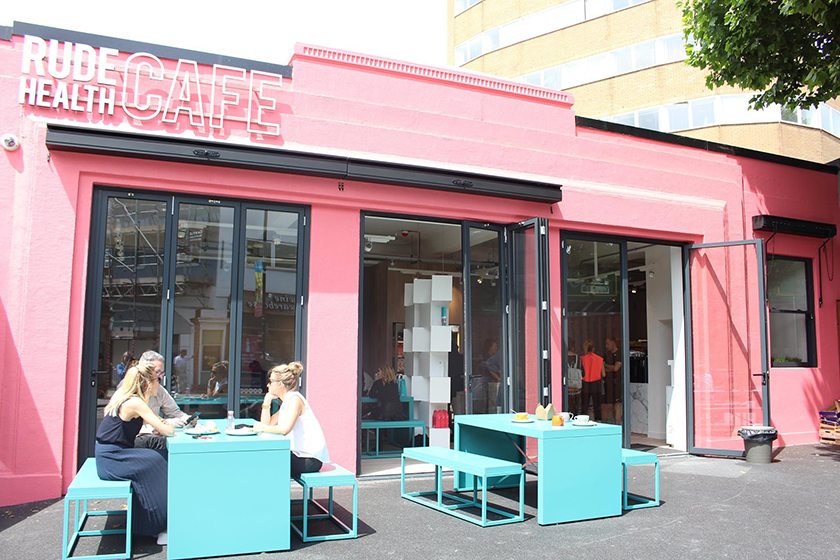 The new Rude Health café in Putney is a great place for a working lunch. Bright and bold, the new café is stuffed full of Rude Health goodies, including their book, milks and oats. Their kimchee and cheddar sourdough toastie is a dream, and a great option for the slightly less health conscious among you, while the salads are bright and vibrant. N/A because they don't offer any. Address: 212 New King's Rd, London, SW6 4NZ.
10. Granger & Co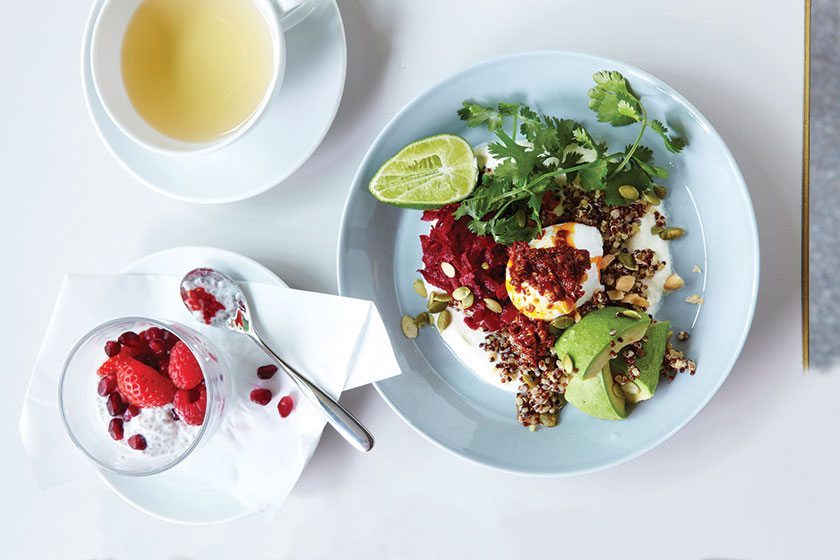 Ok, so not technically a healthy restaurant, but Bill Granger has always been on the forefront of the healthy food scene, by introducing us Brits to the health foods of Hawaii and Australia. Poke and acai bowls were brought over by Bill well before they were so popular (and inescapable on social media).
Bill Granger's ever popular trio of restaurants, Granger & Co, can be found across London, from King's Cross to Notting Hill. On weekends, there are queues out the door. Get up early and head for a healthy breakfast (try and avoid even looking at the ricotta hotcakes though) to beat the crowds. Smoothie rating 8/10. Three locations in Notting Hill: 175 Westbourne Grove, London W11 2SB; King's Cross: Stanley Building, 7 Pancras Square, London N1C 4AG; Clerkenwell: Clerkenwell Green, 50 Sekforde Street, London EC1R 0HA.
Honourable mention
If you haven't visited Kobox, the boxing gym on the Kings Road, you must book in now. It's 'fightclub meets nightclub' aesthetic means you forget you are even working out. And the Kobox kitchen smoothies are some of the best in London. Perhaps it only seems that way after a workout, but nevertheless… Pre-order the almond featherweight before your class (we recommend Shane's – he's the founder after all) for the perfect post workout pick me up. Address: 122 Kings Road, London, SW3 4TR.
---