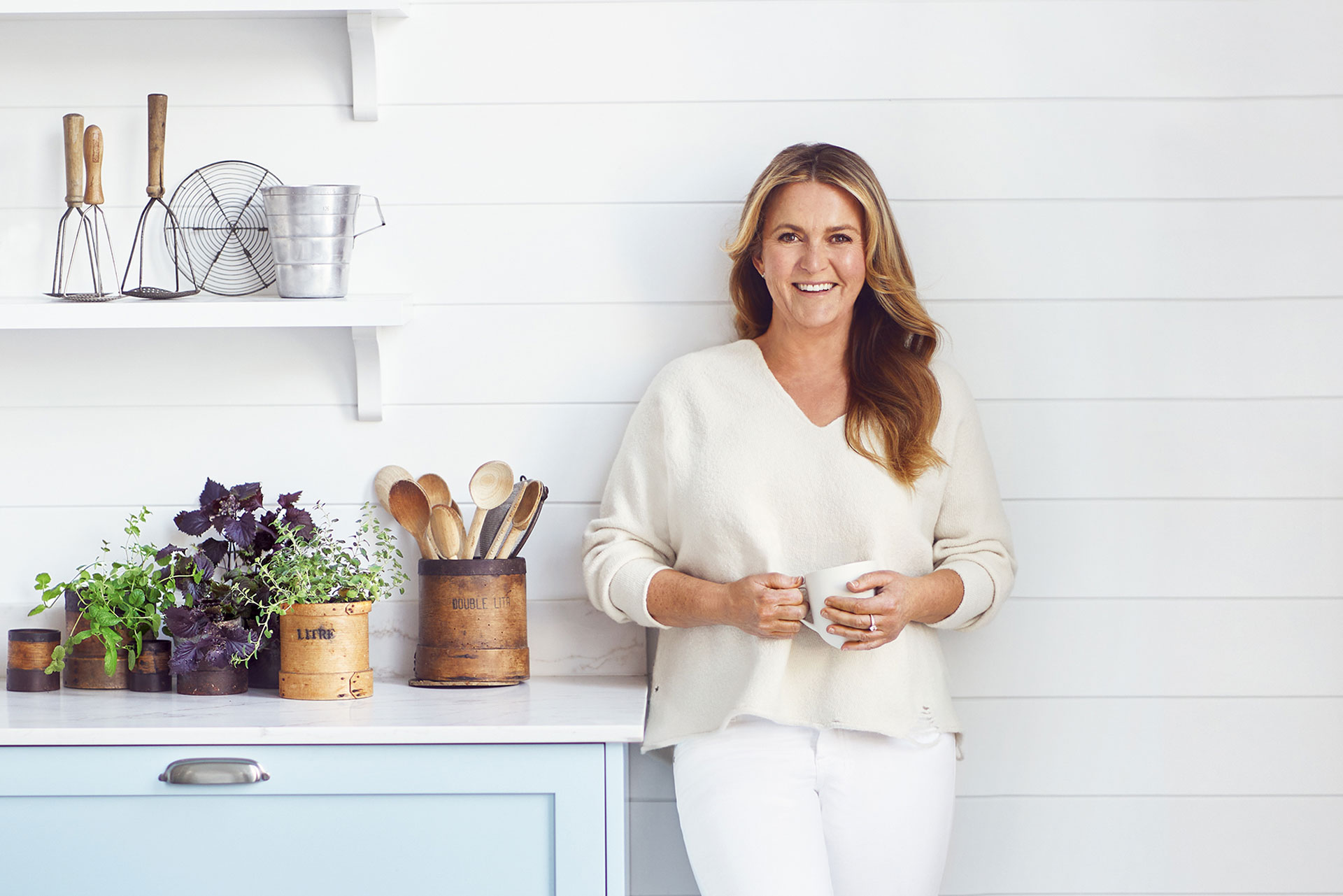 3 Donna Hay Recipes To Try This Autumn
A peek inside Donna Hay's new cookbook
Looking to mix up your cooking repertoire this autumn? We've got just the ticket. Here chef Donna Hay shares three delicious recipes from her new cookbook, Even More Basics to Brilliance, the follow-up to the bestselling Basics to Brilliance. From a warming mac and cheese to a show-stopping cheesecake, these are sure to impress at your next dinner party.
3 Donna Hay Recipes To Try This Autumn
Mac and Cheese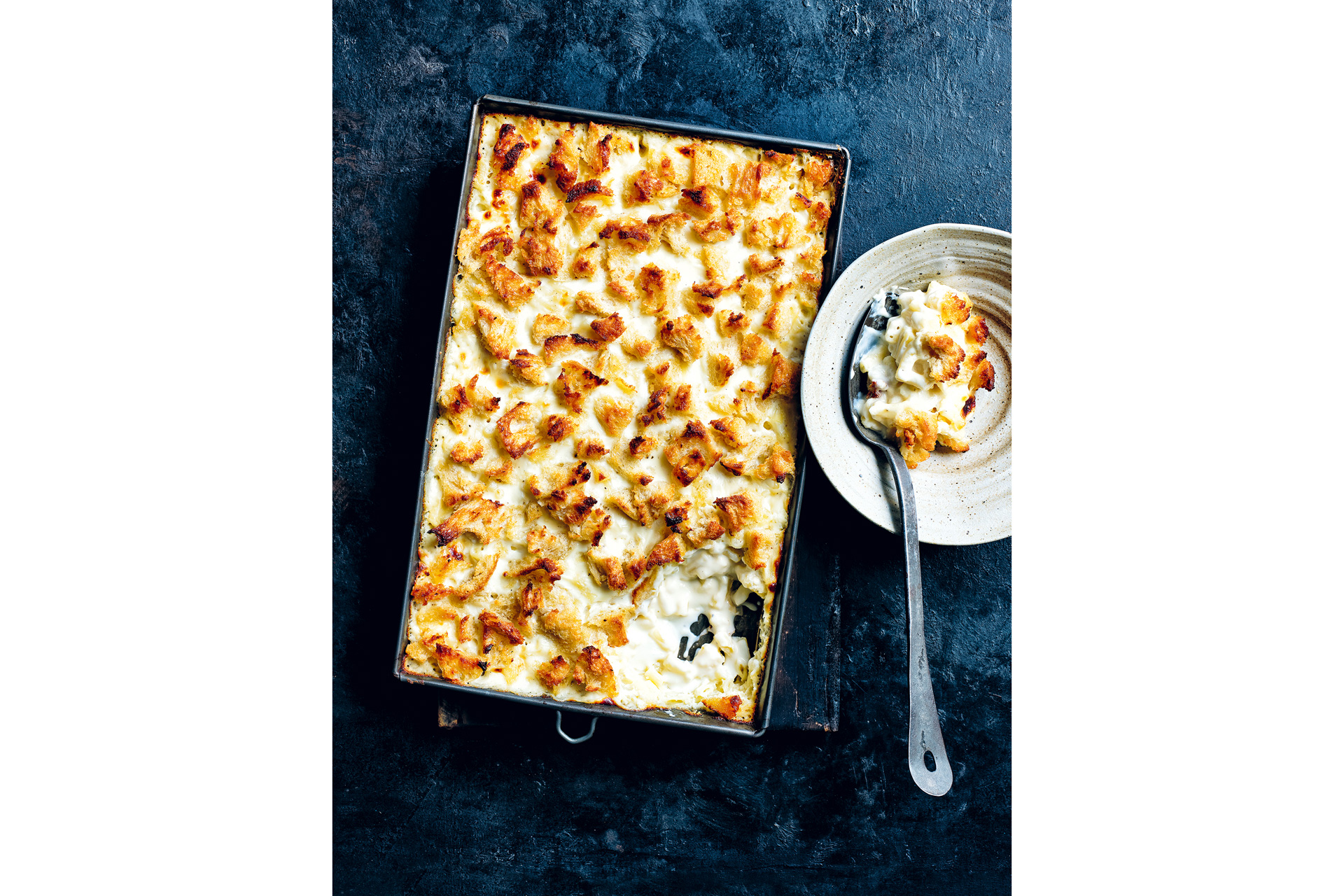 Serves 4
Ingredients:
300g dried macaroni or 400g dried casarecce

80g unsalted butter, chopped

⅓ cup (50g) plain (all-purpose) flour

1.2 litres warm milk

170g coarsely grated cheddar cheese

1 cup (80g) finely grated parmesan 

2 teaspoons Dijon mustard 

Sea salt and cracked black pepper

Sourdough crumb

200g sourdough breadcrumbs without crusts

60g unsalted butter, melted
Method:
Cook the pasta in a large saucepan of boiling salted water for 8 minutes or until al dente. Drain and place in a large baking dish. Preheat oven to 200°C (400°F).

Melt the butter in a saucepan over medium heat. Add the flour and cook, stirring, for 1 minute. Gradually whisk in the milk and bring to a rapid simmer. Cook for 5–6 minutes, stirring continuously, or until thickened slightly. Remove from the heat and add the cheddar, parmesan, Dijon, salt and pepper and stir to combine. 

Pour the cheese mixture over the pasta and stir to combine. 

To make the sourdough crumb, combine the breadcrumbs and butter.

Sprinkle the sourdough crumb over the mac and cheese and bake for 20–25 minutes or until golden and crunchy. 
Bocconcini-stuffed Meatballs with Roasted Tomato Sauce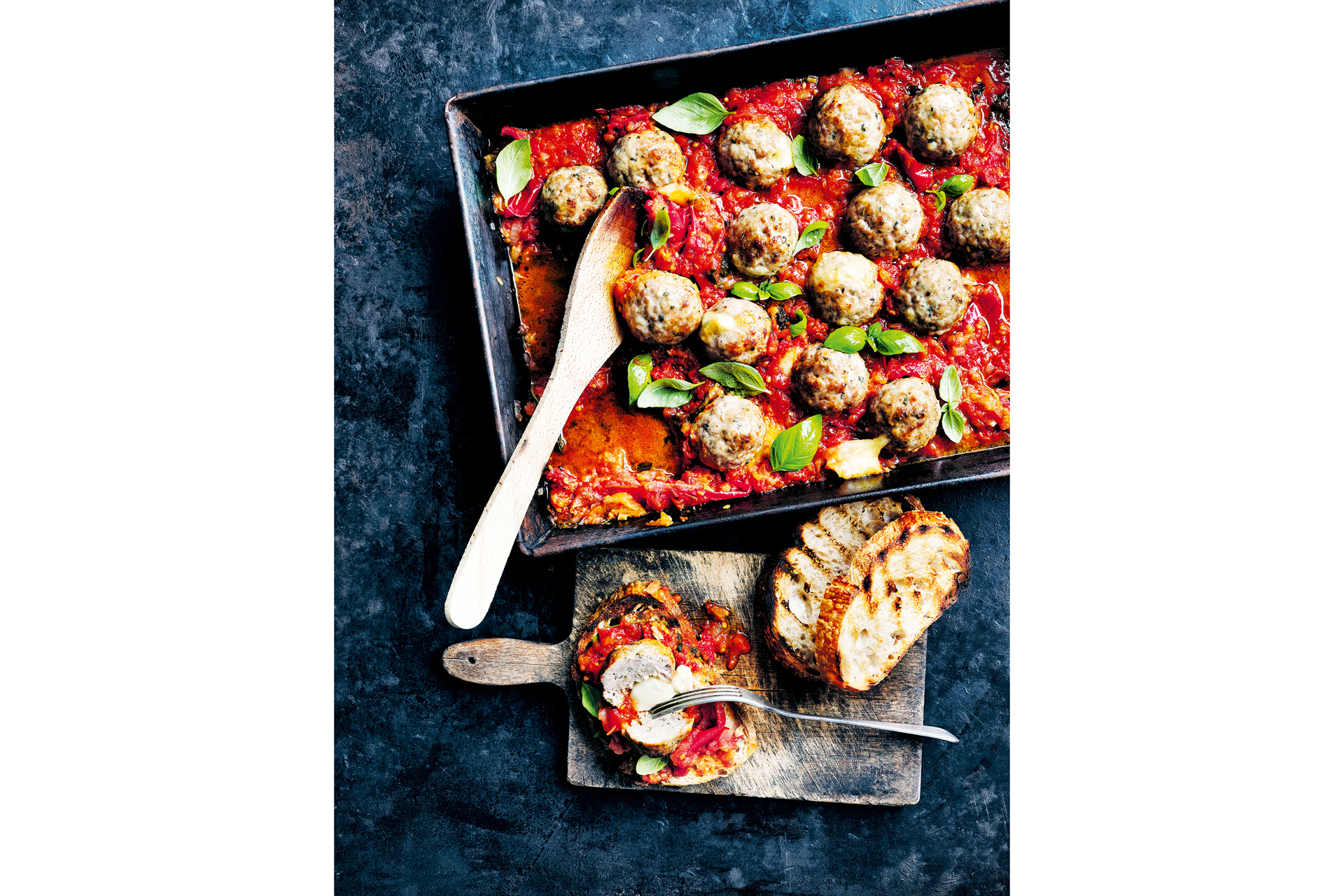 Serves 4
Ingredients:
1 x quantity roasted tomato sauce (see basic recipe roasted tomato sauce below)

Basil leaves and toasted sourdough slices, to serve

Bocconcini-stuffed meatballs 

⅓ cup (80ml) milk

1 cup (70g) fresh breadcrumbs

750g pork mince

2 cloves garlic, crushed

2 teaspoons chopped sage leaves

1½ teaspoons fennel seeds, lightly crushed

Sea salt and cracked black pepper

16 baby bocconcini
Method:
Preheat oven to 220°C (425°F).

Place the roasted tomato sauce in a large deep-sided baking dish and heat in the oven for 20 minutes or until hot. 

To make the bocconcini-stuffed meatballs, place the milk and breadcrumbs in a large bowl and mix to combine. Add the pork, garlic, sage, fennel, salt and pepper and mix for 1–2 minutes or until very well combined.

Roll 2 tablespoonfuls of the pork mixture into 16 balls. Press a bocconcini into the centre of each meatball and gently roll to enclose. 

Add the meatballs to the roasted tomato sauce and bake for 12 minutes or until the meatballs are cooked through.

Serve with basil and toasted sourdough slices.  
Roasted Tomato Sauce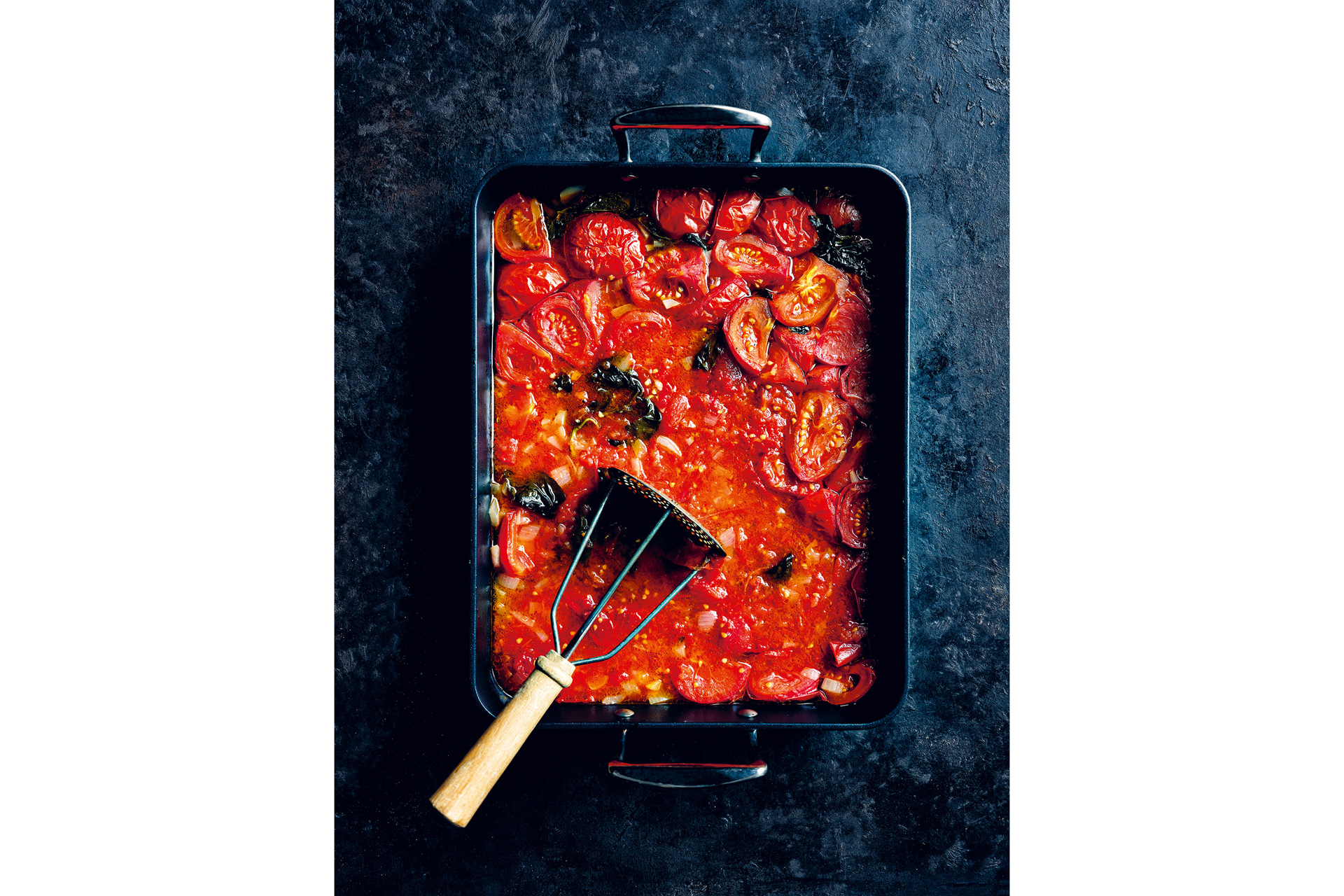 Makes 2.1 litres
Ingredients:
2 brown onions, finely chopped

6 cloves garlic, peeled

2kg ripe tomatoes (about 20), quartered and cored 

4 stalks basil

¼ cup (60ml) extra virgin olive oil

Sea salt and cracked black pepper
Method:
Preheat oven to 220°C (425°F).  

Place the onions, garlic, tomatoes, basil, oil, salt and pepper in a large deep-sided baking dish.  

Cover with 2 sheets each of non-stick baking paper and aluminium foil to create a tight seal. Roast for 1 hour 15 minutes or until the tomatoes are very soft. 

Carefully remove the aluminium foil and baking paper. Remove the basil leaves from their stalks. Discard the stalks. 

Using a potato masher, mash the tomatoes, garlic and basil until your desired consistency. 
Cook's note: You can keep this in a sterilised glass jar in the refrigerator for up to 3 days.
Basque Burnt Cheesecake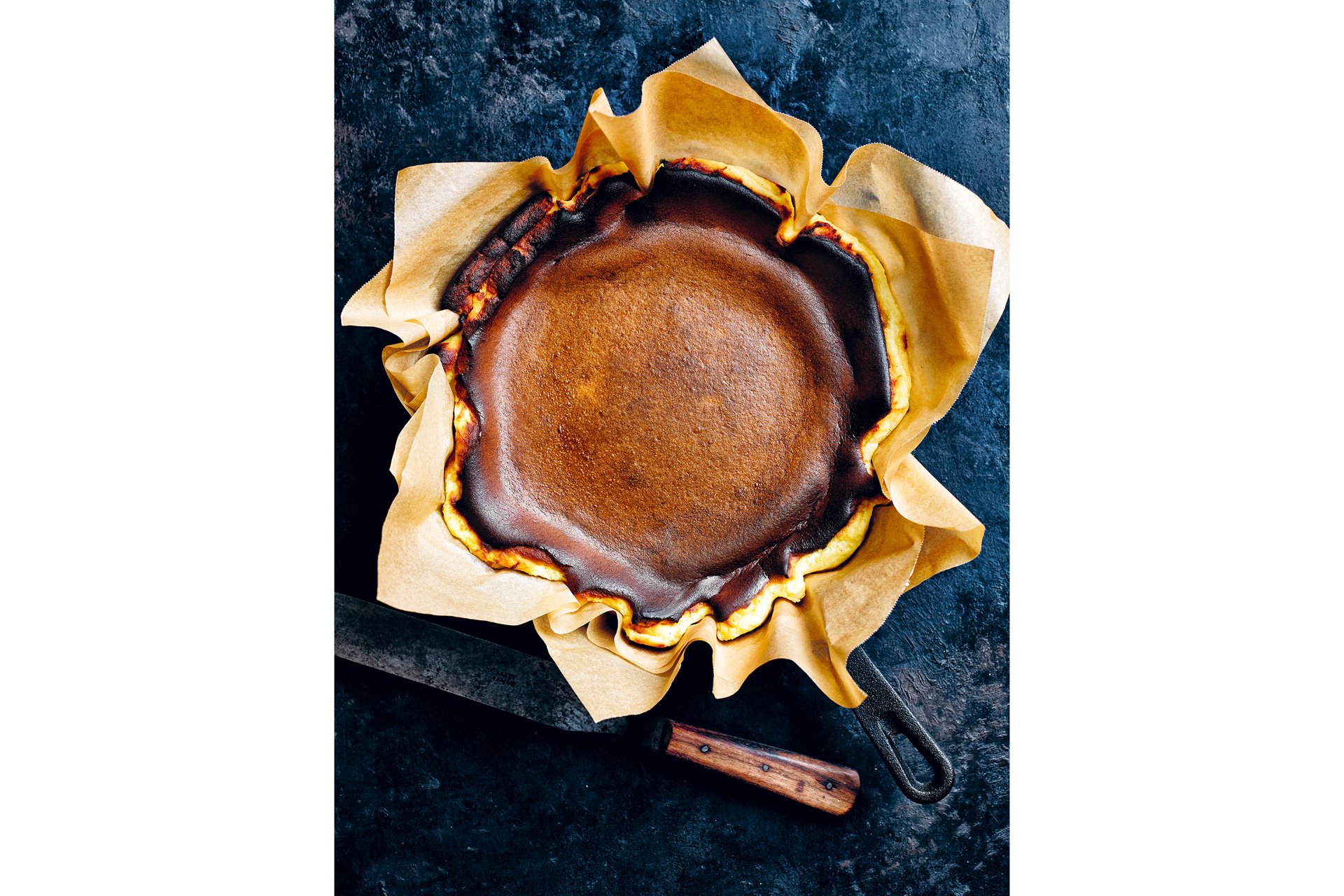 Serves 10–12 
Ingredients:
750g cream cheese, chopped and softened

1 cup (220g) caster (superfine) sugar

4 large eggs

1½ cups (375ml) double (thick) cream 

1 teaspoon vanilla bean paste

1½ tablespoons plain (all-purpose) flour or rice flour
Method:
Preheat oven to 220°C (425°F). Line a 22cm (8½ inch) round springform cake tin or a 22cm (8½ inch) skillet with 3 large pieces of overlapping non-stick baking paper, ensuring paper comes above the rim+.  

Place the cream cheese and sugar in the bowl of an electric mixer. Using the whisk attachment, beat until smooth and soft peaks form. Add eggs one at a time, beating after each addition, until combined. 

Add the cream and vanilla and beat until just combined. Sift in the flour and beat




on a low speed, until thick. 

Pour into the prepared tin and bake for 15 minutes, then rotate and bake for a further 10–15 minutes. The cheesecake should rise up like a soufflé and caramelise, almost burning on the top, but still have an extreme jiggle in the middle. 

Once out of the oven, allow to cool for 1 hour (the cheesecake will sink a bit), then refrigerate until chilled. 
Cook's note: The triple layer of baking paper that extends high above the tin protects the sides from overcooking.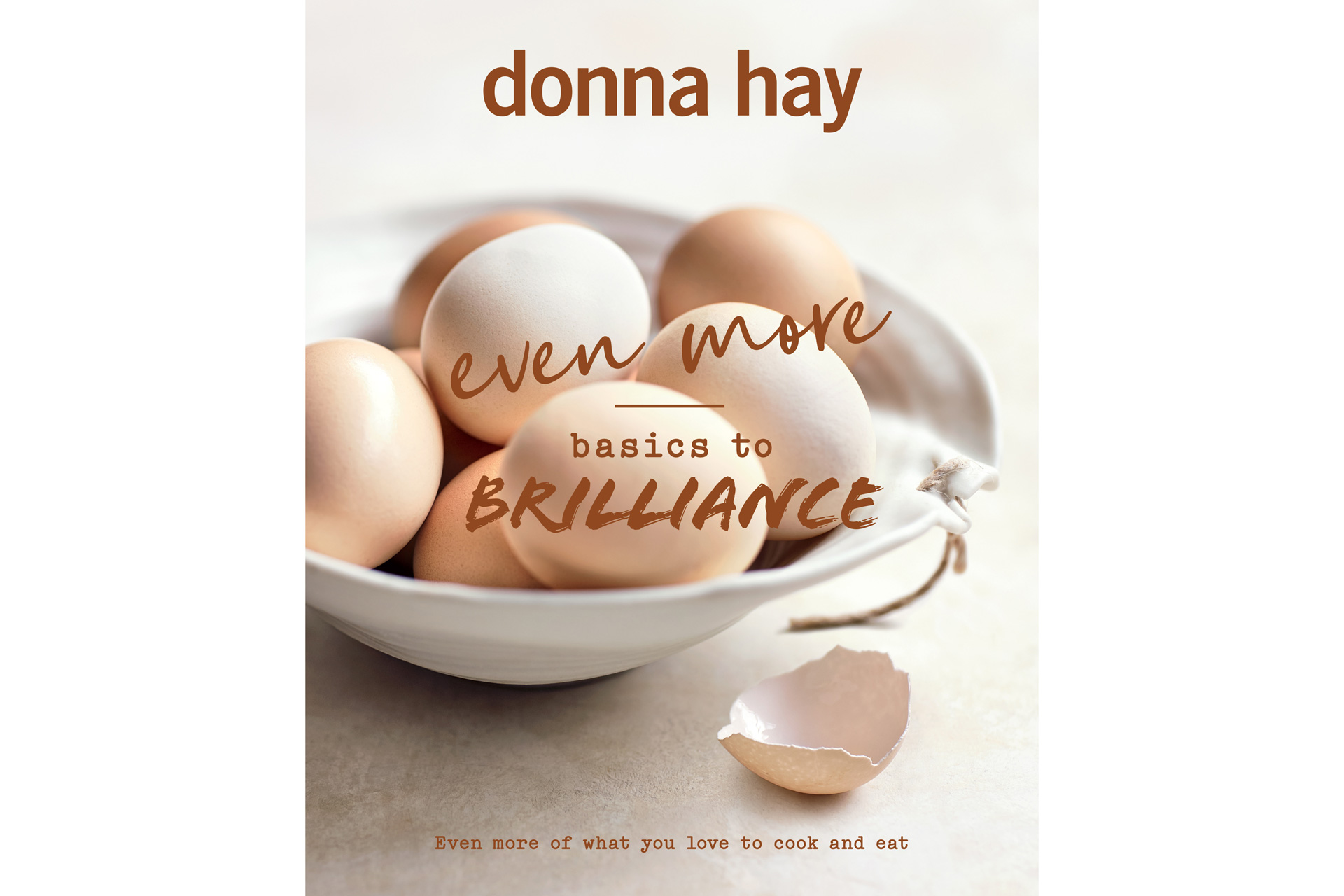 Even More Basics to Brilliance by Donna Hay (£28, Fourth Estate) is out now
Photography: Chris Court
Recipe and styling: Donna Hay