Nothing quite beats the flavours of game meat, which is why C&TH love Abel & Cole's new weekly game boxes; perfect for casseroles, simple pan roasts or warming pies…
Open season is now upon us and for that deliciously warming and autumnal comfort food, nothing quite beats the flavours of game, which is why C&TH love Abel & Cole's new weekly game boxes. The online company that delivers fresh boxes of organic inspiration to your front door are launching three types of game that are rich in flavour, lean and nutritious; from wild pigeon to wild partridge to game pie mix! All of the game comes from a single farm in the Hampshire woodland, where deer, pheasant, partridge and rabbit are all raised to the highest standards and can roam the land completely freely. The family-run farm (who are the chairmen of the National Gamekeeper's Organisation) are renowned for their high-quality free-range produce and their impeccable welfare standards.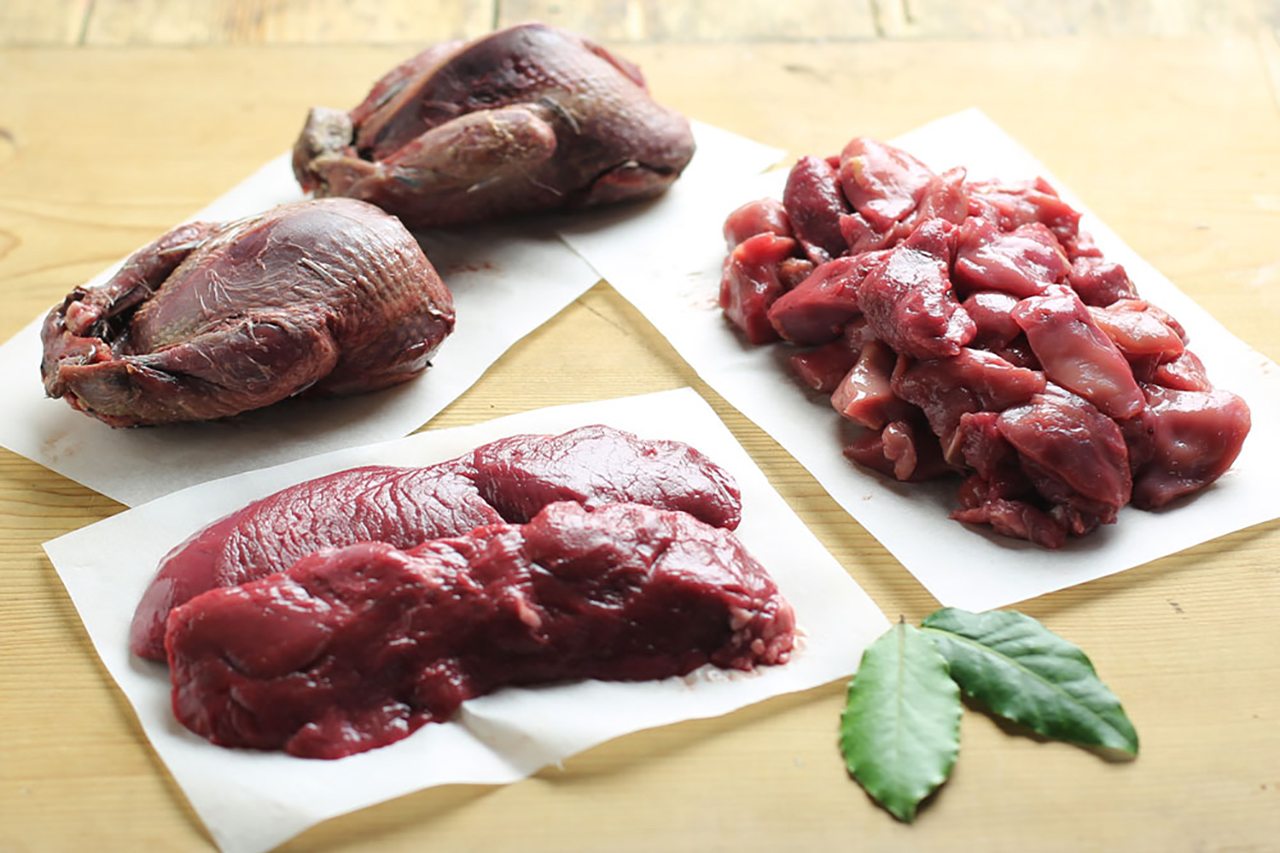 The Glorious Game Box is seasonally arranged to safeguard conservation and to constantly provide the freshest and tastiest meats; perfect for casseroles, simple roasts or warming pies this autumn and winter. With different cuts of meat sent straight to your door every week, you'll never be short of seasonal meal inspiration. Sign up online here.
Abel & Cole's Glorious Game Pie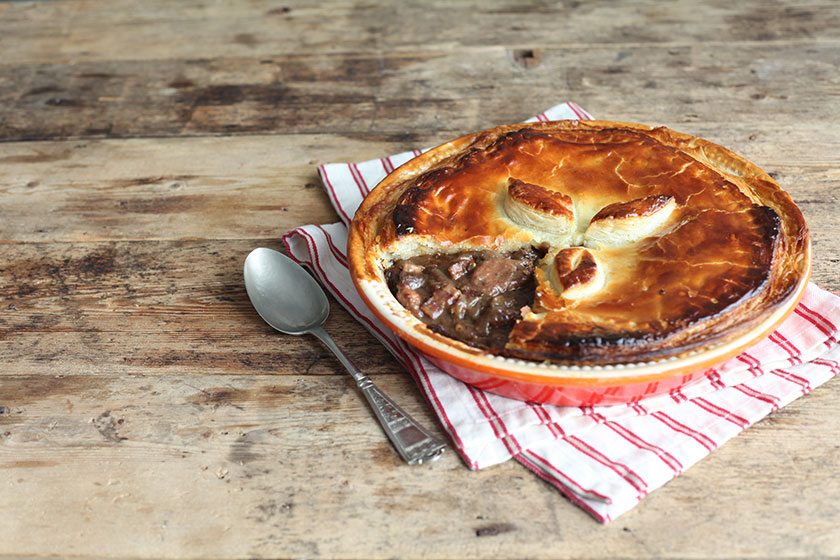 Ingredients
500g game pie mix available online from Abel & Cole (or your own mix of diced game)
Sea salt and freshly ground pepper
A few glugs of olive oil
2 large red onions, thinly sliced
4 rashers of streaky bacon, snipped into 2cm chunks
300g mushrooms, cut into bite-sized chunks
2 tbsp plain white flour, plus more if needed
2 mugs chicken or veg stock, warmed
1 mug red wine
2 bay leaves
2 sprigs of fresh thyme or rosemary
Puff pastry, enough to cover the top of our pie
1 egg, beaten
A few cloves of garlic
Method
1. Preheat your oven to 200°C/Fan 180°C/Gas 6.
2. Season your game. Get a large frying pan hot, add a splash of oil and tumble in the game. Once nice and golden all over, spoon out of the pan and into your pie dish.
3. Keep your pan on heat. Add a little extra oil and the onions. Cook till they soften a little. Then, add the bacon and mushrooms. Sizzle till the bacon starts crisp and the mushrooms pick up a golden hue. Swirl in the garlic. Cook for a mo.
4. Dust the flour over the mix. Fold through. Pour in the stock, wine, herbs and a good grinding of pepper. Bring to the boil.
5. Add the game. Turn the heat to low. Simmer for about ½ hr. Keep an eye on it so that it doesn't reduce too much or if at this stage either add a little more liquid or if the gravy is still not thick enough, mix 1 tablespoon of butter with 2 tbsp flour to a paste and stir into the pie mix, add more until it's to your liking.
6. Spoon the mix into your pie dish. Let it cool. Remove the herbs. Roll your pastry out to fit over the dish, place it on top cut around the edge, then crimp down the edges with your thumb.
7. Cut out a really cool decoration for the top, brush the top with egg and pop a ½ inch hole it the middle of the pastry to let the steam out.
8. Bake for 35-45 mins, or until the pastry is puffed and golden and the pie is hot.
Date, Saffron & Pigeon Tagine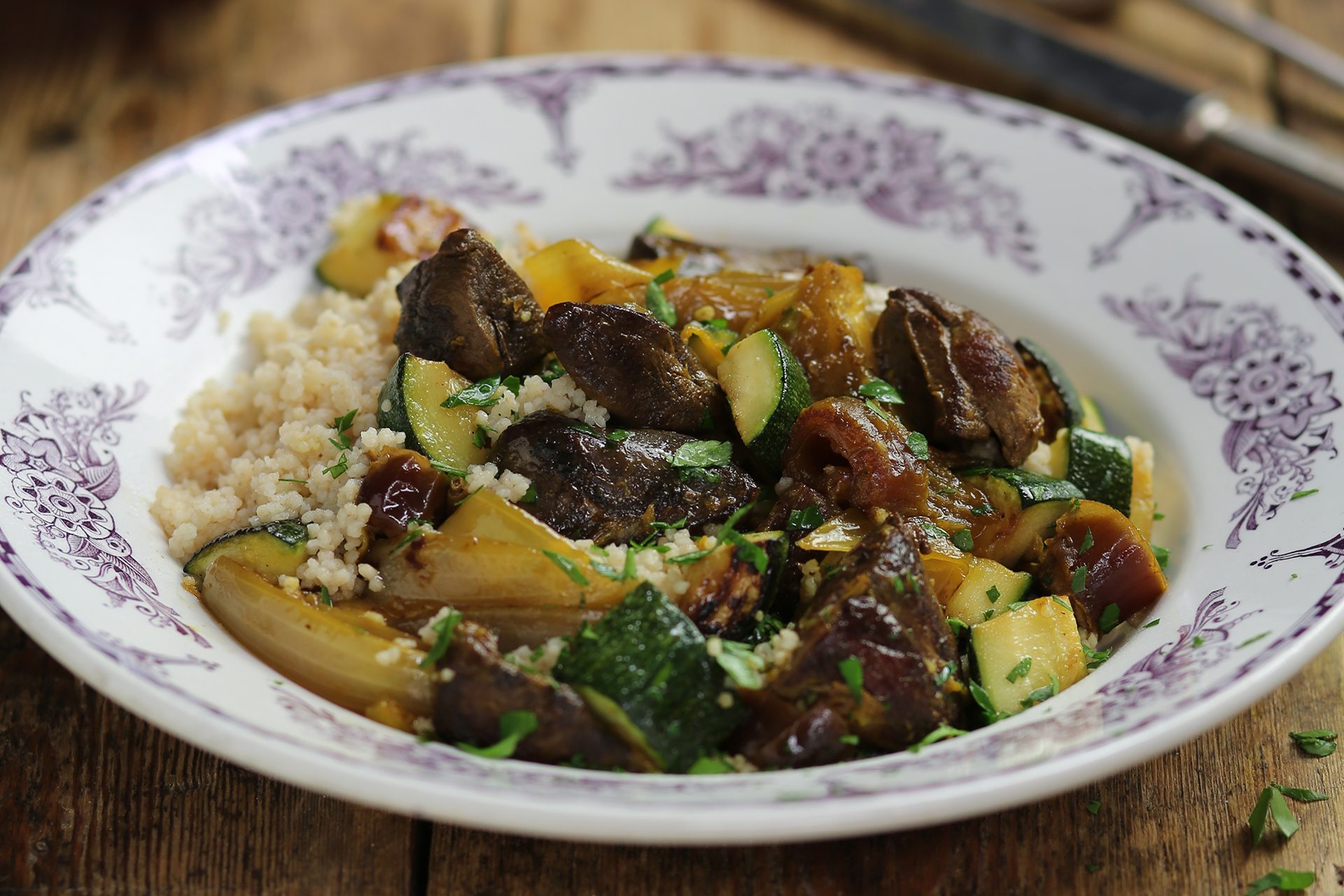 Ingredients
1 onion
1 garlic clove
A thumb of ginger
A handful of flat leaf parsley
50g dried dates
250g wild pigeon breasts
1 cinnamon stick
A pinch of saffron powder
150g wholewheat couscous
2 courgettes
2 tbsp olive oil
Sea salt and freshly ground pepper
400ml + 300ml boiling water
Method
1. Peel and slice the onion into around 8 wedges. Peel and grate the garlic and the ginger. Finely chop the flat leaf parsley stalks (keep the leaves for later). Roughly chop the dates.
2. Roughly chop the pigeon breasts into bite-size pieces (look out for any lead shot left in the pigeon). Warm a deep frying pan or shallow casserole dish for 2 mins. Add 1 tbsp olive oil and the pigeon breasts. Fry for 4 mins, turning them once, till they're browned all. Transfer the pigeon breasts to a plate.
3. Turn the heat down under the pan and add the onion with a splash of water. Season with salt and pepper. Cook and stir for 5 mins till the onion wedges have softened and look a little glossy.
4. Add the garlic, ginger, parsley and chopped dates to the pan. Chuck in 1 cinnamon stick and empty in the saffron powder. Sizzle for 1 min. Return the pigeon to the pan with any juices from the plate.
5. Pour in 400ml boiling water. Turn up the heat and bring to the boil. Pop on a lid and simmer for 20 mins till the pigeon breasts are tender.
6. While the pigeon tagine cooks, tip the couscous into a bowl. Pour in 300ml boiling water. Cover with a plate or cling film and leave to soak while you make the tagine.
7. Trim the courgettes. Halve them and chop into small chunks. Warm a frying pan over a medium heat for 1 min. Add 1 tbsp olive oil and the courgette. Season with salt and pepper. Fry, turning them a few times, for 5 mins till they are golden and tender.
8. Taste the pigeon tagine and add more salt and pepper if you think it needs it. Fluff the couscous with a fork and divide between 2 warm bowls. Top with the courgettes and pigeon tagine. Garnish with parsley leaves to serve.
Wild Venison Steaks with Creamy Porcini Sauce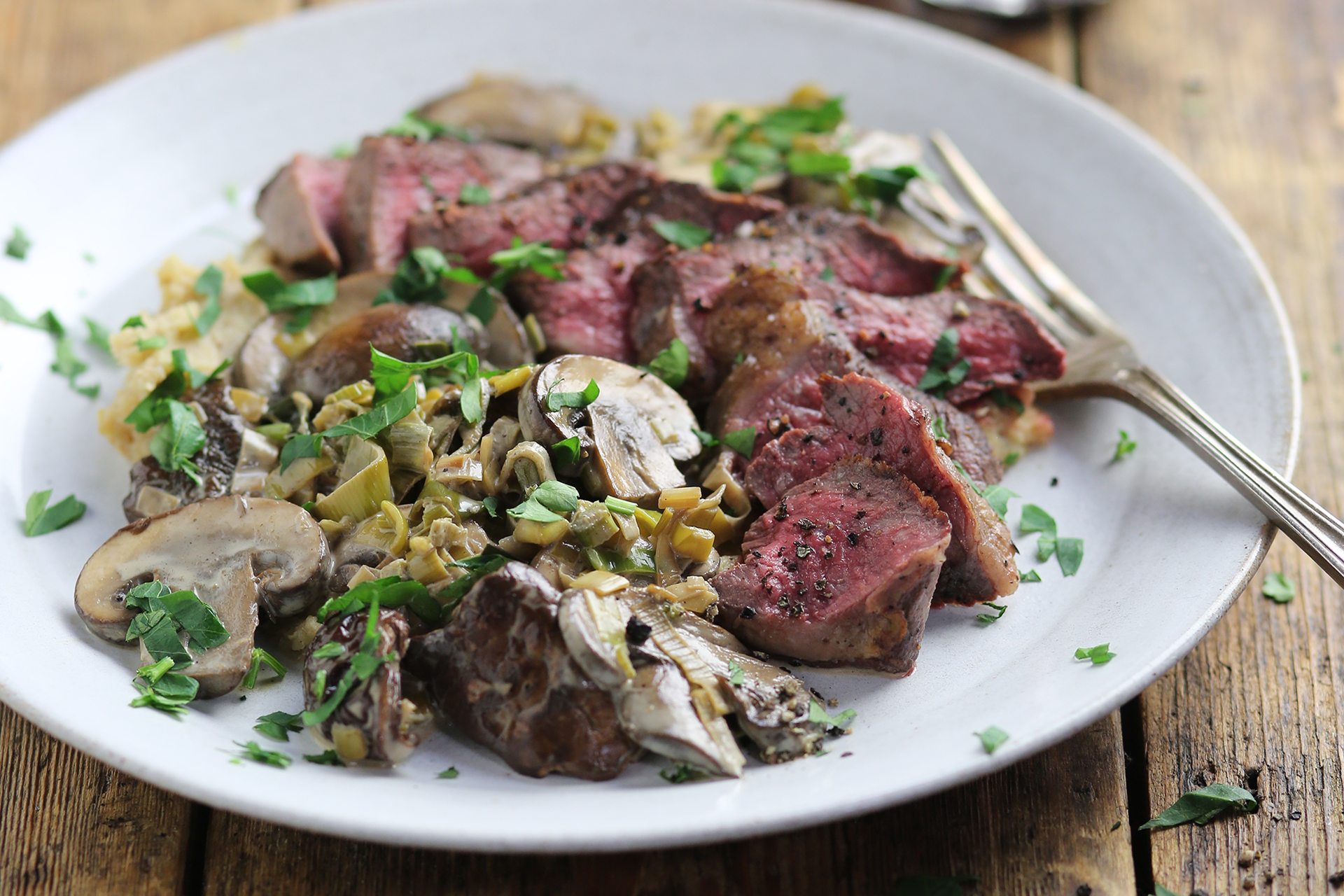 Ingredients
1 celeriac
2 leeks
200g chestnut mushrooms
1 garlic clove
A handful of flat leaf parsley
12g dried porcini mushrooms
2 wild vension minute steaks
1 tbsp balsamic vinegar
4 tbsp double cream
1 tbsp Dijon mustard
Sea salt
2 tbsp + 2 tsp olive oil
Freshly ground pepper
200ml boiling water
Method
1. Heat your oven to 200°C/Fan 180°C/Gas 6. Peel the skin from the celeriac, slice off the roots and chop the celeriac into 2cm cubes. Tumble onto a baking tray with 1 tbsp olive oil and some seasoning. Roast for 30 mins till golden and tender.
2. While the celeriac is roasting, prepare your mushroom sauce. Trim the leeks and slice them in half lengthways. Rinse out any grit. Thinly slice them. Thinly slice the mushrooms. Peel and grate or crush the garlic. Finely chop the parsley stalks and leaves, keeping them separate.
3. Place the dried porcini in a bowl and cover with 200ml boiling water. Leave to one side to soak.
4. Set a frying pan on the medium heat for a few mins. When warm, drizzle in 1 tbsp oil and add the leeks and sliced mushrooms. Season. Fry for 5 mins, stirring, till softened and juicy. Add the garlic and fry for 1 min. Transfer the cooked leeks and mushrooms to a bowl and wipe the pan clean with kitchen paper.
5. When the celeriac has 5 mins left to cook, season the venison steaks and rub each one with 1 tsp oil. Place the pan back on the heat. When smoking hot, lay the steaks in the pan. Fry for 3-4 mins on each side, or longer if they are thicker than 2cm, or if you prefer a more well-done steak. Lift the steaks onto a warm plate and loosely cover with foil to rest.
6. Tip the mushrooms and leeks back into the pan on a medium heat. Pour in 1 tbsp balsamic and bubble for 1 min. Pour in the porcini and their stock and add the parsley stalks. Simmer for 3 mins.
7. While the sauce is bubbling, tip the roast celeriac into a food processor. Add 1 tbsp Dijon mustard. Whizz till smooth. No processor? No problem, just crush the celeriac with a fork or masher, stirring through the Dijon. Taste and adjust the seasoning.
8. Add 4 tbsp double cream to the mushroom sauce. Stir, taste and adjust the seasoning. Lay the steaks in the sauce and turn them a couple of times to warm them a little.
9. Spoon the celeriac mash onto a couple of warm plates. Top with a venison steak each, spooning over the rich mushroom sauce. Scatter over chopped parsley leaves to serve.
---