Keith Goddard serves souped-up smoked salmon. Follow his Guinness bread recipe with treacle cured salmon.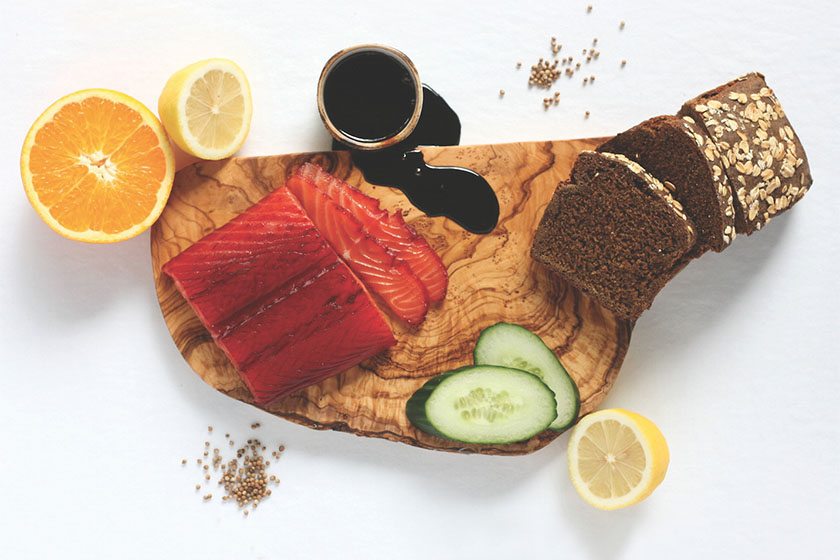 When I think of Christmas, salmon is one of the first things that comes to mind. It's a fashion party favourite during the festive season and, even as a family, we always eat it together on Christmas day. The soda bread (from my Irish heritage), combined with the cured salmon, makes a delicious starter. This recipe works perfectly either plated up at the dinner table or transformed into miniature mouthfuls for a tasty canapé.
Guinness Bread recipe with Treacle Cured Salmon
Ingredients
For The Salmon
» 400g coarse salt
» 400g sugar
» 400g black treacle
» 4 tbsp coriander seeds
» 40g soy sauce
» 4 oranges, zest and juice
» 1 filleted side of salmon
For The Bread
» 600g wholemeal flour
» 150g plain flour
» 75g oatmeal
» 2½ tsp bread soda
» 1tsp of salt
» 2½ tbsp brown sugar
» 40g butter
» 480ml milk
» 200ml black treacle
» 100ml draught Guinness
Method
1. Mix all ingredients for the cure.
2. Place the salmon in the mix, cover with clingfilm and leave for 12 to 16 hours.
3. Wash the marinade off and pat dry. Thinly slice.
4. For the bread, mix butter with all dry ingredients until the dough develops to the consistency of breadcrumbs, add the milk, black treacle and the Guinness.
5. Mix until you reach a wet dough. Bake in a greased bread tin for 40 to 45 minutes at 170˚C in a pre-heated oven.
6. Serve with the sliced salmon while it's still warm.
Meet Keith Goddard, founder of his eponymous catering company
Your approach?
Refined yet uncomplicated food. I like to experiment but there is always an element of classical French.
If you could change one thing…
I would introduce more variety. A lot of chefs are doing the same thing. I would love to see a bit more experimentation and innovation.
Desert island ingredients?
Vanilla ice cream, bread and gnocchi.
Christmas dinner?
Roast turkey, with all the trimmings and lemon and thyme bread sauce, followed by Christmas pudding parfait.
What makes your blood boil?
Food trends. All of our menus are personalised and while I notice trends in what they ask for, I'm not one for following the latest 'fads'.
Secret weapon?
I spent some time working as a butcher, so I treasure very good knifes. All chefs have a preferred brand and mine's Wüstoff.
---