We chat to Angela Harnett about her first job, the future of Cafe Murano and breakfast at The Modern Pantry…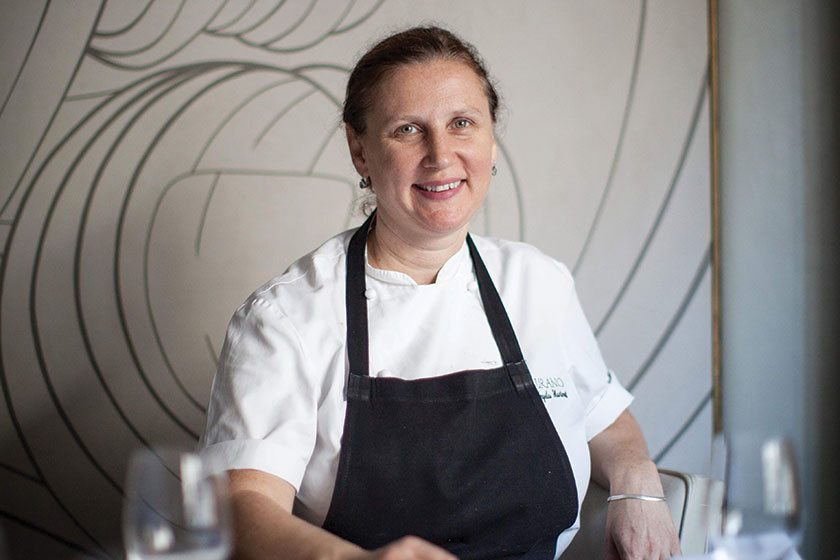 I grew up in a little village in Kent. It was idyllic. We used to walk to school every day. I only occasionally go back there now as I moved to Essex when I was eight.
One of my earliest memories is of packing to go to Italy, back in the days when you'd get up at 2am to catch the ferry. My dad asked my brother to fetch a toy for me for the journey, and he proceeded to throw all of them down the stairs. 
My first job was the paper round as a teenager in Essex. I think I spent my first paycheck on going out with mates – I imagine on illegal booze.
There is still so much I'd like to see. The world is so huge and we live in such a small part of it, despite our overblown sense of importance. I'd like to see more of South America, North America, Canada, and many parts of Asia, like Cambodia.
I'd like to open a couple more Cafe Muranos. Work has gone so much better than I could ever have imagined. There's nothing in the pipeline yet, but I've got my eye on a couple of spaces.
I've lived in my house in central London for 12 years. It's an old Georgian house that's full of character and filled with clutter. I love where I live, I can cycle everywhere, we've got fantastic neighbours and a back garden that I like to sit in when the weather's fine.   
When I can, I escape to the South West and Europe. I do a couple of trips every year with a few blokes in the restaurant and hotel business – so it usually revolves around wine. I really relax on those trips – it's not one of those holidays where you have to do lots of things. Just like-minded people who love food and wine, and putting the world to rights.
The best thing about Britain is people's humour, We produce some of the best comedy in the world.
Dartmouth is one of my favourite places in the country. I go to see my friend Mitch Tonks, who runs The Seahorse restaurant down there. 
I don't think it's a secret but the breakfast at The Modern Pantry is just brilliant. Whatever Anna Hansen has done, she's done it brilliantly. She was one of the first not to cook English brunch and do it well – and it's relatively healthy.
On Saturday night, you'll find me close to home or with a bowl of soup in the garden. You wouldn't find me in the West End, that's for sure.
First thing on Sunday, I usually lie in bed, listening to whoever gets up first – usually my sister – and walking the dogs. 
People throwing litter out of their car window makes my blood boil. We live in a society, so you should behave like you're in one. I'm not saying I'm perfect, but if we all tried to do the right thing it would make life much less stressful.
At the moment I'm reading Bill Bryson's The Road to Little Dribbling. Alexander McCall Smith's latest book is next on my list.
If I could do it all again I would like to be a better person. I'd follow through on more promises and procrastinate less. 
Head for supper at Angela's Pastificio on 4 October on Tavistock Street. eventbrite.co.uk
READ MORE: Recipe marinated squid salad with smoked paprika salad
READ MORE: Cook for Syria Charity Campaign 
---