Lying in the heart of the civil servant-clad Whitehall is the Corinthia Hotel, an opulently fresh contemporary retreat for celebrities and politicians alike who frequent its lavish Northall Restaurant and quaff Laurent Perrier in the bar. But the vast Massimo Restaurant, in its tired, art-deco glad-rags was missing out on the fun.
Kerridge's Bar & Grill Opens at the Corinthia Hotel

Man of the hour, Tom Kerridge has seen to that. Not only has he clipped his gastro-pub panache to the Corinthia's stately surroundings and well-heeled palates, his arrival has seen David Collins Studio's aesthetic overhaul of the majestic, marble room, enveloping diners in whiffs of 'old gents' club with dark green walls and burgundy leather seats. Prize cuts of meat from Kerridge's butchery are displayed in well-lit glass cased fridges against the wall, along with contemporary art and a dazzling, mirrored bar takes the edge off the room's moody new coat. A marriage of art and food perhaps? The conversation-starter sculptures by his wife, piercing the gastro-theatre, would certainly suggest as much. This is Tom Kerridge's first London restaurant following the giddy success of his Hand & Flower pub, the Coach (both Michelin starred) and the Butcher's Tap. With his secret ingredient in tow, chef Nick Beardshaw who worked with Kerridge at his acclaimed pubs, Kerridge's Bar & Grill is the most talked about London opening this Autumn, and for good reason.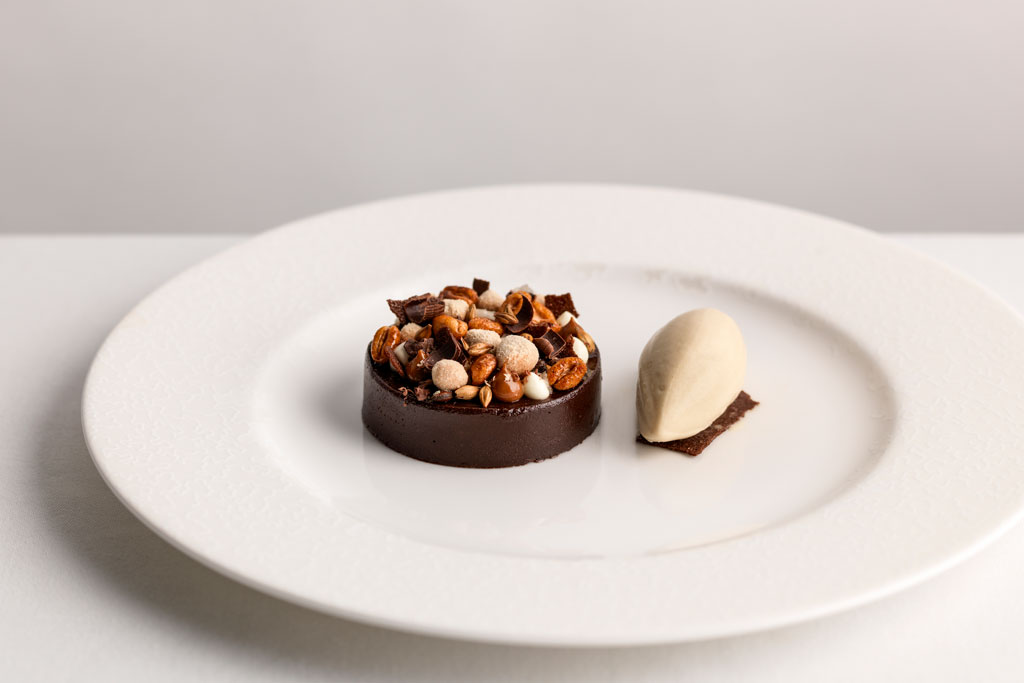 The dishes, while elegant in presentation, have retained that hearty punch Kerridge is famed for. A Loch Duart salmon with Apple Pancake with Douglas Fir and Avruga Caviar locks sweet and savoury into a fluffy surprise (with ample cream for this divine, enlarged twist on the classic canapé). The Mushroom 'Risotto' with Daniel's Crispy Egg and Aged Parmesan is delectable stuff, the crispy texture quickly unravelling into something entirely delicious on your taste buds. Kerridge's trademark of elevating British classics governs the menu, from a posh fish and chips, Deep Fried Brill and Chips with Pease Pudding, to a kingly loin of Ramsbury Estate Venison with 'Hand & Flower' Carrot, Parsley Emulsion and Black Peppper Cottage Pie. Pulled from the Rotisserie, the Rib of Beef from The Butcher's Tap with Chips, Bone Barrow Sauce and Gherkin Ketchup performs with British gusto, a modest portion to avoid eclipsing the culinary euphoria. The Hazelnut Crusted Cod with Irish Style Kale, Anchovy Mayonnaise and Squash Royale is beautifully cooked, tender and fully-charged with flavour. Classic Champagnes on the wine list are joined by English gins and sparkling wines, while the sommeliers excel in the authentic 'no frills' advice on wines to pair. In fact, above and beyond the plate, the marble walls and Kerridge's reputation, it's the staff here that redefine the concept of smart British dining: gracefully diplomatic, genuinely funny and switched on. The sommelier in particular prompted laughter almost as alien to these sophisticated walls as the concept of Kerridge's rotisserie would have been a few years ago.
Try: For pudding, pierce the berry soufflé's crusty top with a spoon and watch it sink into a red, gooey lava inside. Heaven.
---