Mira Manek is redefining Indian cooking with a healthy slant, in her new book Saffron Soul. Try your hand at these delicious spinach pancakes with chilli yoghurt for a simple, healthy and versatile meal…
Pudla: Spinach Pancakes with Chilli Yoghurt
These traditional savoury pancakes, usually containing just chickpea (gram) flour, yoghurt and spices, make for a perfectly simple, healthy and versatile meal, although here I've added a nutritious handful of spinach and finely chopped onions to the mix. They are best served thin and hot off the stove, although they can also be eaten cold. Tear off a bite of the pancake, dip in the lightly spiced yoghurt and nibble on crunchy radishes.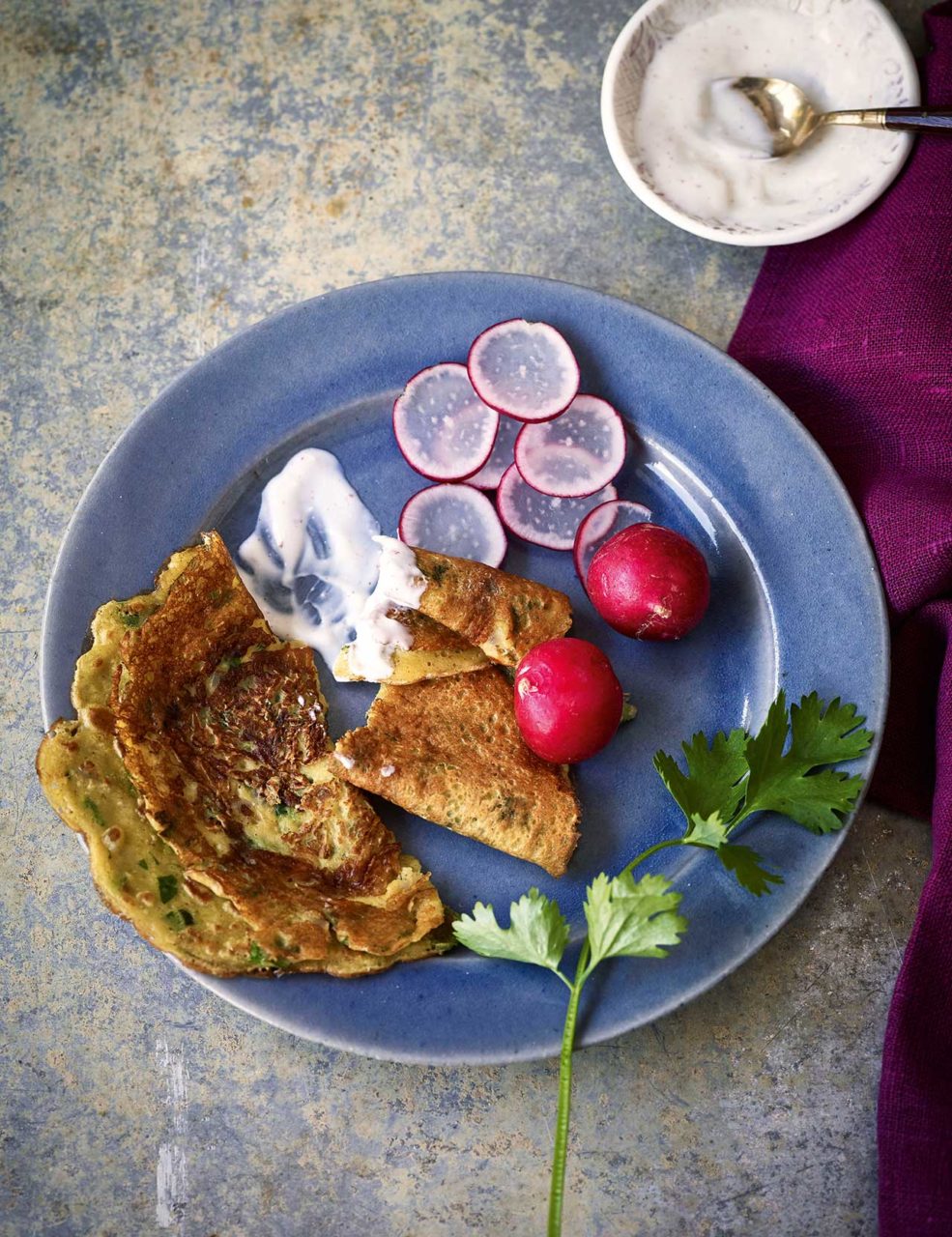 Recipe
Ingredients (makes 6 pancakes)
For the pancakes:
100g chickpea flour
2 tbsp natural yoghurt
1/2 tsp sea salt
Pinch of ground turmeric
80-100ml water
1 tbsp garlic, ginger and chilli paste
20g spinach leaves, very finely chopped
1/2 onion, very finely chopped
Coconut oil or other oil, for frying
For the chilli yoghurt:
4 garlic cloves
2-3 thin green chillis
12cm piece of ginger
5 tbsp yoghurt
Pinch of red chilli powder
1/2 tsp sea salt
To serve: whole and thinly sliced radishes
Method
Mix the chilli yoghurt ingredients together then place the chickpea flour, yoghurt, salt and turmeric in a large bowl and add half the water, mixing quickly using a spoon or fork or with your hand
Gradually add the rest of the water until the batter is smooth
Add the rest of the pancake ingredients except for the oil
Whisk the batter thoroughly and taste, adding more ginger, garlic, chilli or salt if needed
Heat a frying pan until very hot, then turn the heat down to medium
Pour around 1-1 1/2 tablespoons of the batter into the pan and immediately spread out in a circular motion using the back of the spoon, but do not press too hard
Lightly pour half a teaspoon of oil (a few drops on all sides) on the edges of the pancake so that the underside of the pancake becomes lightly brown
After a minute, the underside should be golden brown, then flip the pancake. Leave the other side to cook for another minute, adding another few drops of oil on the edges of the pancake if you wish
Place the cooked pancake onto a plate lined with a sheet of kitchen towel. Repeat with the rest of the pancakes, stacking them on the plate until they are all cooked.
Serve the pancakes hot, with a spoonful of chilli yoghurt and radishes
Q&A with Mira Manek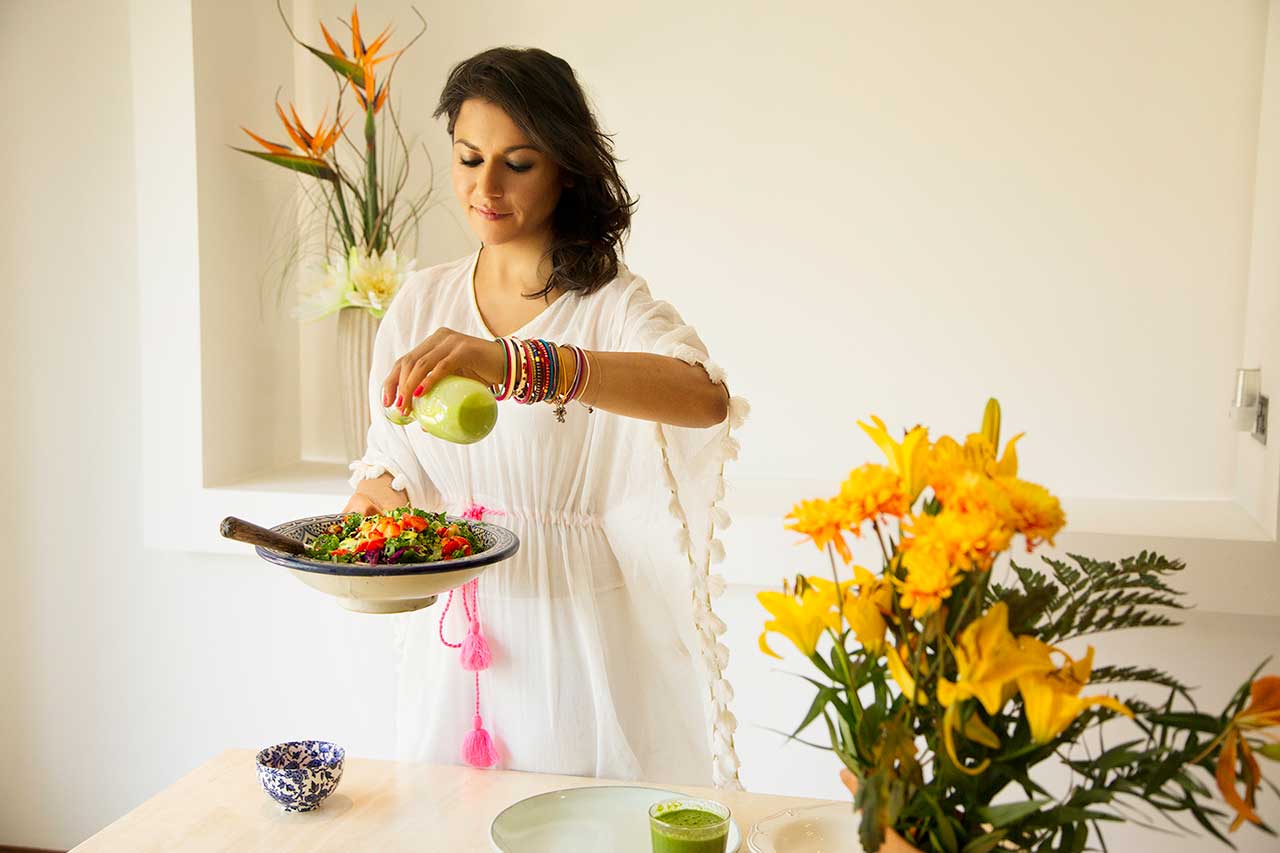 Best region in India for food?
Gujarati food has the most incredible, varied and flavourful array of dishes for vegetarians. Order the ubiquitous Gujarati thali and your thali will be filled up instantly with the most glorious curries, daals, fresh hot rotis, pickles and a few sides like dhokla.
Favourite restaurants in India?
For thalis and Gujarati snacks try the gorgeous rooftop restaurant Agashiye atop boutique hotel House of MG in Ahmedabad, and Swati Snacks in both Ahmedabad and Mumbai.
Most underrated ingredient?
Asafoetida or hing comes in a tiny yellow bottle as you really don't need much- the flavour is wonderfully strong. You just need to sprinkle a little after you've let the mustard seeds pop or cumin seeds become brown, just before you add the vegetables, pulses or lentils for the curry or daal.
Most memorable meal?
I have had some of my best and most memorable meals in Gujarat and Rajasthan. I'd once visited a stunning candle-lit restaurant called Vishalla an hour away from the city of Ahmedabad, a real Gujarati village experience, where we were served our thali on a banana leaf as we sat on the floor.
What are you cooking now?
I love rhubarb. I am currently experimenting with making a spicy and tangy rhubarb chutney.
Who would you most like to cook for?
A brunch menu for Gandhi with a combination of some of my more experimental dishes and some of the more Indian ones, from saffron lime chia pots and tofu scramble with sweet potato to masala grilled aubergine and chana chaat.
Quick weeknight supper?
If I've made a few of my mung bean rostis in advance, I would quickly heat them up in a pan, top them with the delicious chutneys (ready in the fridge) and chop up some avocado.
Recipe extracted from Saffron Soul by Mira Manek, £20 Jacqui Small. 
---