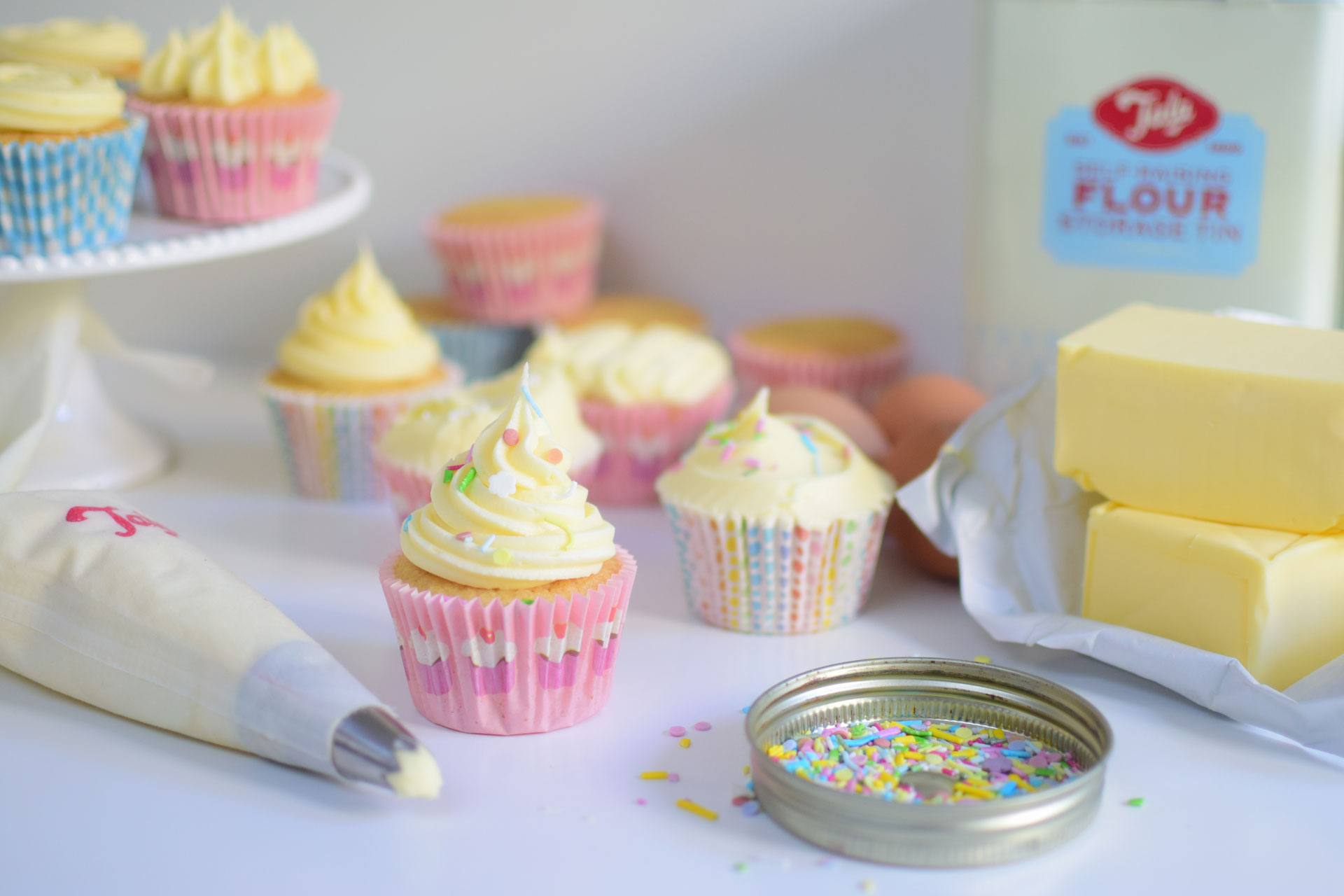 Recipe: Easy Vanilla Cupcakes
---
Newbie to the baking world? Try this simple fairy cake recipe from Tala
On the hunt for an easy fairy cake recipe? Look no further. Here Tala shares a no-fail recipe for the perfect vanilla cupcakes.
Easy Basic Fairy Cake Recipe
This delicious no-fail recipe guarantees perfect cupcakes every time. Customize your cupcakes with your favourite sprinkles and colour the buttercream with food colouring – gel colourings seems to work best. Add a small amount for gorgeous pastel buttercream swirls.
Ingredients:
Makes 12-14 cupcakes
For the cupcakes:
3 medium size free range eggs

200g caster sugar

200g margarine or softened butter

200g self-raising flour

½ tsp vanilla extract
For the icing:
250g salted butter, softened

300g icing sugar

Vanilla extract

Sprinkles
Method:
Line a Tala bun tin with cupcake cases and preheat the oven to 150 degrees Celsius fan (302 degrees Fahrenheit).

In the large mixing bowl, cream the caster sugar and margarine together thoroughly for a couple of minutes until really light and fluffy.

Add the eggs and vanilla and beat again.

Finally add the flour and mix briefly until smooth.

Divide the mixture between the cupcake cases. There may be enough for an extra two cupcakes. If you have an extra bun tin you can use this or the mixture will sit happily on the side until the tin is ready to be used again.

Bake for 25-30 minutes until the cupcakes are risen and springy to the touch. (Take great care not to burn yourself.)

Leave the cupcakes in the tin for five minutes and then transfer them to a wire rack to cool completely.

While the cupcakes are cooling, get started on the buttercream by creaming the softened butter with the icing sugar until pale. Add vanilla extract to taste.

Transfer the mixture to a piping bag and pipe swirls on top of the cupcakes. Scatter sprinkles of your choosing over the top.
Tips:
Freeze the cupcakes before icing if you want to make them ahead of time.

Scatter the sprinkles as soon as possible after piping the buttercream, or the icing will crust over and the sprinkles won't stick.
MORE RECIPES: