With avocado, sweet potato and walnuts this kale salad is not only delicious and filling but it is also nutrient dense, making it a perfect salad for those health-kick months.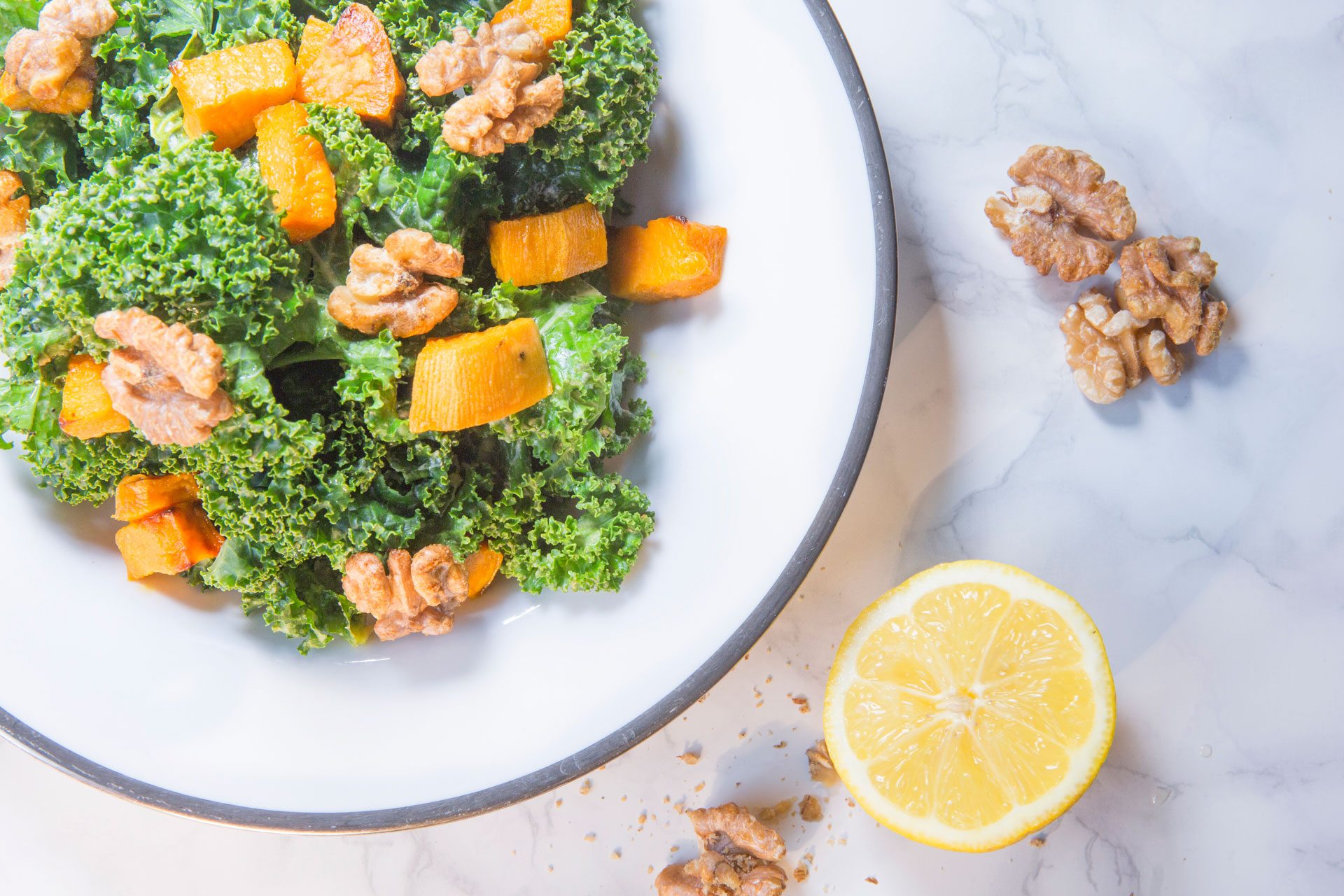 Walnut & Maple Kale Salad
Serves 2 people
Ingredients
1 large head of kale
Flesh of 1 avocado
2 tbsp tahini
Juice of 1 lemon
2 tsp tamari
1 large sweet potato (approx 1 cup) peeled and cubed into 1 inch pieces
1 tbsp maple syrup
1/4 tsp cayenne pepper
Handful of walnuts – broken into pieces
Olive oil
Method
Preheat the oven to 180 degrees Celcius.
On a baking tray, drizzle olive oil over the sweet potato pieces and sprinkle with salt and pepper.
Place in the oven for 30 – 40 minutes until the sweet potatoes are cooked – they should be soft and caramelised.
Cover the walnut pieces in the maple syrup and place on a baking tray in the oven for 5 minutes, until lightly toasted.
Meanwhile, tear the kale into bite-size pieces, removing and discarding the fibrous stems, and place in a large bowl. Add into the bowl the avocado, tahini, lemon juice, and tamari.
Using your hands, massage all these ingredients into the kale for a few minutes. This process breakdowns the kale tough cellulose structure. You will notice the kale will shrink in size, become darker, and have a softer texture. N.B The longer you leave the kale, the softer and easier to chew it will become – you can leave it for up to 2 days or eat right away.
To serve, combine the kale mixture with the sweet potatoes and walnut maple pieces.
This quick and easy recipe is a favourite from the gymwear experts at Vaara.
---