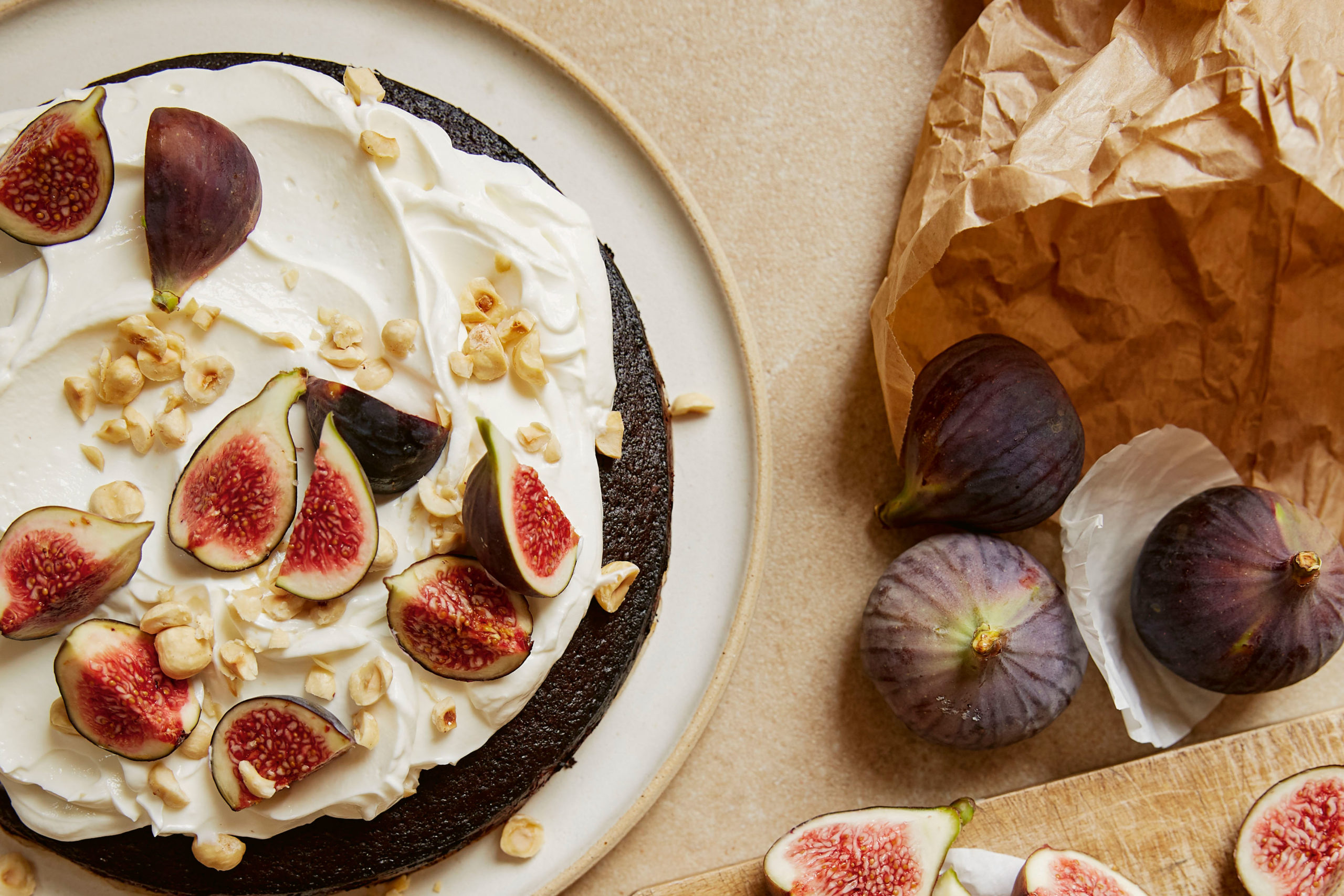 Recipe: Angela Clutton's Chocolate Olive Oil Cake
---
A chocolate cake recipe from the new Borough Market cookbook
Get a taste of Angela Clutton's new book of recipes, Borough Market: The Knowledge, with this chocolate cake recipe.
Recipe: Chocolate Olive Oil Cake With Figs And Hazelnuts
This is a pleasingly elegant chocolate cake recipe perfect to serve as a dessert. It's not overly rich, and has a lovely tangy bite from the yoghurt topping, with hazelnuts giving that topping crunch as well as flavour. This is the place for using a good, but not necessarily the absolute best, olive oil. You want something with a mild flavour that isn't going to overwhelm the other elements.
Serves 10
Ingredients:
150ml mild olive oil 

60g carob flour or cocoa powder 

2 teaspoons hazelnut liqueur 

200g golden caster sugar 

3 large eggs 

125g self-raising flour 

A pinch of fine salt 

200g thick Greek yoghurt 

2 ripe figs 

100g skinned hazelnuts, toasted 

You will need a 23cm springform cake tin 
Method:
Preheat the oven to 170C fan/190C/375F/gas mark 5. Grease the sides of the cake tin with a little of the oil, and line its base with baking paper. 

Sift the carob flour or cocoa powder into a bowl, then whisk in 125ml boiling water and the hazelnut liqueur. Set aside. 

Put the sugar, the rest of the olive oil and the eggs into a large mixing bowl. Use an electric whisk to beat them together until thickened: you are trying to get lots of air into the mix. Beat in the carob flour / cocoa powder mixture, then sift in the flour and salt. Gently but thoroughly fold the flour in – you don't want to lose all the air you've just beaten in – then pour the mixture into your prepared cake tin. 

Bake for 35–40 minutes until just about set. Remove from the oven, cool on a wire rack for 10 minutes, then remove from the tin and leave to cool some more. 

Once the cake is cool, spoon the thick yoghurt on top. Slice the figs and arrange those on top too. Chop the hazelnuts, scatter over and slice. 

You can bake the cake ahead of time and store it without the topping in an airtight tin. It will keep well unadorned like that for up to 3 days. Once topped with the yoghurt, figs and nuts it is best eaten that day.
Borough Market: The Knowledge with Angela Clutton is out now
Featured Image: Kim Lightbody