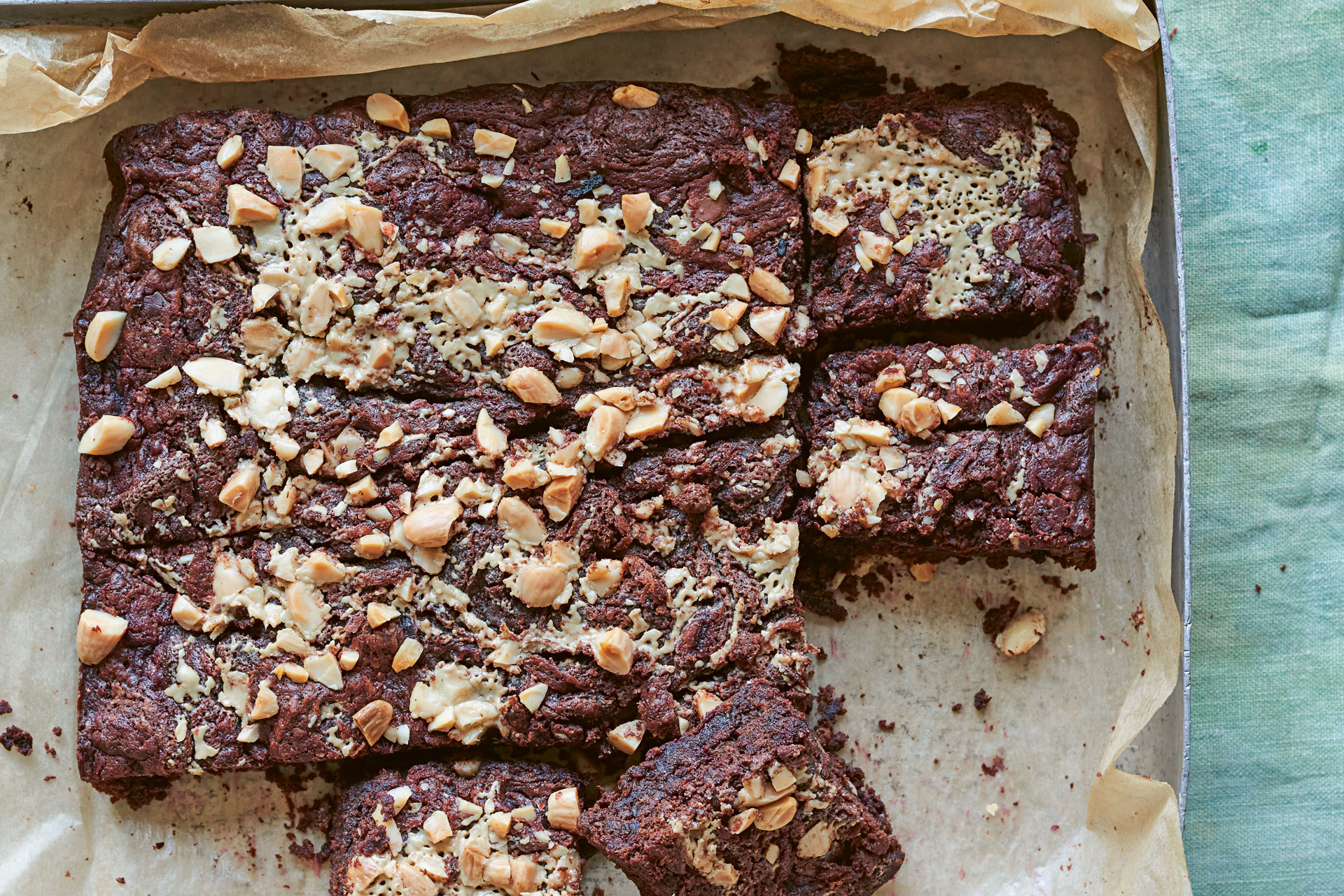 Recipe: Kathy Slack's Beetroot, Tahini and Almond Brownies
---
Brownies get a grown-up twist
New cookbook From The Veg Patch features 100 simple recipes from cook, grower and writer Kathy Slack. 'Every recipe puts a hero vegetable or fruit centre stage and builds a dish around it,' she says. 'I want to give each harvest its moment in the spotlight, parading it in a flurry of trumpets to the dinner table. It's a chance to see what wonderful things happen when you make that hero plant the main flavour in the dish.' Below we share one of our favourite recipes from the book: beetroot, tahini and almond brownies.
Recipe: Kathy Slack's Beetroot, Tahini and Almond Brownies
When I worked at Daylesford Organic Farm, the bakery made chocolate brownies that were out of this world. They were dark, fudgy and flecked with nuggets of white chocolate. I would buy one at the end of my shift in the kitchen garden, unable to resist tucking in straight away despite my mud-engrained fingers. They have been my brownie benchmark ever since, and so when I came to this recipe (beetroot and chocolate, after all, being a classic combination I could not omit), I knew mine too must be broodingly dark and have those signature morsels of solid chocolate hidden within. The result is a grown-up brownie, almost savoury, thanks to the beetroot and tahini. Good for dessert with a dollop of sour crème fraîche as contrast.
Ingredients:
Makes 9 brownies
1 hour, plus 1 hour to cook the beetroot
300g whole, raw beetroots
175g good dark chocolate (at least 70% cocoa solids), chopped into small chunks
175g butter, cut into cubes
2 eggs
85g caster sugar
70g demerara sugar
100g plain flour
1⁄2 tsp baking powder
160g rich milk chocolate (I use one that's 55% cocoa solids), chopped into small chunks
4 tbsp tahini
50g whole, blanched almonds, roughly chopped
Method:
Preheat the oven to 210°C/190°C fan/gas mark 61⁄2. Wrap each beetroot in foil, then place them on a baking tray and roast for 1 hour. They will be almost cooked through, but still slightly firm to touch. Unwrap the parcels and leave to cool, then peel and grate the beetroots using the coarse side of a box grater. Should the beetroot be very watery once grated, squeeze out the excess water and pour away. Set aside.
Reduce the oven temperature to 185°C/165°C fan/gas mark 41⁄2 and line a small roasting tin or square cake tin (roughly 20 × 20cm) with baking parchment.
Put the dark chocolate and butter into a heatproof bowl set over a pan of simmering water (making sure the bottom of the bowl doesn't touch the water underneath) and let everything melt together gently, stirring only occasionally. Remove from the heat and leave to cool a little.
Meanwhile, in a separate bowl, whisk the eggs and both sugars together until thick. This will take a good 5 minutes in a freestanding mixer or with an electric whisk. The mix should be thick, ribboning, pale and quadrupled in volume. If you find the odd grain of demerara sugar still floating about, don't worry – it will dissolve with cooking.
Next, add the melted chocolate mixture to the beaten eggs mixture and fold together until just combined. Think calm and gentle thoughts so the mixture stays airy.
Add the flour and baking powder and fold together once more. Finally, stir in the rich milk chocolate chunks and the grated beetroot.
Pour into the prepared roasting tin or cake tin and level off. Drizzle the top with tahini, swirling it in with a skewer so some stays on the surface and some whirls into the mixture, then scatter over the almonds. Bake for 30–35 minutes. It should be springy to the touch and set on top, but the middle should stay quite soft and moist – a skewer inserted into the centre should come out sticky.
Remove from the oven and cool completely in the tin, before turning out and cutting into squares. Store any leftovers in an airtight container for up to 3 days – but you'll have eaten them before then.
Extract taken from the book: From the Veg Patch by Kathy Slack (Ebury Press, £25). Photography by Kathy Slack.
MORE RECIPES: