Peas & Ticklemore
"If a girl finds nine peas in a pod, the next bachelor she meets will become her husband"….apparently. 
So if you're looking for some autumn romance you're sure to find some positive results as you work through the 200g of podded peas involved in this delicious Lyle's recipe for Peas & Ticklemore (although it serves 4, so perhaps it's best for a double date).
The most important thing about this dish is the quality of the peas. At their freshest they will be sweet and crunchy. It's also important that the ingredient are straight from the fridge, but the cheese is at room temperature. If you are making this salad in June or early July you should definitely grab some wild peas flowers. If not, nasturtiums are great and also add a peppery note to the salad. Be careful not to over-dress the salad, if all ingredients are right it should be nicely balanced.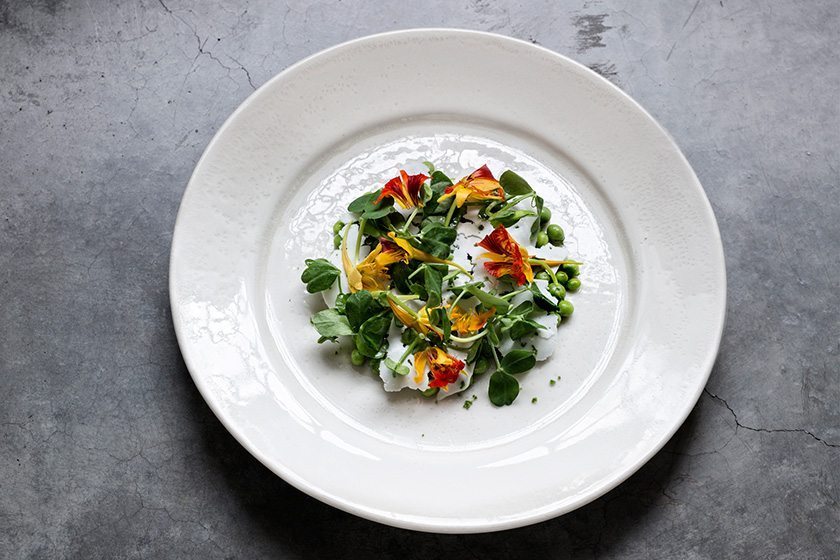 Ingredients
200g podded peas
60g pea shoots
60g Ticklemore cheese
40 wild pea flowers or 16 nasturtium flowers
8 sprigs chervil
12 mint leaves
120g olive oil
40g apple juice
40g cider vinegar
Salt and pepper
Method
Using a pestle and mortar, combine half the chervil with salt and grind until bright green and broken down.
Combine the olive oil, apple juice and cider vinegar to make the salad dressing.
Chop the mint leaves roughly. Mix with the peas and add dressing, a pinch of pepper and the chervil. Salt to taste.
Plate the peas and spread into a thin layer.
Cover the peas with thinly sliced Ticklemore.
Mix the pea shoots in the same bowl, using the shoots as a tool to mop up whatever is left in the bowl so they're lightly dressed.
Put the pea shoots on top of the cheese.
Finish with the flowers and picked chervil leaves.
James Lowe from Lyle's created this pea dish exclusively as a guest chef for the S.Pellegrino takeover of the Harvey Nichols Fifth Floor Terrace.
---