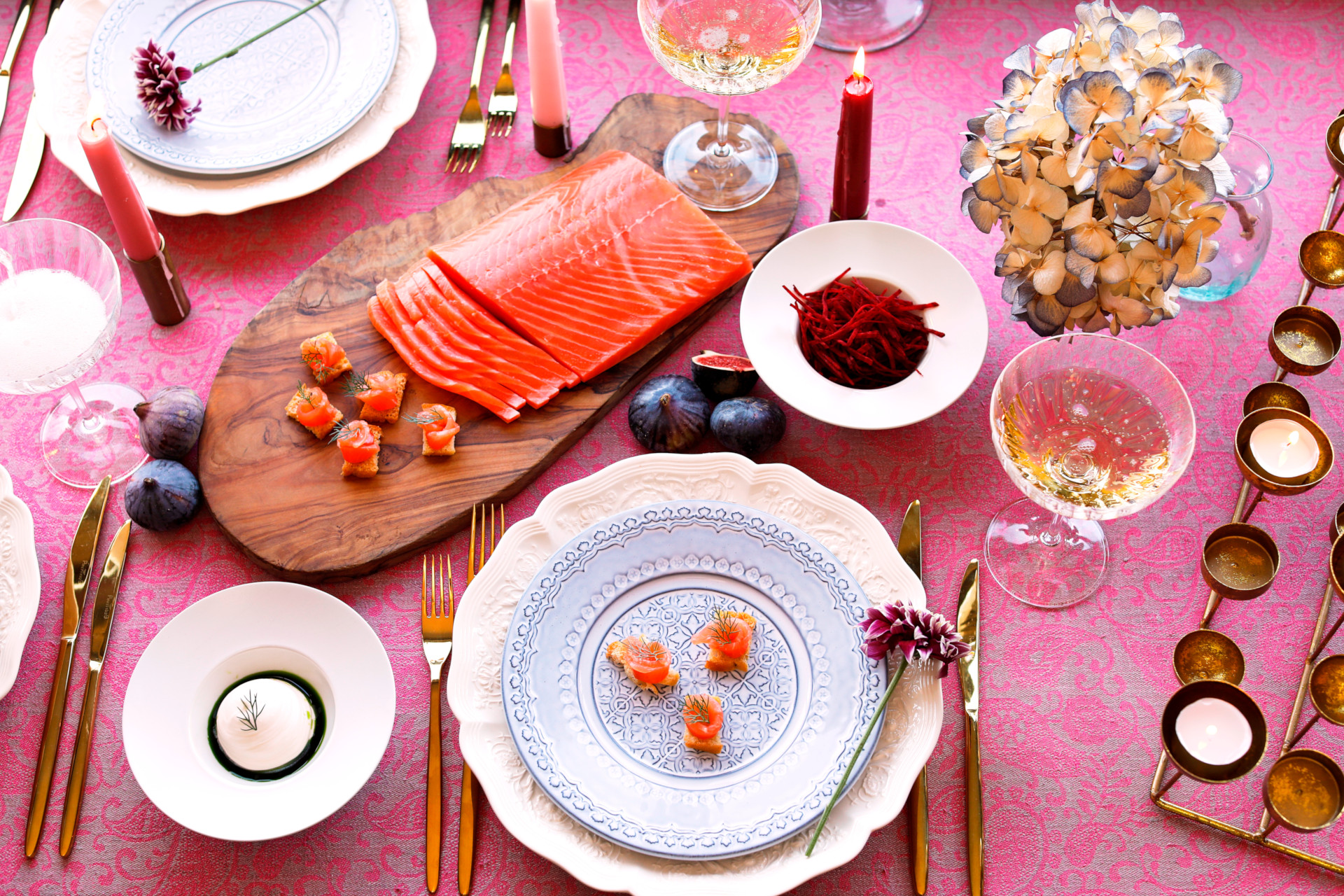 Recipe: Smoked Salmon Christmas Sharing Board
---
Nibble your way through this party favourite
Planning a festive get-together this Christmas? Become everyone's favourite host with this smoked salmon sharing board recipe from Lettice Events, which works well as both a starter and canapes.
Recipe: Smoked Salmon Christmas Sharing Board
Ingredients
1 side of smoked salmon, unsliced
250g extra thick crème fraiche
1 bunch of dill
2 lemons
3 medium beetroots
1 stick of horseradish
1 small focaccia or baguette
A drizzle of extra virgin rapeseed oil
200ml white wine vinegar
125g caster sugar
100ml water
Salt
Pepper in a grinder
Equipment
Method
Begin by taking your salmon out of the fridge for at least 30 minutes before serving. This allows the oils to soften slightly and bring the flavour out.
Set your oven to 170c to preheat.
For the Picked Beetroot
Peel your beetroots. I would advise using rubber gloves otherwise you will have red hands for days on end.
Thinly slice on a mandolin and then cut into very thin strips (Julienne). Alternatively, you can grate the beetroot.
Heat your vinegar, sugar, and water in a pan to boiling, then pour over your beetroot. Leave out of the fridge to cool. This will be ready in 30 minutes and will last for months if kept in the fridge in a sealed container or jar.
For the Crostini's
Cut your baguette or focaccia into little bitesize crostini and place on a baking tray. Drizzle lightly with your rapeseed oil and sprinkle lightly with salt.
Bake at 170c for 8-10 minutes or until golden brown and crispy.
For the Garnish
Cut one of your lemons into wedges or cheeks, removing the seeds and place in a bowl ready to use. Season your crème fraiche with the zest of one lemon, a sprinkle of salt and a few twists of pepper.
Place in a bowl and garnish with a few sprigs of dill.
Place your dill in a presentable glass with a small amount of water at the bottom for people to pick themselves.
Peel your horseradish and present with a micro plane or fine grater for people to grate themselves. It is important to grate just before eating to get the spicy kick.
Then carve your salmon as desired. I would recommend thinly sliced so you can drape it on the crostini's. Voila!
Images courtesy of Lettice Events