One for alfresco dining in spring/summer or comfort eating in the colder months. Try this caramelised red onion, cream and stilton quiche recipe from Genevieve Taylor.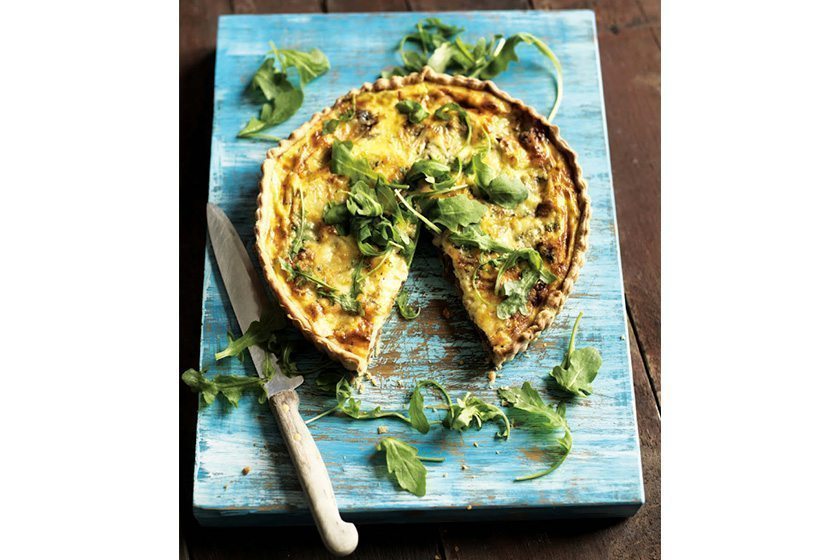 When cooked long and slow, red onions take on an incredible depth of flavour, and in this quiche they form a sweet dense layer underneath a rich and creamy custard. You can replace the Stilton with mature cheddar if you are not a blue cheese lover.
Serves 4–6 | Takes 15 minutes to make (plus cooling), 1 hour 5 minutes to cook
Ingredients
50g unsalted butter
1 tbsp olive oil
4 large red onions, thinly sliced
Couple of sprigs of fresh thyme
2 tbsp balsamic vinegar
1 deep 25cm blind-baked Shortcrust Pastry Tart Case (see pages 6–7)
4 eggs
300ml single cream
200g Stilton, crumbled
Salt and freshly ground black pepper
Handful of rocket leaves, to garnish
Method
1. Melt the butter with the oil in a large, deep saucepan. Stir through the onions and thyme sprigs, then cook, uncovered, over a very low heat for at least 30 minutes or until they are really soft, stirring occasionally. Remove and discard the thyme stalks.
2. Pour in the balsamic vinegar, increase the heat a little and continue to cook, stirring constantly for a few minutes until you are left with a dark rich mass of caramelised onions. Remove from the heat and set aside to cool – the onions will be very hot indeed so let them cool down until they are cool enough to touch.
3. Once the onions are cool, preheat the oven to 200°C/180°C fan/gas 6.
4. Spoon the onion mixture into the pastry tart case and spread evenly. In a bowl, beat together the eggs and cream and season well with salt and freshly ground black pepper. Slowly pour into the pastry tart case, allowing it to settle and find its own level gradually around the filling, then sprinkle over the Stilton.
5. Bake in the oven for about 30 minutes or until the filling is just set and the cheese is melted. Carefully remove the quiche from the tin and transfer it to a serving plate or wooden board. Serve hot or warm, scattered with a generous handful of rocket. This is a very rich quiche, so a simple salad dressed with a sharp dressing will work nicely as an accompaniment.
Extract taken from 'Pie!' by Genevieve Taylor is published by Absolute Press, £12.99, Paperback 
Photography by Mike Cooper
Read more: Recipe: Make your own Melton Mowbray Pork Pie
Read more: Recipe: Skye Gyngell serves up an autumnal apple galette
---