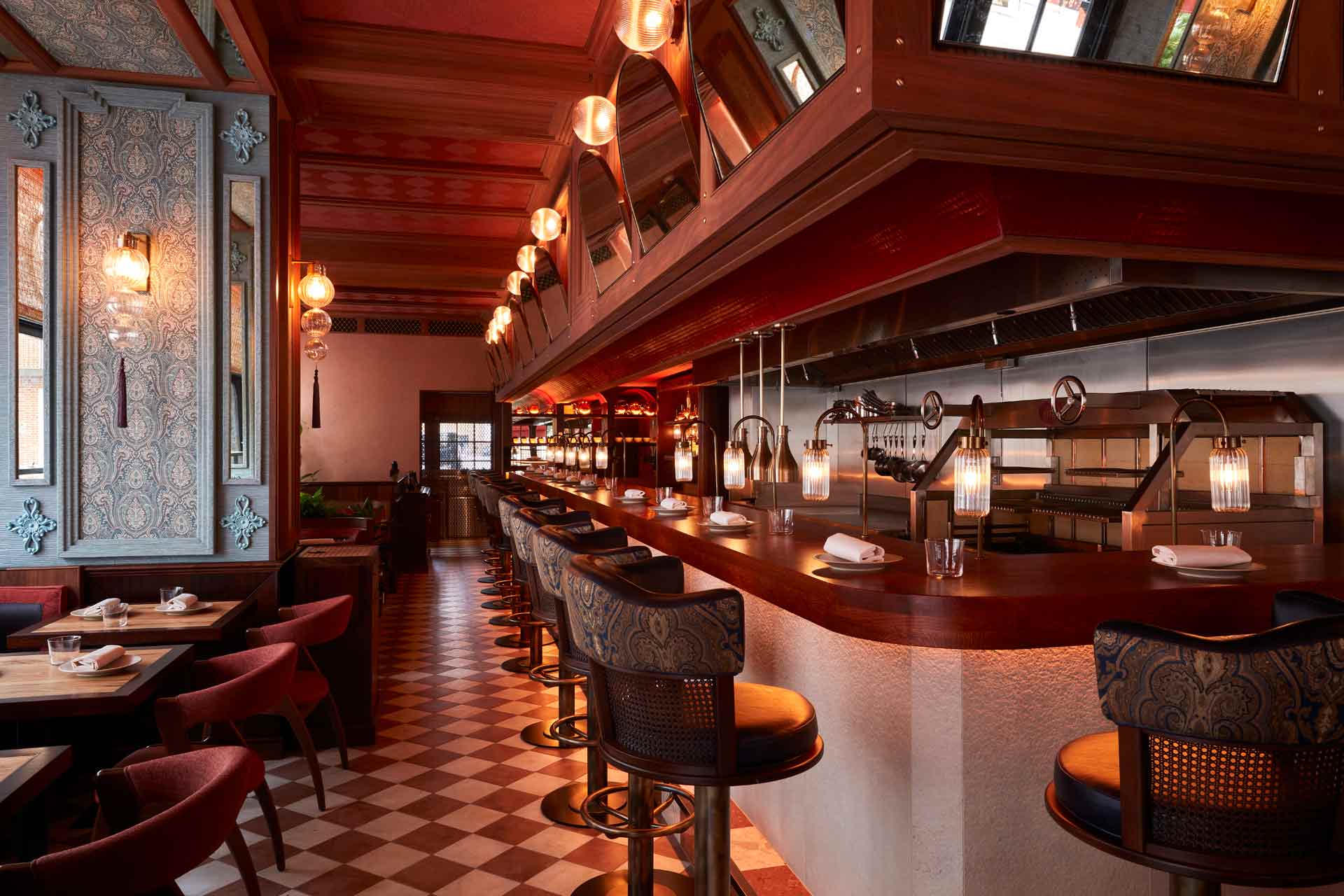 Restaurant Review: BiBi Mayfair
We'll take one of everything on the menu, please.
Pandemic be damned, London's luxury culinary scene is alive and kicking, with a host of exciting openings to tantalise the tastebuds popping up across the boroughs. But none of them will become an overnight favourite quite like the exquisite BiBi Mayfair, writes Rebecca Cox.
BiBi Mayfair Review
'I've never tried anything like these plates', I told Chef Chet Sharma, the man behind BiBi, a JKS Restaurants project that opened to rave reviews late last year. Chet has worked at a number of London's leading Michelin-starred restaurants, including the beloved Indian stalwart Benares, but with a PhD in physics from the University of Oxford, a spell under the tutelage of Andoni Aduriz and a clear penchant for the subversive, it should be no surprise that BiBi is pushing boundaries. He replied: 'Er, yes, that's sort of the point.'
'Tis a point made flawlessly. BiBi offers an evolving menu of contemporary Indian cuisine with recognisable flavours that would have been enjoyed by his paternal and maternal grandmothers (bibis), who played a key role in the formation of his culinary identity. Fine Indian ingredients are paired with hero UK produce including Orkney scallops and paneer made with buffalo milk from the New Forest. The result: something entirely new for the Indian dining scene, a menu stacked with must-try bites and can't-stop-thinking-about-them flavour combinations.
The slim, chic restaurant has an intimate, exclusive vibe, seating just 33 guests at a time, with a design led by Sam Hosker, Design Director at JKS Restaurants, featuring tribal art depicting India in abstract shapes and engravings on the ceiling plus rich mango wood-toned furnishings. Seating is comprised of cosy booth-style tables and 13 stools at the kitchen counter; opt for a kitchen bar seat if you want to see the chefs at work and feel part of the action (although you run the risk of observing the one or two dishes you passed up being prepared and panic ordering them).
And so, to the food itself. The à la carte menu consists of bar snacks, chaat, sigree, sides and desserts; and you'll want them all. (Although ordering them all may break the bank.) The Wookey Hole Cheese Papad is the king of bar snacks, crispy, cheesy crackers to dip in a multi-layered creamy, fruity, chutney dip. The Orkney Scallop Nimbu Pani, raw scallop served with blood orange and Indian lemonade, is so delicious you'll accidentally swallow the hole plateful before you realise what you've done and mourn its departure. The Athela March Turbot is creamy, rich and indulgent, the Khatti Meethi Hake has a perfectly crisp peanut topping that should be mass-produced, bagged, and sprinkled on all edible goods. The simply presented Buffalo Milk Paneer is truly sublime, and the Dahi Aubergine could happily be the main event at any dinner party to assured rave reviews. Just when you thought you'd run out of superlatives, the Malai Celeriac with Winter Truffle arrives and you realise that oh, you actually have run out of superlatives, but it deserves one just the same. Order plenty of roti for mopping up sauces, after all, licking the plates is frowned upon on this side of town. You won't have room for dessert, but Chet convinced us to order one each of the kulfi 'mini magnums' to perfectly round off the meal, and even sharing these turned out to be a challenge (because myself and my companion both wanted to finish both). This is the only drawback of creating a menu of perfectly balanced plates perfect for sharing; you're best-off ordering tapas-style and sharing with your fellow diners, but everything is too delicious to share without begrudging every bite you pass up.
Drinks then, leave the ideal option for individual ordering and consumption. The Rose Spritz is the perfect pink fizz to start your evening with; gin mixed with Gujarat rose kombucha and Sparkling Nepalese Cherry Blossom Tea for a light and delicate cocktail. The towering shaved ice base of the Calamansi Gola and the Triple Pineapple Gola make for pleasing party pieces that will no doubt make the perfect summer go-tos on the terrace once warmer weather arrives. The Salted Kithul Old Fashioned is the ideal after-dinner drink, with the Salted Kithul Treacle adding a unique and decadent note. As for the wine, a misleadingly pink 2020 Pinot Gris is a pleasingly dry white that complements the fish mains.
THE FINAL WORD
Everything is too delicious to share but the choices are too good not to. A return visit is the only option. Chet Sharma's BiBi is a triumph of proportions far outweighing the serving sizes.
BOOK
READ MORE
The Best Special Occassion Restaurants in London