The co-founder of Wahaca and queen of Mexican cooking has got Christmas covered.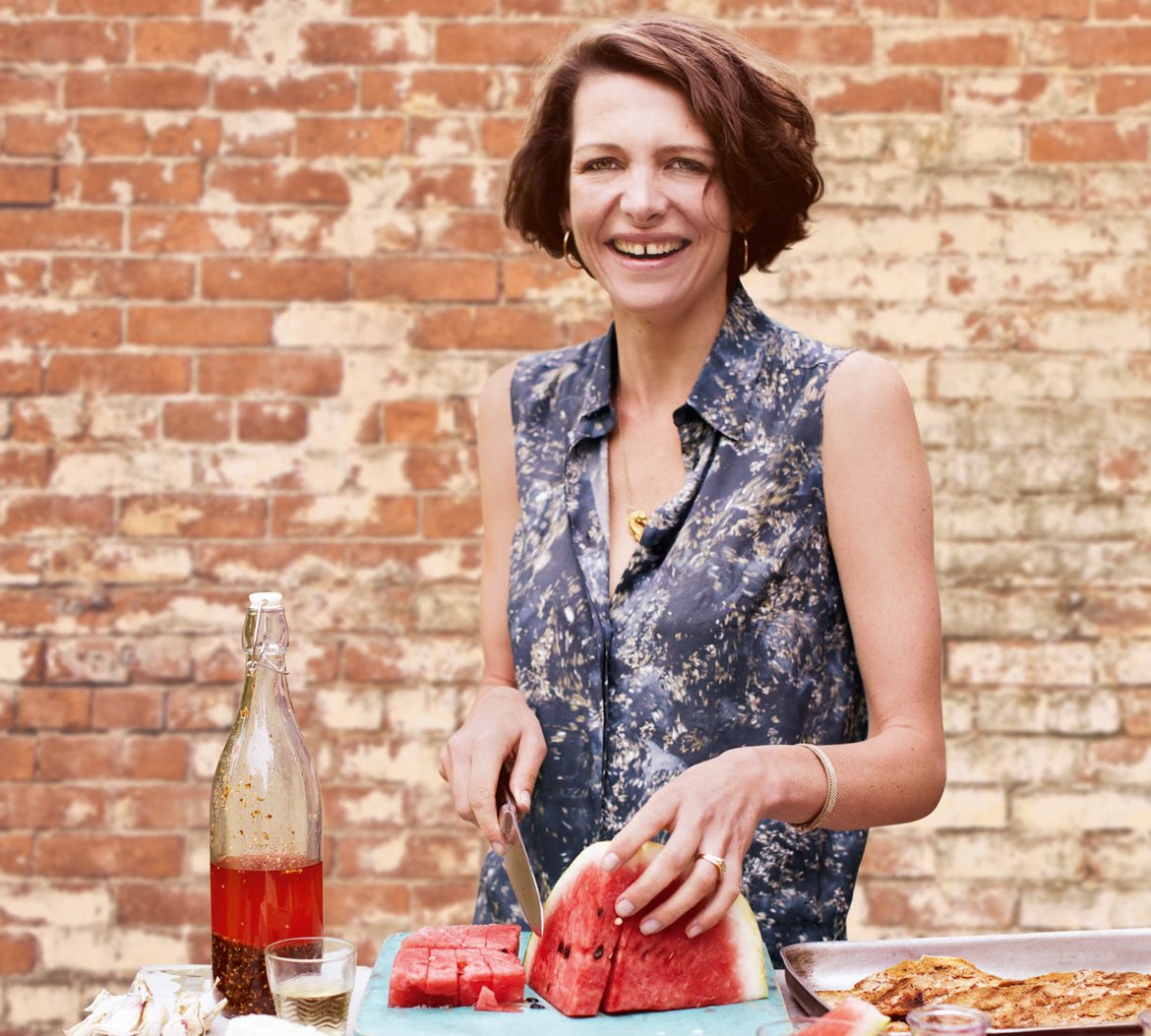 Phew. It's the end of the year. Where will you be spending Christmas? 
In the Caribbean!  At my mother-in-law's, with my husband and two daughters Tati and Ottilie. It's the first one there in three years. Being on the sunshine…
Will you be spending all your time in the kitchen? 
Er, yes. Definitely.
Any cheat tips you can give us lesser cooks? 
Make it easy, make it simple, make it fun! You're supposed to be enjoying yourself not killing yourself. Do as much in advance as possible. Play with seasonal ingredients and fun ideas. Plan and plot but have fun doing so. Thinking about food is almost as much fun as eating it.
Any advice on what to give foodies for Christmas? 
Great cheese from a proper cheese shop never fails. Or some home made quince jelly.
What are you hoping for under the Christmas tree? 
A pressure cooker, some knee high boots (probably flat so I can wear them on the bike), a bottle of whisky, a bottle of mescal. A tangerine. A time vacuum so that I can read a book.
Where have you most enjoyed eating out this year? 
Barrafina on Adelaide Street was amazing.  Koya for those addictive chewy noodles.  Raw Duck for the sparkling vinegar drinks. Dock Kitchen for being such a ridiculously delicious local.
What's new and exciting in the world of food? 
Young guns coming up through the ranks being passionate about food.  Too exciting. More and more people are caring about what they eat.
Who or what is the next big thing? 
See above! There is so much going on it's mad. We live in a crazy, vibrant and diverse nation. It's the best.
You've recently launched DF Mexico in Shoreditch. When and where is the next one opening? 
We are opening Wahaca in Cardiff right now and it's amazing to go back to my grandmother's 'hood. I love Wales, it's wonderful that we're going there food-wise.
Any advice for coping with the January blues? 
Eat well, live well, leap about, sleep, dance about, be nice to yourself.
Winter warmer recipe: Spiced cauliflower soup with avocado salsa
Cauliflowers make the smoothest, creamiest soups and avocados make the smoothest, creamiest salsas. Here the two ingredients complement one another, with the silky avocado mixed with sweet, crunchy hazelnuts and fresh lime to soften and add sparkle to the toasty, gentle heat of the chilli and the earthy coriander. A simple, satisfying and unusual starter or supper dish.
[ezcol_1third]
Ingredients
» 2 tbsp olive oil
» 1 onion, diced
» 2 sticks celery, finely sliced
» ½ tsp Turkish chilli flakes, plus more to garnish
» 1 tsp coriander seeds, crushed
» 2 garlic cloves, chopped
» 1 medium floury potato, peeled and diced
» 1 large head of cauliflower, broken up into large florets
» 1 litre vegetable stock or water
For the salsa
» 1 large, ripe Hass avocado, peeled, de-stoned and diced
» 25g hazelnuts, toasted and roughly chopped
» Juice of 1 lime
» 2 spring onions, finely diced
» 2 tbsp olive oil
» 1 small bunch coriander, roughly chopped
[/ezcol_1third] [ezcol_2third_end]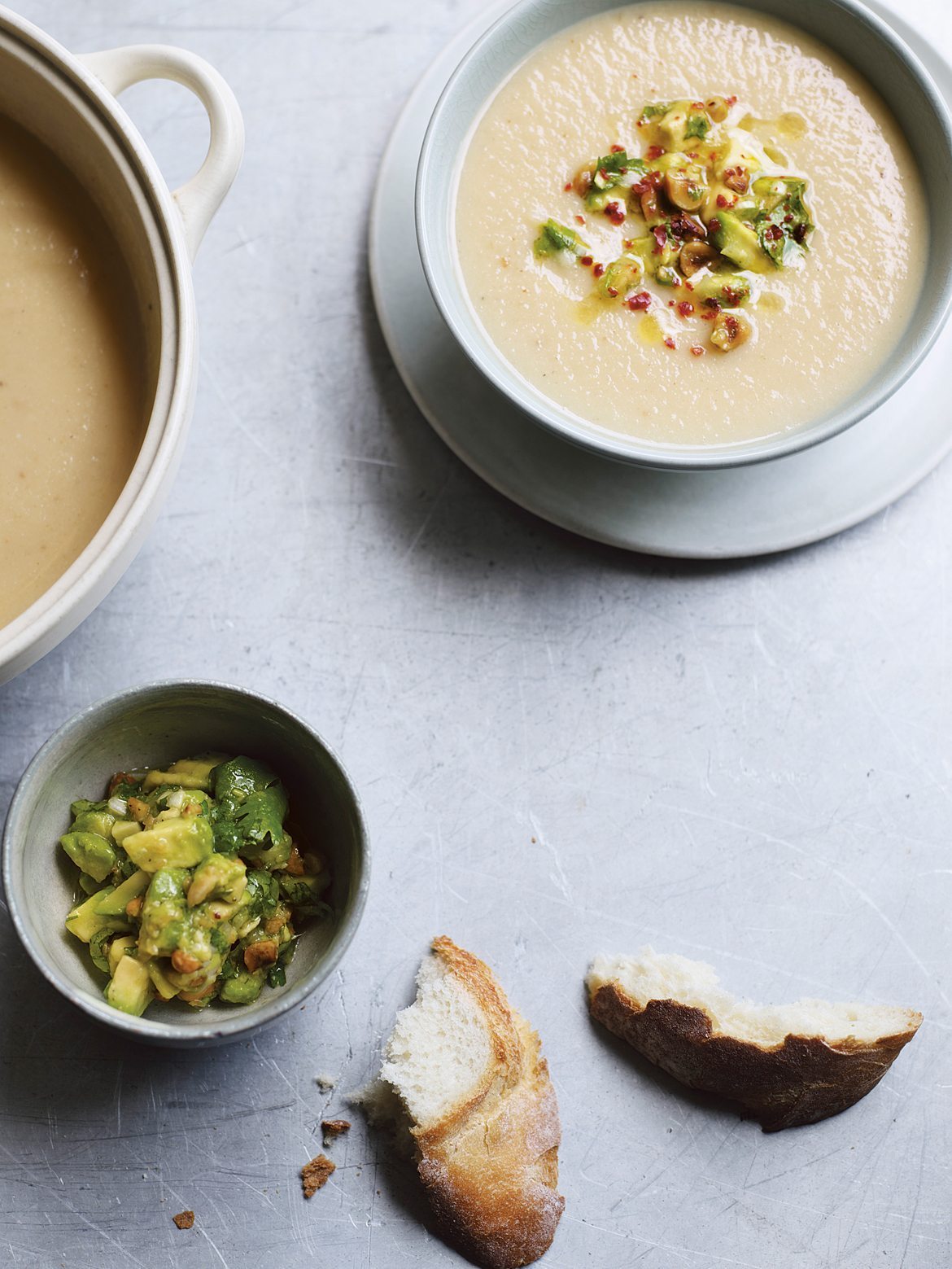 [/ezcol_2third_end]
Serves four
Heat a large saucepan or casserole dish, pour in the olive oil, then add the onion, celery, chilli and coriander seeds. Season to taste then cook, stirring occasionally, for about 10 minutes until the onion has turned silky soft and translucent. Add the garlic and potato and cook for a further few minutes, stirring to coat the potato in oil before finally adding the cauliflower and enough stock or water to cover.
Simmer the broth until the cauliflower is completely tender. Whizz up with a stick blender and taste to check the seasoning, adding more salt and pepper if you think it needs it.
Stir all the salsa ingredients together and season to taste. Serve the creamy soup with dollops of the fresh, zingy salsa on top and a scattering of chilli flakes, if you like.
© Thomasina Miers. Recipe taken from Chilli Notes by Thomasina Miers (Hodder & Stoughton £25) Photos by Tara Fisher.
---