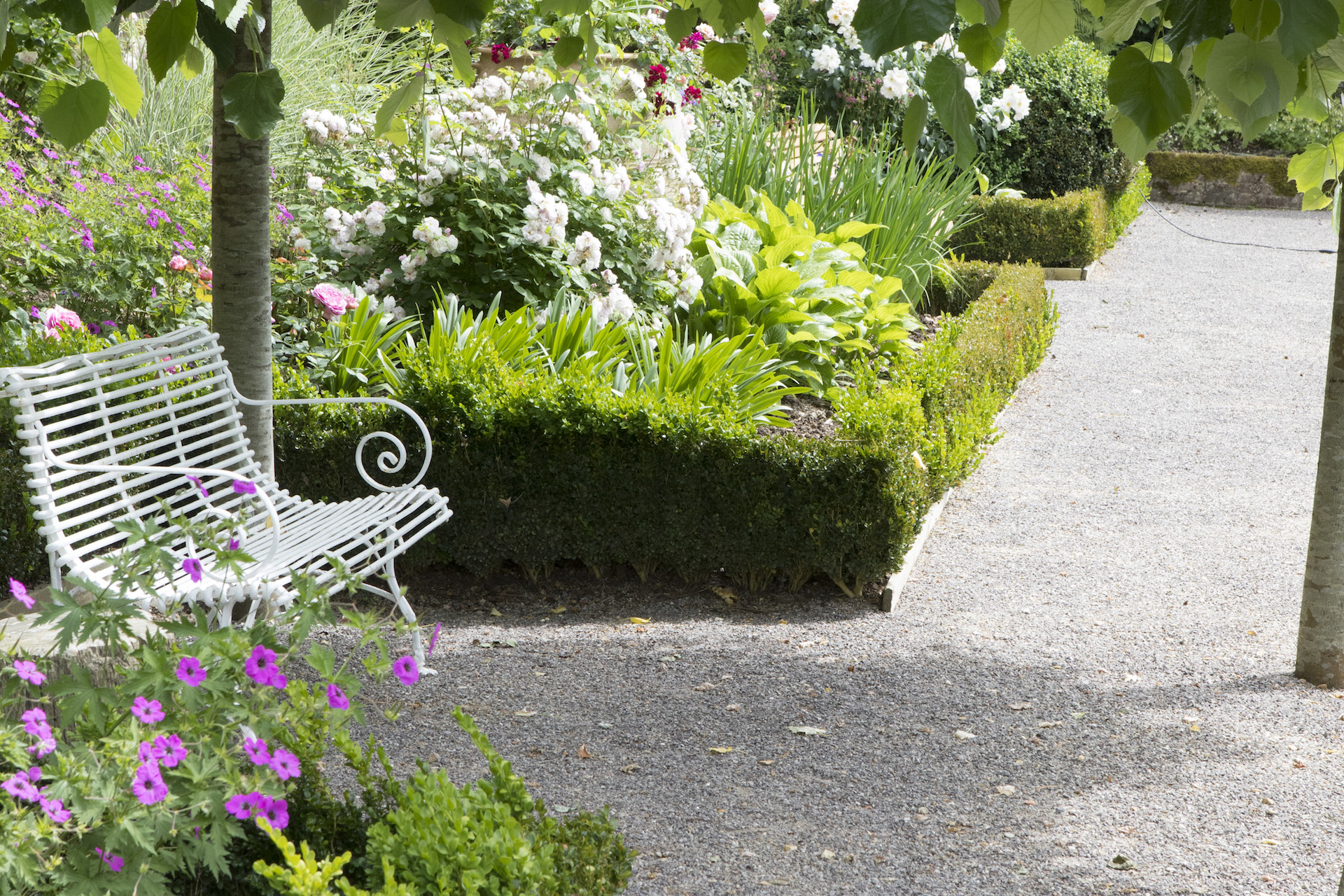 In the garden with… Annoushka Ducas
---
In the garden with… Annoushka Ducas
Annoushka Ducas shows us around her beautiful Sussex garden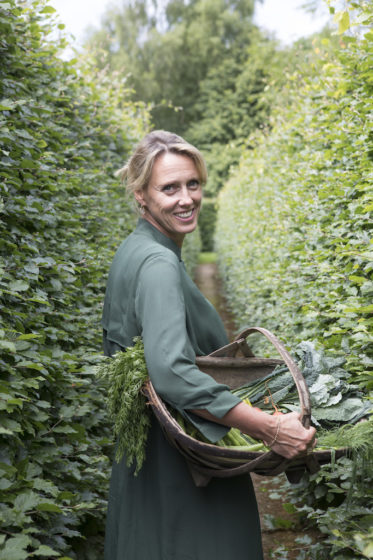 Describe your garden?
I'm lucky enough to live in a place I adore. We're connected equidistantly to both land – the Sussex Downs – and sea, which is just a couple of miles away. Both aspects, particularly the vibrant colours and intricate textures of the garden, play a huge part in my life as a designer. The garden itself is a labour of love and something that's been developing in the 25 years we've lived here.
Did you have any help?
I'm lucky to have had lots of help from a brilliant all-female team and in the last few years I've had the pleasure of working with my great friend and garden designer Judith Wise, whose style I absolutely love. I am not a fan of anything twee or fussy, and so the garden is mostly dictated by bold dense hedges and topiary, which give structure and form to the space, as well as allowing us to move between different spaces, with different feelings and aesthetics; repetition of form in parts allows for fluidity and makes the space a journey.
To balance the dark green density of the hedging, we have used soft rich tones, of pinks, purples, blues, dark reds and whites. I find keeping the palette reasonably constrained makes things feel considered and unfussy. I introduced the colours mainly through dense planting of perennials within the beds, their soft floaty form providing the lightness needed. Away from the surreal Alice In Wonderland qualities of the long, dense-shaped hedges ,which so often translate instinctively into my jewellery collections, it's important to me to have areas of calm. These come in the form of broad sweeping lawns planted with masses of bulbs and the rambling orchard – this less ordered feel ensures the house sits comfortably within the garden and the landscape beyond.
Favourite view?
It really depends on the time of day, but one of my favourite places to sit on a summer evening is on the bank at the bottom of the garden with my dogs, sipping a large gin and tonic and looking at the Downs to the north, and back at the house to the south. This part of garden was the first big project we did and we didn't get it right the first time, so I asked landscape designer Miranda Brooks to come and help. She had the experience and vision to balance the scale of the garden and the house perfectly.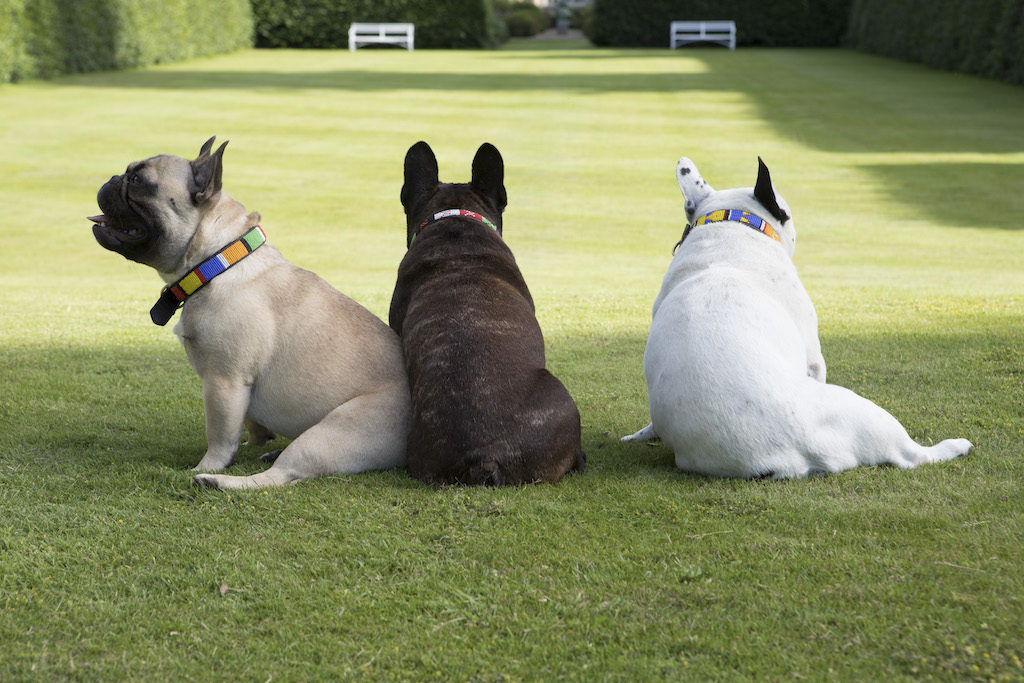 What are you doing in your garden at the moment?
It's very unusual to have so much time to spend in my garden at this time of year, but that is one the great advantages of working from home. As it happens we had planned to revisit some of the planting schemes we did 20 or so years ago in the walled garden, so we are putting in some more structure and lovely perennials, which we will be able to enjoy and watch grow over the summer.
What gardening gear can't you live without?
Whether it's designing jewellery or choosing my far less glamorous gardening gear, it's about comfort and movement. My Tretorn boots are the only truly waterproof boots I have ever found, my Felco secateurs allow for maximum precision and my very old Frances Hilary gardening apron carries lots of wonderful history.
Where do you buy your plants and seeds?
Once a year we'll usually buy from the Chelsea Flower Show, which is around the corner from my London studio. It's wonderful to see the actual plants in situ and they often have great show offers. The fairly recent additions of 12-foot topiary trees I actually shipped back from a wonderful farm in Nantes, south west France, a remarkable experience which inspired me horticulturally, as well as being the inspiration for my recently launched Garden Party collection.
For the basics like flowers and veg seeds I go to Plants of Distinction, Bloms Bulbs and Griffin Nurseries.
What do you wish you could grow in your garden?
We have really struggled with getting the roses to work but I think we need to revisit this – and feed the soil!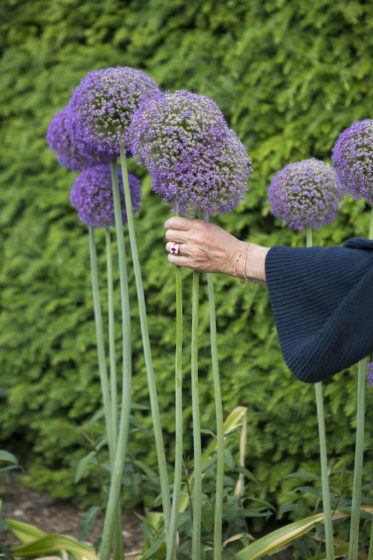 What grows really well?
We're very lucky that most things grow really well here. At the moment we're anticipating the riot of tulips, which will cover the lawn in a vivid sea of beautiful tonal colours and signal that spring is finally here! Their delicacy and form are something I've always adored and have periodically encapsulated in 18ct gold so that I can enjoy them all year round!
How do you like to spend time in your garden?
It really depends on the time of year. In winter I enjoy planting seeds and spending time in the greenhouse, preparing it and cleaning ready for the growing season. So much about gardening is about being industrious; there's always something to do, but it's so important to take the time to enjoy it too. To stand back and relish the simple pleasures of nature's bounty, like the perfectly articulated form of a beetle, or the texture of a seed.
What are your plans for your garden over the next few years?
A fun project I'm developing is our greenhouse. I have this idea that it should be a beautiful place to be in the day, but also in the evening for a totally gorgeous dinner party – I think that would be really special. My husband John and I absolutely love to host big raucous parties in the garden, but this would be a more intimate space for supper with family and local friends.
What's the one thing you would change?
I have always wanted to find a way to have water in the garden as a garden should be about all the senses, and the sound of water is so calming. But so far we have not found a place where it would work.
Do you have a favourite garden?
There are so many utterly divine garden all over the world, it's hard to pick just one. I adore Arne Maynard's wonderful garden at Allt-y-bela, a stunning Renaissance farmhouse nestled in a Welsh valley. His combination of wonderful structural topiary, which frames rolling carpets of snowdrops in spring that seem to just disappear into the surrounding landscape, is just gorgeous. I also love the simplicity of the vegetable garden – the raised oak beds sitting in the oak and hazel enclosure.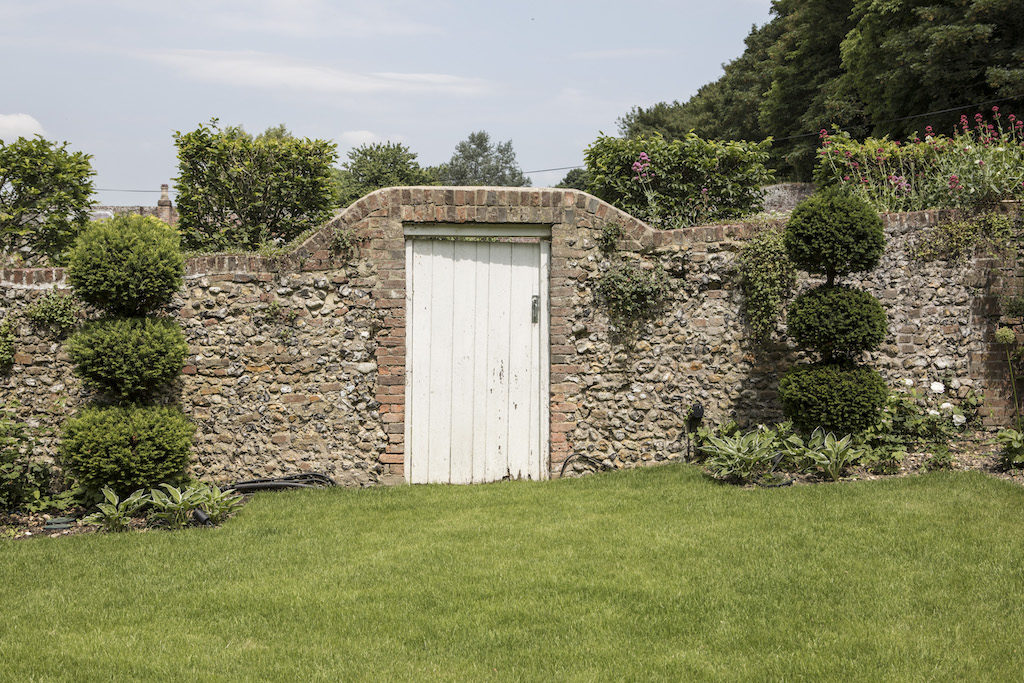 What bits of gardening expertise have you picked up over the years?
Regardless of the subject, my creative process involves the gathering of imagery and contextual references from various parts of my life, very often from places I've travelled, and it's also a really wonderful process for any gardener. Something else to consider is that gardening 'taste' is very individual and that's ok – I think it's important to follow your instincts. For example, I love to use oversized pots and fill them to bursting point with just one variety of plant. At the moment all my pots are filled with tulips, in the summer they will be filled with agapanthus, creating a bold and dramatic impact. It makes me very happy, but it won't be to everyone's liking.
What advice would you give to first-time gardeners?
I think it's really important to try and do a plan for the planting, and not to be tempted to pay a visit to the local garden centre and buy random plants on a whim, as you may find that they don't work. Also, if you can't find exactly what you had in mind, take advice and don't be afraid to substitute – it can be really surprising!
The Annoushka Ducas Garden Party collection is out now. Annoushka has also just launched #annoushkabookclub in collaboration with Penguin Books. Kicking off on 6 April, the book club will invite readers to enjoy three stories by award-winning women authors, and discuss them using the hashtag, starting with Bernadine Evaristo's Booker Prize-winning Girl, Woman, Other. Then, in early May, Bernadine will join Annoushka for a live conversation on the @annoushkajewellery Instagram feed
---