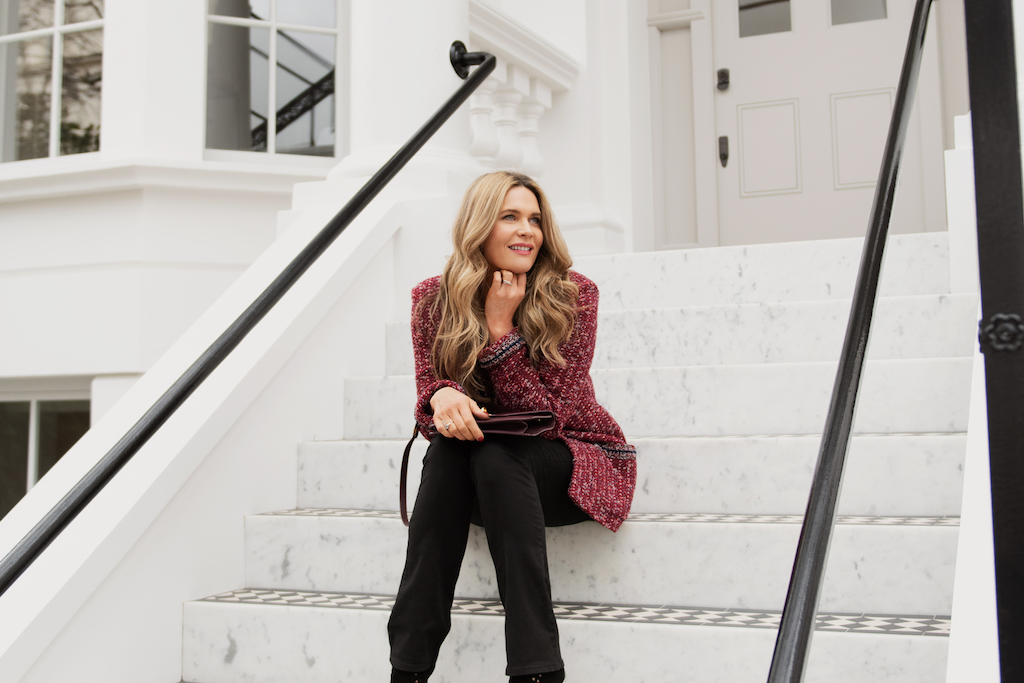 At home with… Celia Walden
---
At home with… Celia Walden
Celia Walden on her life at home in Kensington, the joy of mismatched furniture and how to make a dinner party go with a swing
What's the story behind your home? 
We bought our late Georgian home in Kensington in 2009, and actually there is a story behind it. The house belonged to my parents, and my husband Piers fell in love with it, so when they decided to sell, he was the first to put in a bid – it was £1 for the daughter… and the rest for the house. I should say I didn't grow up there, so it's not as creepy as it sounds.
Did you have any help with the interiors?
Spending so much time in LA (where we also own a home and spend part of the year) has really killed off the idea of interior designers for me. I hate the idea of being told what good taste is, and so often in LA you'll walk into a house and know immediately who designed it, because four other people you know will have exactly the same art, furniture and Aztec rugs. Plus I like things that don't immediately seem to match… clearly, given who I married.
Which interior brands do you always go back to? 
I think Pierre Frey does the most gorgeous fabrics. We have two of its huge Tree of Life blinds in our bedroom. But the most used piece of furniture in the house is definitely our great, deep, pale grey Roche Bobois sofa. It has survived countless chocolate and Bordeaux-related incidents. Otherwise, Kirsten Hecktermann makes the most beautiful muted-coloured linen and velvet cushions for chairs and sofas, and a lot of our lamps and furniture came either from Alfie's Antique Market near the Edgware Road – which is a wonderland for jewellery and vintage clothes – or the Old Cinema in Chiswick, which has the most brilliant selection of Art Deco furniture. Other favourites are 1st Dibs, and Graham & Green, for quirky vases, mirrors, children's furniture and gifts of every kind.
Favourite room?
I nabbed a room at the top of the house as my study, so while the old man is forced to answer the door to DHL every two seconds I'm peacefully writing up there. The thing that makes me happiest in that room is a large Jean-Charles de Castelbajac graphic rug of the poet Arthur Rimbaud's face. Again, it doesn't go with anything else in the room – which I like.
What can you see from your house?
David Hockney used to have a studio that you could just about see from a balcony at the back of our house, but I'm told he hardly spends any time in the UK now and is mostly based in LA.
Signature dish?
In our kitchen there's a joke sign my husband bought depicting a harassed looking 1950s housewife that says: 'I'll pretend I like cooking, and you pretend it tastes nice', because I'm not much of a cook. But Piers has a signature dish, Spaghetti Morganese, that gets us through hungover Sundays. Whatever he puts in it leaves the kitchen looking like it has been ransacked by a team of burglars.
Top five reads that'd be great for a book club?
Delphine de Vigan's Based on a True Story was one of those books that had me walking into lamp posts, and left me feeling bereaved when it was over. And I think Apple Tree Yard by Louise Doughty is the most perfect thriller: utterly engrossing but also so well written. John Updike's Rabbit books remain five of the best written I have ever read, with the hero telling you so much about men. Flaubert's Madame Bovary is one of those books I keep returning to, because it tells us so much about female motivations, even now. And Bonjour Tristesse by Françoise Sagan is so pure and unpretentious, maybe because she was only 18 when she wrote it.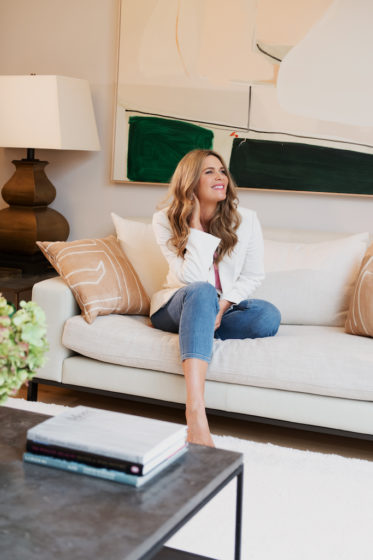 What are you streaming?
The West Wing is, for me, one of the best TV series of all time, but I was also obsessed with the US comedy-drama, Parenthood – only you have to be ready to shed a few tears. I'm all over the place with films, loving everything from Anchorman to The Way We Were, but I love a good French psycho-drama too, like Francois Ozon's Swimming Pool.
Any tips for other home workers?
Every week, take fifteen to declutter your desk. I'm a hoarder, so things build and build and then suddenly I can't see my keyboard for pictures my daughter has painted, weird new vitamins I'm trying out promising eternal life and beauty, novelty notebooks and antique boxes too small to put anything in. Likewise, declutter your wardrobe. I think the whole Marie Kondo thing is a little excessive, but I reached the point when I didn't even know what I had in my wardrobe, so I spent the first two weeks of lockdown going through it all and getting Cudoni to pick up everything I knew I'd never wear again and sell it for me. I've then filled the space back up by buying other peoples' rejects on its marketplace; a Maje dress and Charlotte Olympia bag I'm sure I'll never tire of.
What's your morning routine?
I used to drink two cups of coffee in quick succession before I ate anything, but then I went to see this great nutritionist, Gabriela Peacock, who told me that I needed to eat before I drank any coffee in order to stabilise my blood sugar levels. It made all the difference and stopped me snacking so much later in the day.
How do you spend your evenings at home?
In normal times, we have a fantastic local, The Scarsdale pub, where we'll often have an early dinner before watching something like Succession at home.
What are the key ingredients to make a party go with a swing?
Great Burgundy and a mix of guests. People worry too much about whether people will get on, when it's often more fun if they don't.
What gadget could you not live without?
My pet hate is lukewarm coffee, so Father Christmas bought me something called a Hot Cookie that you plug into the back of your computer and it keeps your coffee warm. That and the NuFace facial microcurrent toner I've been using for the past 10 years are far more important to me than my phone.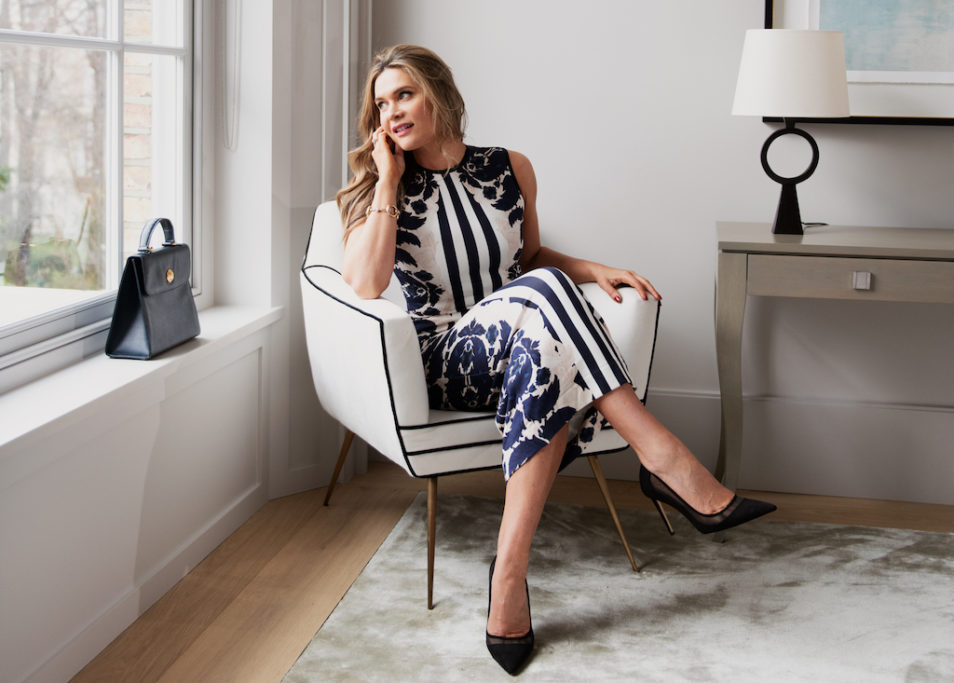 How do you keep fit?
We have a Peloton, which is brilliant – particularly during lockdown. Piers and I are using it daily. And I have a vicious trainer called Ismini Tzanaki who also has a food delivery service so that you can be sure everything you're eating is saintly.
What are you doing in your garden?
I've just discovered gardening; I recommend it. Our garden is pretty tiny, and I have no idea what I'm doing, but one day I'll find out the names of the trees and flowers. And until then I'll plant vegetable seeds that never seem to grow.
Whose home would you like to be a fly on the wall in?
I'd love to be inside Number 10 – if only to see whether Dominic Cummings goes so far as to cut Boris's food up for him.
What could you really do with now?
I'd love a walk-in wardrobe. Americans are obsessed with cupboards and shelves, but there are never enough of them in British houses. But I also need to be less emotional about decluttering. Once you manage it, it's as good as therapy if not better. And I particularly love the idea of clothes having a past and future life.
What makes a house a home?
A certain amount of clutter! Just not so much that a slammed door prompts landslides.
Celia Walden is selling a selection of designer pieces from her wardrobe including dresses by Mother of Pearl, Helmut Lang and Temperley, as well as an Hermes necklace. Cudoni, a premium luxury fashion and goods resale service, and Celia will be donating all proceeds to Great Ormond Street Hospital. Shop Celia's edit at cudoni.com
Photographs in this articles are courtesy of Ode Eide @oda.photography
---