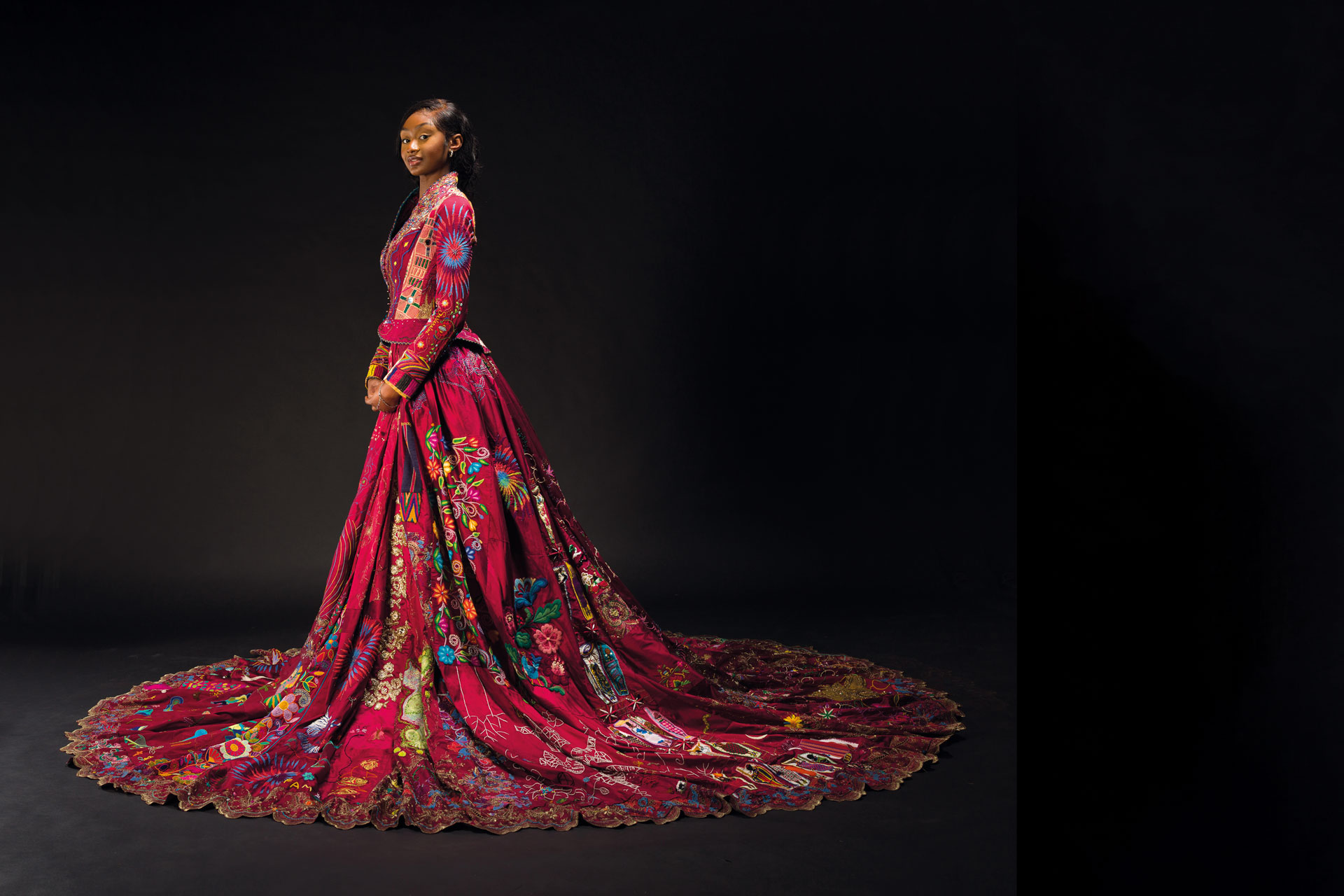 Meet The Craftivists: How Craft Activism Is On The Rise
Spreading important messages and crafting beautiful things? All in a day's work
By Arabella Youens | 2 months ago
Once regarded as a lesser art form, today's craft makers are using their work for activism, to disseminate messages to a wider audience and to give people a voice when words have little impact, says Arabella Youens.
Meet The Craftivists: How Craft Activism Is On The Rise
Throughout May this year, the result of an extraordinary embroidery collaboration involving women from all over the world was on display at the National Trust-owned Tyntesfield House near Bristol. It took 375 embroiderers from 51 countries over a period of 14 years to create the Red Dress. The brainchild of the Somerset-based British artist Kirstie Macleod in 2009, it was conceived to provide an artistic platform for women around the world, the majority of whom are vulnerable and live in poverty, to tell their personal stories through embroidery.
Between 2009 and 2023, the panels that make up the Red Dress travelled the globe to be continuously worked on. Stitched together from 85 pieces of burgundy silk dupion, the team of embroiderers were made up of female refugees from Palestine, Syria and Ukraine, survivors of war in the Balkans and Africa, impoverished women from Mexico and Egypt and many more from all corners of the globe.
'Initially, the project sought to generate a dialogue of identity through embroidery, uniting people around the world without borders,' explains Kirstie Macleod. 'However, over the 14 years the dress has also become a platform for expression and an opportunity for voices to be amplified and heard.'
The initiative is part of a wider movement using craft as a powerful tool to send messages out to a wider audience. 'There has always been a serious side to craft but in the past there was a division between applied arts and fine arts – with some snobbery from the latter,' explains the sculptor Nicola Cox, co-founder of lighting, furniture and artworks designers Cox London. 'That's no longer the case.'
Cox London regularly support the Crafts Council with initiatives, particularly to encourage future generations of makers. 'Craft, rightly, is recognised for having a sense of purpose and a deeper meaning today compared with when we started in 2005,' says Nicola. 'I think it's always been there but recent events such as the increased computerisation of lives means people move away from things that are mass produced and crave something that has been made by hand with all the integrity and understanding of materials that comes with that process.'
According to a 2020 report by the Crafts Council, the market in the UK for handmade items grew from £883 million in 2006 to more than £3 billion by 2019, with 33 percent of consumers (10.3 million people) buying online. The boom stems from people becoming more attuned to the value of pieces made by hand – what Aristotle called the human 'tool of tools' and skills involved in being able to translate the fantasies of the imagination into something physical. 
Brighton-based weaver and dyer Poppy Fuller Abbott is one of this year's New Makers spotlighted by the interiors and clothing company Toast – she has made a set of placemats for their collection. She, too, recognises a change in the impact of craft. 'Domestic forms of craft have often not been recognised artistically as they are associated with women's work or hobby crafts,' she explains. 'Yet with the resurgence of crafts techniques such as darning, people are increasingly being empowered to prolong the life of their objects, or clothing, which has a sustainable impact. I think this is really positive as it creates a sense of community and connects us to processes our grandparents would have commonly used, which can be passed on to others.'
Some are taking strong strides to embed pieces with meaning. Silversmith and toolmaker Danielle NaylorDanielle Naylor recently graduated from Sheffield Hallam University and has designed a series of tableware based on traditions of community and gender, featuring a series of food and drink rituals to narrate trans experiences of performance, community and growth. 'The work critiques the abjection we experience from society and instead shows the beauty of self-determination,' they explain. Danielle's process is tactile and informed by the physical properties of the materials, and how they respond to different traditional and non-traditional techniques, leading to work that is craft-led, narrative, and exploratory.
Another artist whose work is layered with messaging is Shaheen Ahmed. Based in Birmingham, she describes herself as an artist as well as a 'craftivist' and has worked with Transforming Narratives, a programme exchanging dialogue between creative and cultural practitioners in Birmingham, Pakistan and Bangladesh. She reworks maps to share tales of statelessness, crippling infrastructure and disparagement, using Kirigami folding techniques along with brush, ink and thread work. 'I like to cut up maps, create little tent-like structures to create small metaphorical spaces of refuge,' she explains. 'It's a creative response to the current global upheaval seen in our world today.'
Alongside the messaging, a further strand of this movement in craft is an increasing awareness of the role of the maker, alongside the piece that they've made. This is perhaps best illustrated by the Milan-based rug-maker CC-Tapis whose recent collection, 'Telegram', designed by the duo FormaFantasma, was inspired by the off-cut pieces that weavers often pattern with their own designs and words. These pieces become messages from the makers featuring their names, thoughts and answers to a series of questions posed by the designers. 'We wanted to remove the veil between us and the makers,' explained Formafantasma's Simone Farresin and Andrea Trimarchi. 'It's the beginning of a dialogue instead of merely a finished project.'
The so-called rug renaissance, which has seen an explosion of new designers and makers on the market in recent years, has dovetailed with a desire to support the artisans who make up the pieces, many of whom are based in Tibet and India. Brands work with initiatives such as GoodWeave to ensure standards concerning labour and workplace conditions or the Fairtrade organisation Label STEP and is aligned with Care & Fair, which supports school and training projects in rural knotting regions across India, Nepal and Pakistan.
Rug designer Jennifer Manners, whose collection includes a series of rugs made out of recycled plastic water bottles, credits the craftsmen she works with for seeing the idea through to fruition. 'We have an innovative team of weavers who were willing to give the idea a go and without the enthusiasm for the project, we would've hit a dead end,' she explains.
As greater value is placed on pieces that are made by hand, there's hope among artists and supporters that the future of craft is bright in this country. Now its position and influence as an art form, as a conduit for education and a way of enriching the lives of makers and end users will grow – providing, says Nicola, that schools continue to teach hand-making skills to young people. 'This couldn't be more important,' she stresses. 'How can you be creative with numbers if you're not taught first to be creative with your hands?'