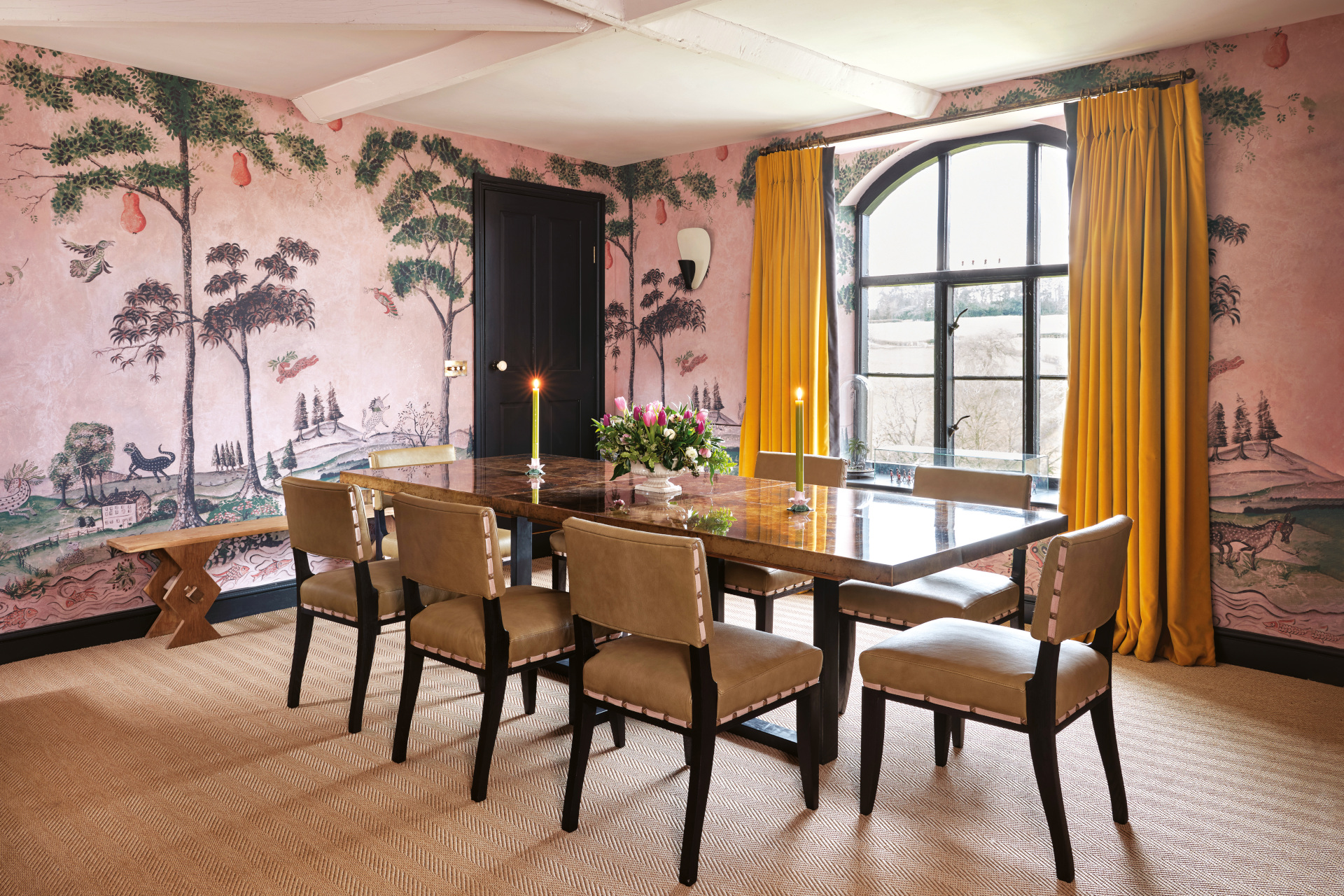 The Furniture Maker: Rupert Bevan
---
'There's an integrity in connecting design and craftsmanship.'
Gilder, restorer and furniture maker, Rupert Bevan's name is synonymous with excellence. Carole Annett discovers what makes him tick and why it was time to launch his own collection.
The Furniture Maker: Rupert Bevan
'We translate ideas into beautiful, functional pieces,' explains Rupert Bevan, who established his eponymous workshop 20 years ago. Working closely with the upper echelons of the interior design and architecture worlds, his bread and butter is bespoke furniture, mirror and specialist finishes. Whether it's a brass-clad kitchen, a dressing room decorated in verre églomisé or a vast antiqued hallway mirror – vital pieces in a project's jigsaw – Rupert and his team are on board from concept to final fitting.
While much of his work is for private houses, a keen eye can spot the Rupert Bevan nuance in the eye-catching Parrot Bar at Beaverbrook hotel in Surrey, for example, or any Soho House property where a chair, bed or cabinet is likely to have started life in his west London studio.
'I'm like the sweetshop,' he explains. 'Designers and private clients come to me with an idea and my role is to translate it into a practical object. It's still their baby, [but] I make it happen.'
His new collection contains furniture that clients can buy ready-to-use, made by master craftsmen in the company's Shropshire workshops. Ten designs have evolved, slow-burn, over years of collaborations, underpinned by his study of historic furniture and innate understanding of how people live.
Rupert explains: 'I can sell these pieces without having to tweak, they are an amalgamation of everything I've learnt about materials and furniture construction.' Objects fascinate him, from lead soldiers to glassware and ceramics.
'I remember seeing a photo of designer Paul Smith's desk covered in artefacts. I'm the same, a collector. I fill walls, tables and endless plinths. I was brought up in a house of books, objets, antiques and spent four years as an apprentice gilder and restorer staring at the minute detail of 17th-, 18th- and 19th-century gilding. Curiosity is a never-ending journey; I'll never stop looking and learning.' Rupert used to spend his spare time visiting auctions and junk shops but now tends to sift for treasure online. 'Not as pleasurable but still fruitful; I could lie in bed for days spending money,' he admits.
What matters to Rupert is honesty and sincerity. As he puts it: 'There's an integrity in connecting design and craftsmanship. My primary objective is to have something genuine to offer.' The Croft chair, for example, is an adaptation of a chair he designed years ago and then tweaked for Nick Jones of Soho House, a long-standing client. 'Nick is very particular about comfort and how long someone will sit. He'll typically want a seat width, or arm length, changed 5mm to get it right.' He met Nick through interior designer Susie Atkinson. 'It was thanks to Susie we started working with Soho House – she was its head designer. We worked with her on furniture for Babington House, Somerset, and have joined forces many times since she's had her own studio.'
One of the standout pieces in the new collection, the Miami cocktail cabinet, is typically Rupert Bevan – cleverly thought out, beautifully constructed, with a touch of moxie. Art deco-inspired, it has an antiqued mirror exterior and integrated fridge-freezer. The interior offers dark-stained, oiled and waxed walnut, and adjustable glass shelves to ensure making a drink is as enjoyable as imbibing it. 'I've noticed their rise in popularity, yet old cabinets from the '20s and '50s are too small for modern drinkers. The Miami is like a wardrobe, very welcoming.'
The Marcel bench with geometric-shaped legs sits happily in any setting. 'I love hard benches – this one is styled on a '50s design by Marcel Coard, with raw-fumed timber.' Fuming with ammonia causes tannins in the oak to darken. 'Think of an old stable where the horse's urine – ammonia – has darkened the wooden stalls,' he explains. Rupert prefers surfaces as natural as possible – leather, brass, wood – easily maintained and restored, allowing furniture to achieve a timelessness and longevity. The Denver dining table features a patinated, brass wrapped top with blackened steel base – unexpected, elegant and, like the whole collection, designed to sit comfortably with any style of interior, contemporary or traditional, city or country.
Rupert feels he has come full circle, having his own collection after years of designing for others. After stints in Fulham and Wandsworth he's also back working in Notting Hill, near where he originally apprenticed, but now in his own studio. Another boomerang. 'It's funny to be back here,' he smiles, 'though where I am now used to be no-go. It's changed a great deal over the years.'
You can wander in to his All Saints Road showroom and see the collection here as well as online, available to order and ready within eight to 12 weeks. While technically the new furniture is 'off the shelf', Rupert's still happy to take a back seat with plaudits. 'While the collection has my name on it, I'm genuinely pleased when a client talks about a piece of furniture as their idea, and I'm hardly mentioned. Then I know I've done my job.'
SHOP
READ MORE