Arts Education Boost For London as New School Announced at Olympia
Yoo Capital and Deutsche Finance International have signed an agreement with Alpha Plus Group to open a new, 60,000 square ft. performing arts educational space at Olympia, as part of the £1.3 billion regeneration of the West London cultural and entertainment district. 
 
The Alpha Plus Group will enter a long term lease to open The Wetherby Arts School in 2025, a co-educational senior school for children aged 11-18. 
 
Like other Alpha Plus schools, Wetherby Arts will offer the Gold Standard in education, with added emphasis on the performing arts. The new school will be located in the space across 10 Beaconsfield Terrace and Emberton House and will feature high tech facilities, including classrooms enabled for hybrid teaching and learning, which will allow students to attend lessons on site or remotely at the same time. Students will have the use of a bespoke 9,000 sq ft theatre with a capacity of 200 seats.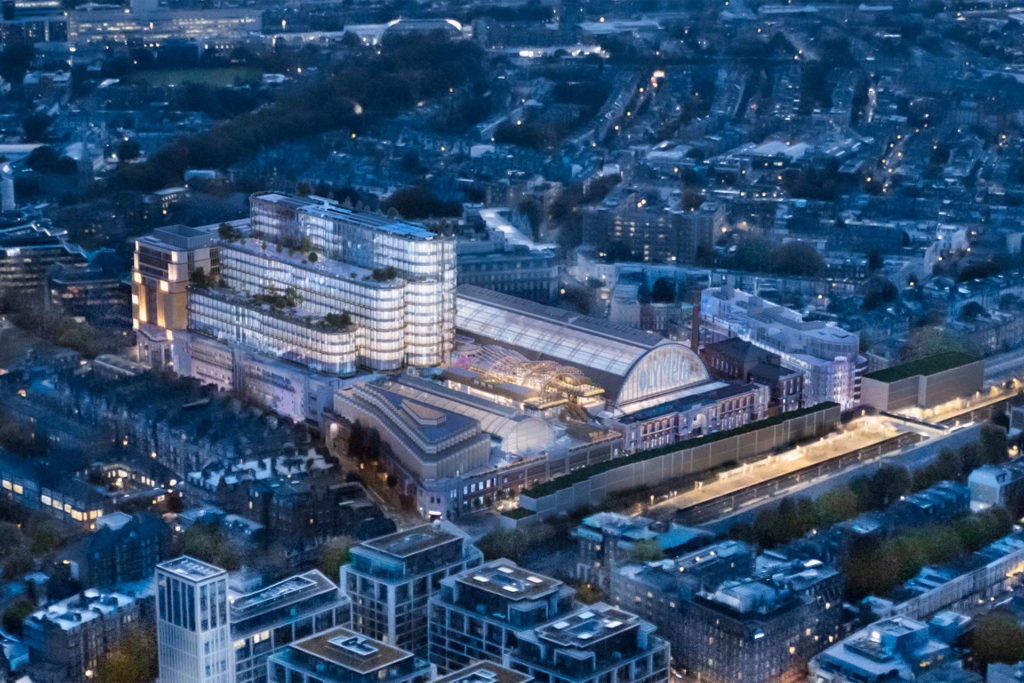 Underlining Olympia's commitment to the local community, the agreement includes various educational, creative and cultural opportunities for residents both young and old. Alpha Plus Group is partnering with the BRIT School to make its teaching and performance spaces available for the running of BRIT Kids community classes every Saturday. It will provide funding for some children to attend the BRIT Kids classes free of charge. They will work with the BRIT school to introduce its unique Community Arts Practice qualification into their curriculum. Students train in areas such as theatre in education, teaching, facilitation, movement, singing and acting and learn how to use the arts to explore a range of social topics; the course is practical, and students will work extensively with the local community as part of their studies.
 
John Hitchcox, Chairman of Yoo Capital said: 'Our aim is to build a hub of creativity that encompasses all the arts at Olympia and that's why we're so excited to announce this agreement with the Alpha Plus Group. Not only will this bring a world class school to Olympia, but Wetherby's partnership with the BRIT School will also provide local children with a crucial introduction to the creative industries, inspiring the next Adele, Jesse Jay or Tom Holland. We're committed to making Olympia a place where arts and culture thrives and by bringing together these leading arts institutions – as well as announcing London's first major theatre outside of the West End since the 1970s – Yoo Capital is doing just that.' Furthermore, the school will offer creative arts masterclasses to local schools and community groups by sharing facilities. It will also host an annual community arts festival.  Meanwhile, Alpha Plus has committed to financing 12 bursaries and 22 scholarships for any interested student, regardless of their means, 50% of which will be reserved for pupils from Hammersmith and Fulham. 
  
Mark Hanley-Browne, CEO at Alpha Plus Group said: 'This is a hugely exciting project for Alpha Plus and the BRIT school. In our own schools we have seen, at first hand, how music, art, design, drama and dance enhance educational excellence and help children to grow and develop through self-expression. Alpha Plus prides itself on providing excellence in learning across all key subjects, and providing the Gold Standard in education, and we are fully committed to bringing these unique, life changing opportunities to the children of Hammersmith and Fulham, with our partners The BRIT School.'
 
Stuart Worden, Principal of The BRIT School said: 'Having developed a very successful performing and creative arts school in South London that is now known around the world, we are excited about collaborating with a world class school in West London. We will create opportunities for local young people to train in performing and creative classes and we will be working with Alpha Plus Group on developing community classes, arts festivals and local projects that we hope will have a long lasting impact.'
Gavin Neilan, co-founder and co-managing partner of DFI, said: 'Olympia is the archetypal mixed use destination and will deliver best in class retail, hospitality and office space alongside its iconic exhibition centre. Visitors, tenants and the local community will all benefit from Olympia's incredible facilities, including our world class theatre, which we hope will inspire students of The Wetherby Arts school for many years to come.'

Lloyd Lee, Managing Partner at Yoo Capital said: 'Our vision for Olympia has always been to create a world class cultural hub in West London, and that begins with investing in local, grass roots talent. Three years ago, we made a firm commitment to this ideal of building from ground up a unique public private partnership with Alpha Plus and BRIT to create this school for the arts. With the Council's welcome support in sharing this vision, we believe this has potential to become a new model for how our firm can continue to invest into London communities in ways that are both socially responsible and fiscally responsible.'

The £1.3bn redevelopment of Olympia – which will be completed in 2025 – includes a 4,400 capacity live music venue managed by AEG Presents; a 1,575-seat performing arts theatre for Trafalgar Entertainment; 100,000 sq ft of restaurants, bars and eateries; two globally renowned hotels – a Hyatt Regency and citizenM; 550,000 sq ft of offices and 2.5 acres of new public realm.
Read more:
Harvest Donations From Park School Children | A Day of Culture and Laughter at New Hall