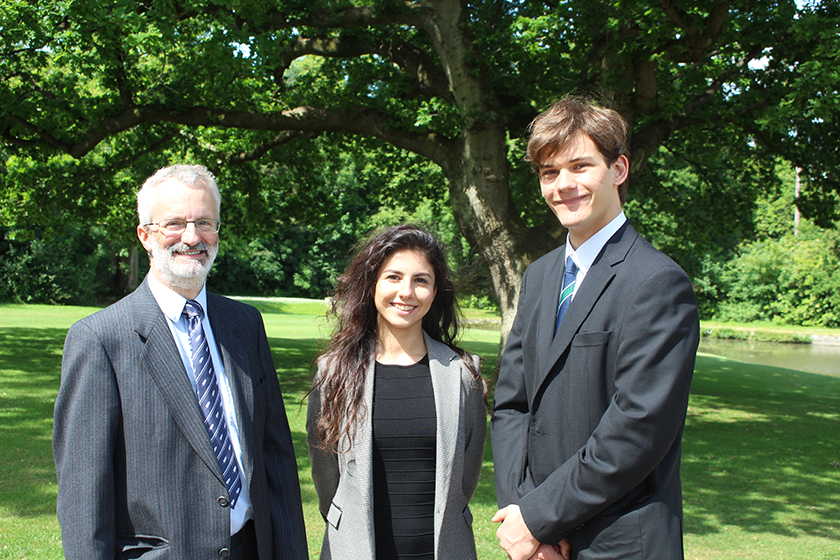 Bede's Pupils Heading to NASA
Parmis Fadavi-Hosseini and Kozma Prelevic are over the moon...
Two Bede's pupils are shooting off to NASA's Kennedy Space Center this summer.
Parmis, 18, and Kozma, 15, are representing the UK and the EU in the international Space Design Competition. They were selected for the teams after reaching the UK final, held at Imperial College London this Easter. The bright duo were selected from a group of nearly 200 to join 12 other pupils heading to NASA.
The international engineering competition takes place at NASA's Kennedy Space Center at the end of July. It will see Parmis and Kozma competing with teams from across the world for a week.
'The Space Design Competition is a unique engineering challenge for students aged 15 to 18,' explains Bill Richards, teacher of maths at Bede's. 'Pupils propose a detailed design for a future human settlement or spacecraft 60 to 70 years in the future. They then produce designs for every aspect of the settlement from airlocks to artificial gravity.'
'Over the moon'
Parmis is currently studying maths, physics and biology A-levels at Bede's. 'The trip to NASA really is going to be an experience of a lifetime,' she said. 'It is an incredible opportunity to visit the space station and to work alongside fellow competitors from across the globe.'
Kozma found out that he had made the EU team during his GCSEs. 'I can't wait to go to NASA,' he said. 'I am really over the moon about being chosen!'
'One of the reasons that Bede's is keen to be involved in this competition is that it helps our pupils when they apply for university,' Mr Richards added. 'For Parmis, who is looking to study Architectural Engineering, the experience of such a different learning environment will be highly regarded on her UCAS application next year.
I am incredibly thrilled that these two exceptional pupils have the chance to experience this life-changing opportunity. I am also really looking forward to hearing all about it when they return to Bede's in the autumn.'