The Bonus Benefits of Yoga for Youngsters
Victoria Lambert talks to yoga teacher Nadia Narain about calming tools for young yogis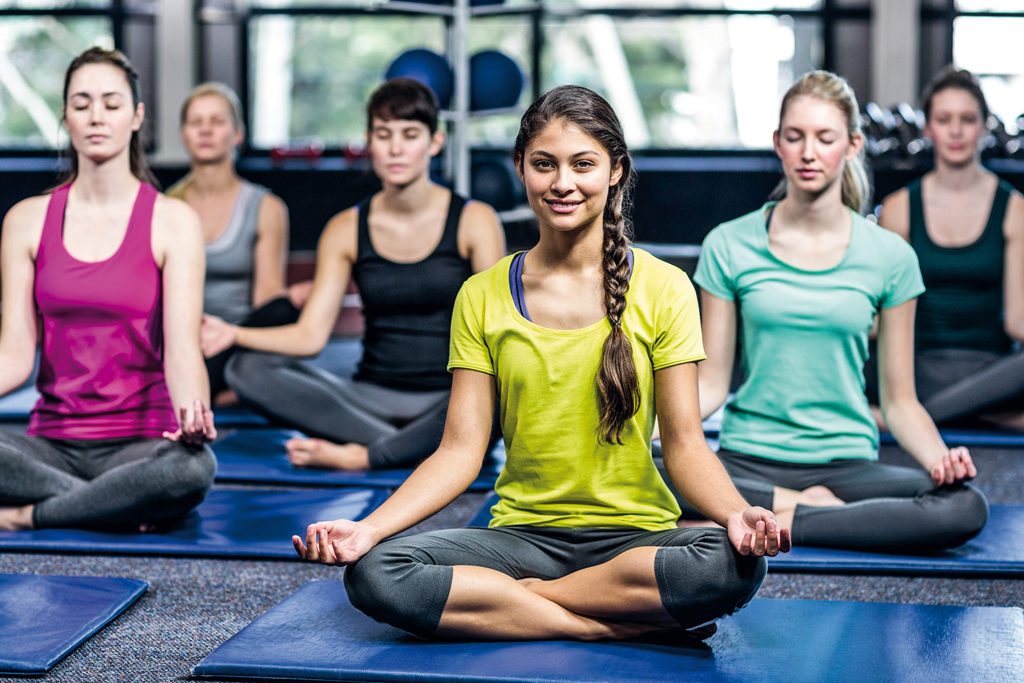 Many of us find that a yoga class is the best way to think through the latest child crisis – or even to escape it. But next time you're setting out for a blissful hour of downward-facing dog and warrior poses, why not consider taking your lovely source of tension with you?
Young people can get enormous benefit from the practice, says Nadia Narain, who has taught at Triyoga, the prestigious London yoga and pilates centre, for 20 years.
'While it can be difficult for them to concentrate as hard or as long as adults,' adds the author of a new book Self-Care for the Real World, which she wrote with her sister, Katia Narain Phillips, 'learning yoga can be very good for them in lots of ways'.
At its most basic yoga helps children the same way it helps their parents – by allowing them periods of calm in their increasingly pressured and over-scheduled lives.
'We know that young people are feeling more overwhelmed than ever before,' says Narain, 'so we must find the best way to support them and help them develop the resources they need to cope.'
US research backs up the idea: a 2016 study in the Journal of Evidence-Based Complementary and Alternative Medicine found that a ten-week course of school-based yoga helped with stress management and behaviour among primary school pupils.
'Yoga teaches self soothing,' explains Narain, 'children are incredibly over-stimulated by mobile phones, computers and games – cables and lights are everywhere. They are learning to crave this constant stimulation. Practising yoga and learning to meditate takes you into the opposite state of mind: it encourages reflection and switching off.'
'It's not easy at first,' she concedes, adding that she often tells new young yogis that it's okay to take time out if it all feels too much. 'Anyone who has tried yoga knows that it takes some time to get used to the slower pace.'
For teenage girls, used to high-energy dance classes, yoga also has another benefit, says Narain. 'Yoga is about focusing on the inside of the body, not the outside. It's not about getting thin or how you look. Of course, you can get more toned doing yoga, but that's not why we do it. We practise yoga to get in touch with our physical selves and to start to love and care for our bodies as they are, whatever their shape.'
It can also support pupils doing more traditional sports such as rugby or netball, as it encourages them to stretch and breathe as a counterbalance and to understand how their muscles feel and connect.
Learning to breathe slowly and deeply is integral to yoga and a useful skill elsewhere. 'We teach children skills like brushing their teeth which then become every day rituals,' says Narain. 'Teaching them how to breathe deeply to calm the nervous system is a great skill – to help them sleep or to calm down before an exam.'
Yogic rituals help throughout the day, enabling us to check into the four layers of our being: body, mind, emotions and spirit. For example, says Narain, 'we do the Savasana pose at the end of a class – just lying quietly on the floor. That deep relaxation – when you drop into yourself – is ideal for quietening everything down from thoughts to feelings. It's something that can be carried on at home before bed to help sleep too.'
'Yoga is about how to be with yourself and with others. How to practise kindness and empathy; integral qualities we really need to instil in our children. I think it can form the basis of a great moral compass.'
How to build a Young Yogi
Yoga doesn't have to be dull. Look for a teacher who is used to working with children and can make a class fun. Treat them to a brightly coloured extra thick mat.
Try ten-minute sessions at home together using a DVD or YouTub.
Take a body scan. Lie down next to your child before bed for a few minutes at the end of the day. Ask them to check in with their body. How does their stomach feel, can they relax their shoulders? Ask them to consider how their energy levels have been today, or their moods. This self-audit keeps us in touch with our bodies and helps us to spot where we might want to make changes.
Ask your child to make a daily intention for the day. That could be: don't come home until you have done something nice for someone else; be energised; or be joyful.
This article was originally published in School House Magazine Spring/Summer in March 2019.
READ MORE: Is Music an Important School Subject | Social Media and Mental Health: How to do a Digital Detox