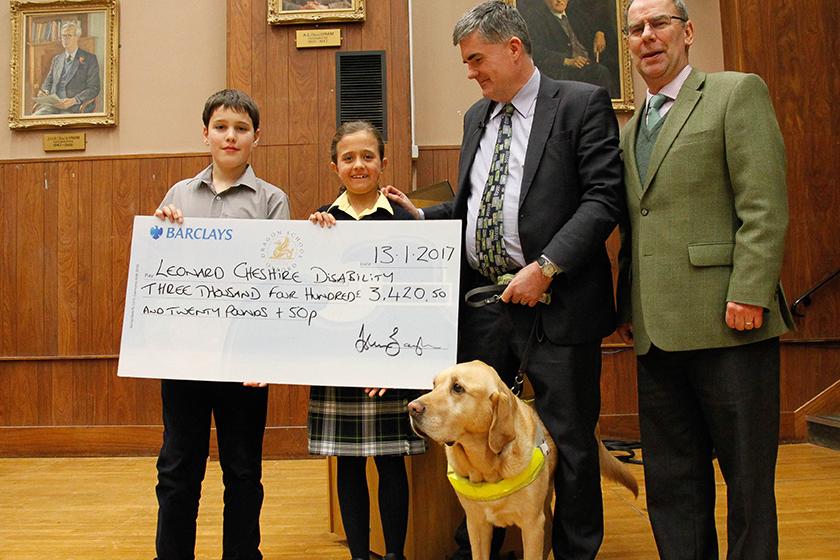 Dragon School Celebrates Charity Centenary
Children from the school presented a cheque for £3,240 to Leonard Cheshire Disability
Leonard Cheshire Disability, the international disability charity, teamed up with the Dragon School, Oxford, to launch its founder's 100th birthday year.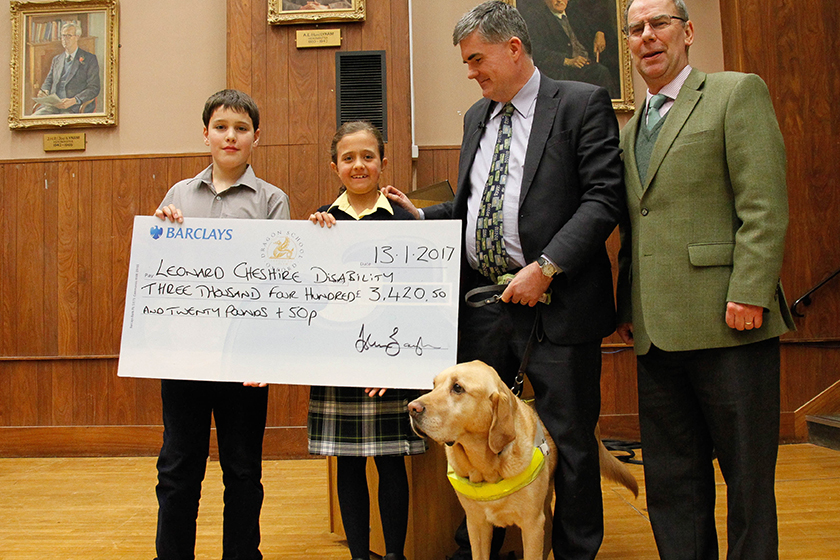 Throughout the centenary year, the charity will celebrate the life and work of Leonard Cheshire. The charity's founder was a WWII pilot, Victoria Cross Winner, benefactor and Dragon pupil. To launch the commemorations, the chief executive of the charity, Neil Heslop OBE, gave a talk to pupils aged eight to 13 at Dragon School's weekly Spectrum Event.
He focused on the values, life and achievements of Leonard Cheshire. He also spoke about the ongoing work of the charity around the world. He emphasised how the school's core values of courage, kindness and respect had shaped Leonard's life in the war and in helping disabled people through his charitable foundation.
Neil Heslop said, 'It's wonderful to launch our centenary celebrations at the place where Leonard Cheshire started his education and developed his values. He made life-long friends here and returned many times to inspire Dragon children all his life. We welcome the opportunity to share our knowledge about disability and to teach the next generation of Dragons about Leonard Cheshire and his achievements.'
Dragon deputy head, Ed Phelps said:
'We were delighted to welcome Leonard Cheshire Disability back to the School. Leonard Cheshire, who left the School in 1931, epitomised the values of the Dragon. Those values of courage, kindness and respect still form the foundation of the School's ethos today.'
Charity events for 2017
Throughout 2017, the charity will be hosting events, talks, lectures, programmes and sharing its amazing history on a dedicated website, as well as promoting its work in the UK and around the world.
Mr Heslop was delighted to invite children to take part in a nationwide competition to write a 300 word essay about anyone they knew who had a disability, or who helped disabled people. The winner will be announced at the end of term in March 2017.
To kick of the year of centenary events, the charity was delighted to receive a cheque for £3,420 from Anna and Felix, representing Year 6. The money was raised through a sponsored 'swim the channel' relay event. They had swum the equivalent of the channel (22 miles) to raise funds.
Events and programmes include 100 stories (about Leonard Cheshire and the charity), a social media campaign raising awareness of the work of the charity and planned celebrations around the world with global alliance partners. A lecture at Merton College, Oxford will be given on 7 March by Lord Puttnam CBE, film director and close friend of Leonard Cheshire.