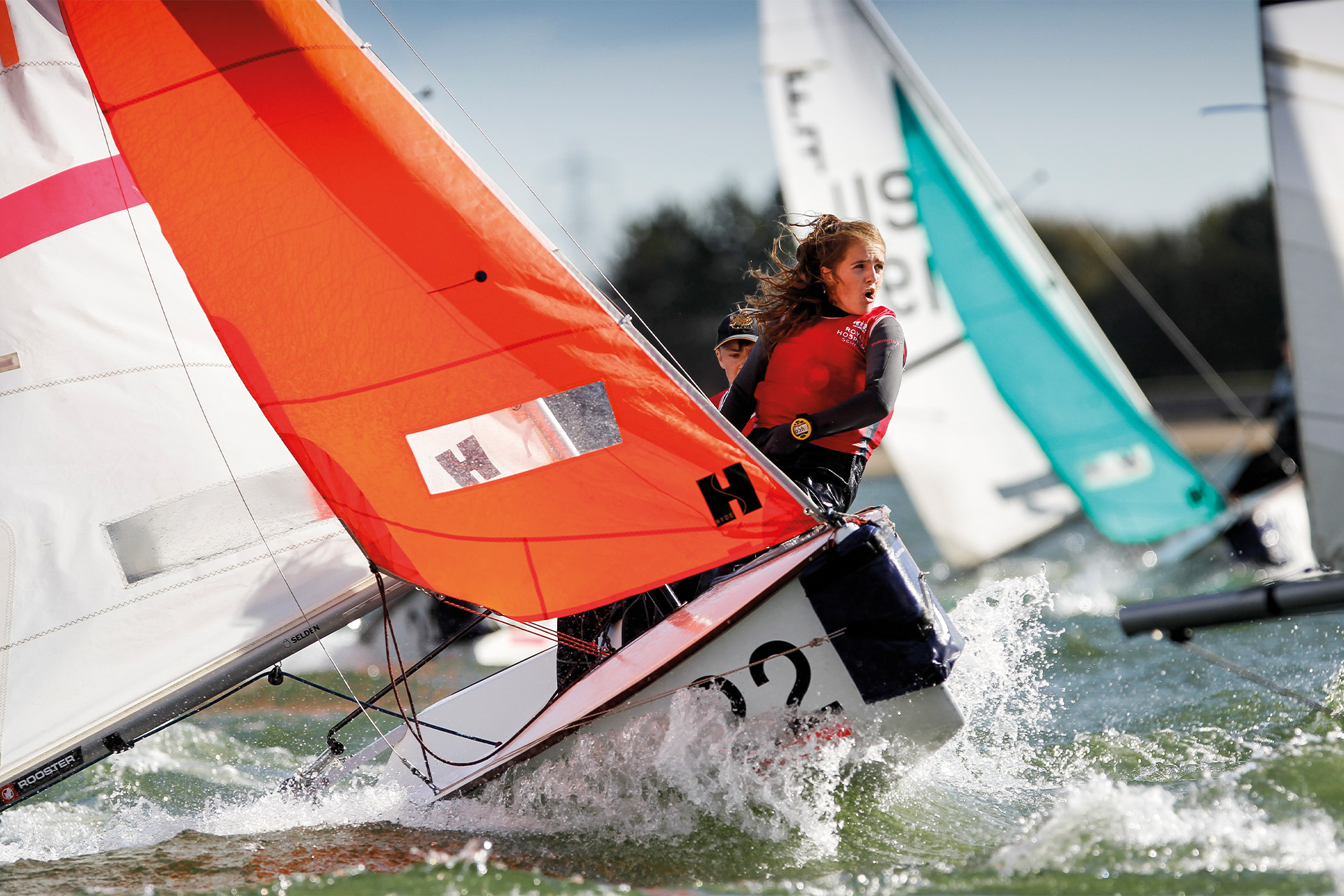 Our natural waterways are a magical educational resource for some lucky students, says Alice Smellie
Messing about on the river might not sound like schoolwork. But for those pupils fortunate enough to be at schools situated near lakes, rivers, or the sea, an awareness of the importance of looking after our waterways, very interesting biology and geography classes, and the thrill of sailing, rowing, paddle-boarding or cold water swimming, are an exciting and everyday part of their education. Safety is paramount of course, but learning responsible behaviour around open water is a key life skill too.
'We are surrounded by water,' says Simon Lockyer, Headmaster of Royal Hospital School, Suffolk, where there are incredible sailing opportunities. 'The school was built on the banks of the Stour and next to a 400-acre man-made reservoir. Water is part of the school's rhythm, as we watch the rise and fall of the tide.'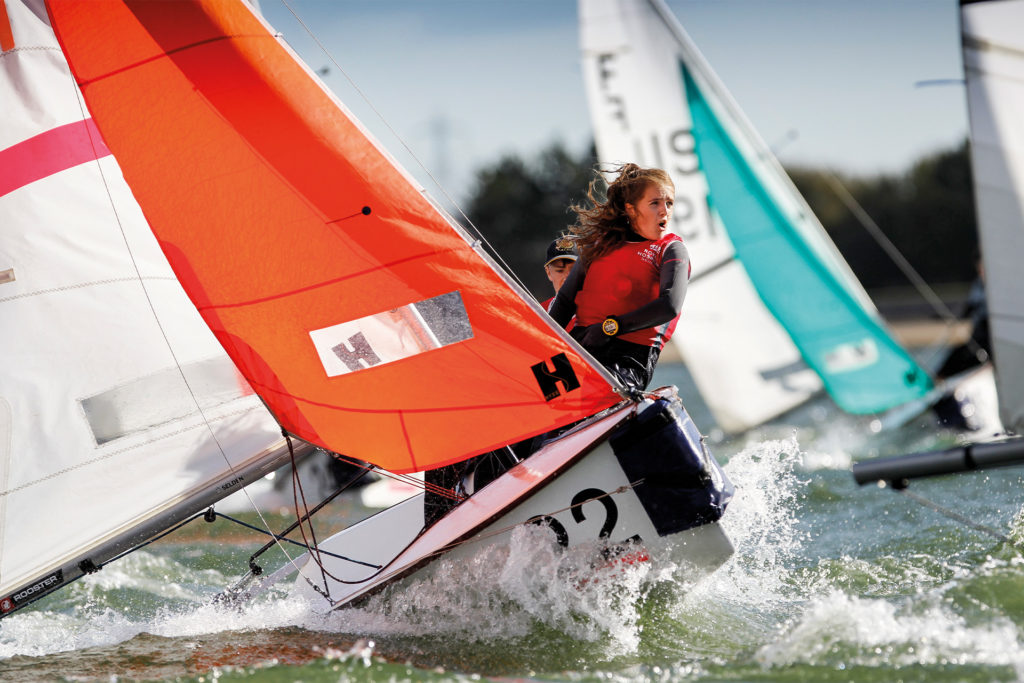 The Royal Hospital School Sailing Academy, based at neighbouring Alton Water Reservoir, is an established RYA Training Centre and has a fleet of more than 60 dinghies. Every pupil in Year 7 takes part in a week-long sailing course where they gain RYA qualifications.
There are opportunities, says Lockyer, across different levels of sailing ability. 'We currently have a world champion at school and those who are pursuing Olympic pathways. Then we have the competitive sailors, who enjoy sailing in the UK and elsewhere, and our fun sailors who just enjoy messing about in boats.' The schools' four shrimpers operate over the summer months, with small groups of pupils competing in Swallows and Amazons-style weekends, earning points for seamanship, navigation, boat handling and cooking.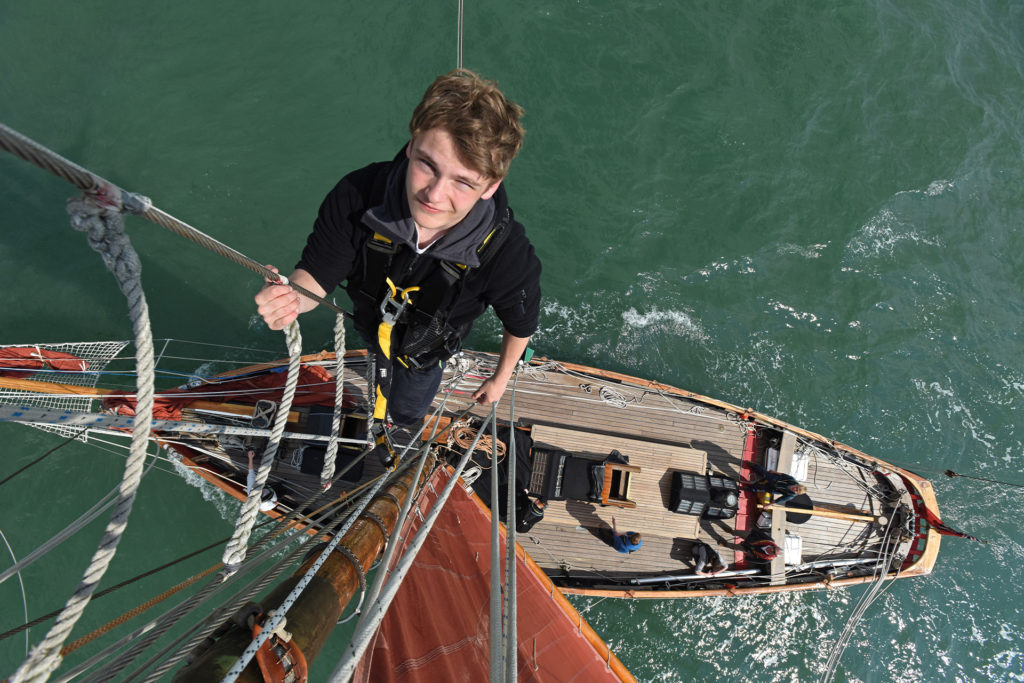 More unusual is the sailing opportunity given to all pupils by Dauntsey's School, in Wiltshire. Although they are around an hour away from the sea, the school has its own tall ship – The Jolie Brise. Every Year 10 pupil spends 24 hours living on board in a group, cooking for themselves and taking her out for the night.
'Sailing on a big boat is an extraordinary experience,' says Sam Moore, Head of Adventure education. A few years ago pupils (supervised!) took her up to Iceland. They have also sailed the Atlantic six times, and even up to the Arctic Circle. 'Imagine being 16 or 17 and having that responsibility. It's brilliant!'
Rowing is about as quintessentially English as you can get, and there's nothing more Wind in the Willows than one of the pictures posted on the Shrewsbury School website. Pupils are lining the banks of the River Severn on an idyllic-looking summer's day with the branches of a vast willow trailing in the water. You can almost hear the splash of the oars.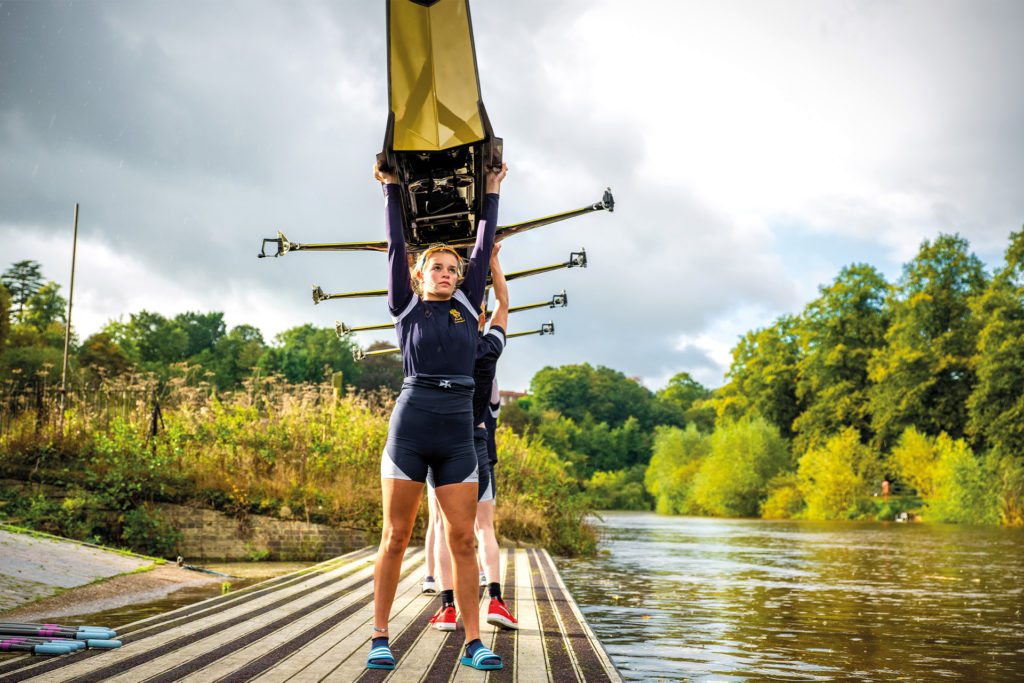 'All pupils are given an introduction to rowing when they start at the school in the third form, and many continue – some all the way to Henley Royal Regatta wins,' says Director of Rowing, Athol Hundermark. 'We're right on the river, so it's a short walk to the boathouse.'
Another rowing school is Stowe where there's a magnificent sweep of lawns down from the majestic 17th century mansion to the 11-acre lake. 'We offer both rowing and sailing,' says Craig Sutton, Director of Sport. There is a variety of boats available, as well as technical training on the rowing machines, and they have taken scullers to UK regattas as well as the USA for events. 'Pupils also love paddle boarding.'
The students at St Peter's School in York, have access to 14 miles of beautiful riverside. 'Twenty per cent of the school rows,' says Head Master, Jeremy Walker. 'We've a new state-of-the-art boathouse on the banks of the River Ouse and participate in many local and national regattas.'
Schools point out that participating in water sports is good for both mind and body and develops useful life skills such as resilience.
'There are numerous examples to evidence the benefits of the sport, both physiologically and psychologically,' says Tristan Mayglothling, Head of Rowing at Dulwich College. They have their own modern and fully equipped boathouse on the Thames at Putney. Many Old Alleynians become Captains of Boats at their universities and they boast an Olympian gold medal winner amongst ex-pupils.
'In some team sports, an individual can shine above their peers. In many ways rowing offers the pinnacle in teamwork, as the whole crew is rewarded equally,' says Tristan. 'For success to occur, everyone must wholeheartedly give themselves to the team effort.'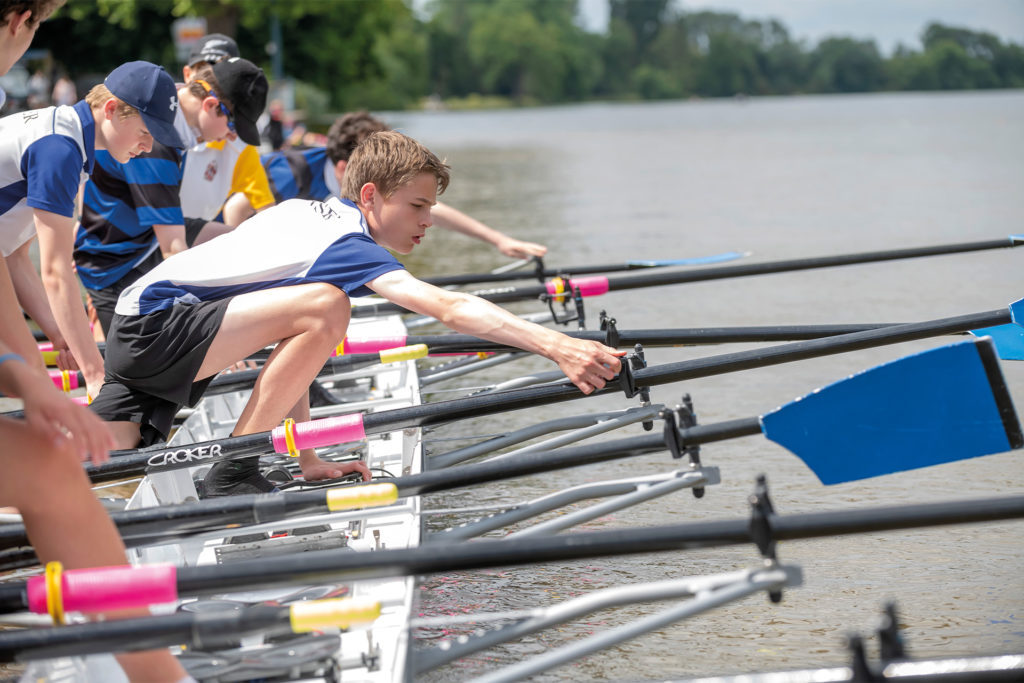 'We want kids to enjoy exercise – being active is good for both body and mind,' says Craig Sutton. 'Rowing is a different way of engaging, and team sports are so good for communication skills.' And, he reminds us, rowing opens up travel opportunities. 'Kids get so much enjoyment from meeting other schools and rowing on different lakes and rivers.'
'Being on a big ship or around water is quite an alien environment and it helps to build resilience, organisation – you only forget to dry off your waterproofs once! – and responsibility,' says Sam Moore. 'What's more, water confidence is such a life skill.'
'In terms of benefits for the pupils, you have to be pretty fit to row, and it's great for learning teamwork and dedication,' agrees Athol Hundermark. 'You have to turn up and regularly, and you rely on each other. If you're rowing a race and feel tired after 4km, you have to carry on!'
There are also mental health benefits from simply being around water. 'About six kilometres up the river there's nothing but farmland on one side and trees on the other,' says Athol. It's a great escape after a long day in the classroom.' Children learn to love water and also to respect it, he says.
For the sheer and utter joy of being around water, look no further than the delightful Cottesmore Prep School, near Horsham, whose headmaster, Tom Rogerson, is renowned for jumping into its lake fully clothed every now and again.
'It's incredible having a well-stocked lake on our grounds,' he says. 'There's something utterly tranquil about it; enclosed by oak trees, rhododendrons, reeds, and yellow irises, and there are ducks, geese and even herons. It's very special.' In the summer, pupils go wild swimming and paddle boarding – 'there's a lot of splashing and laughter' – and then there's their fishing and night fishing. Teachers lead regular expeditions down to try their luck. 'The kids love it and bring their own rods.'
Night fishing, in particular – remember the excitement of going out at night when you're young; never mind the double whammy of being around water – is 'heaven' for the children. The annual house boat race is, says Tom, quite something to behold as the entire school is yelling and screaming for their house to win.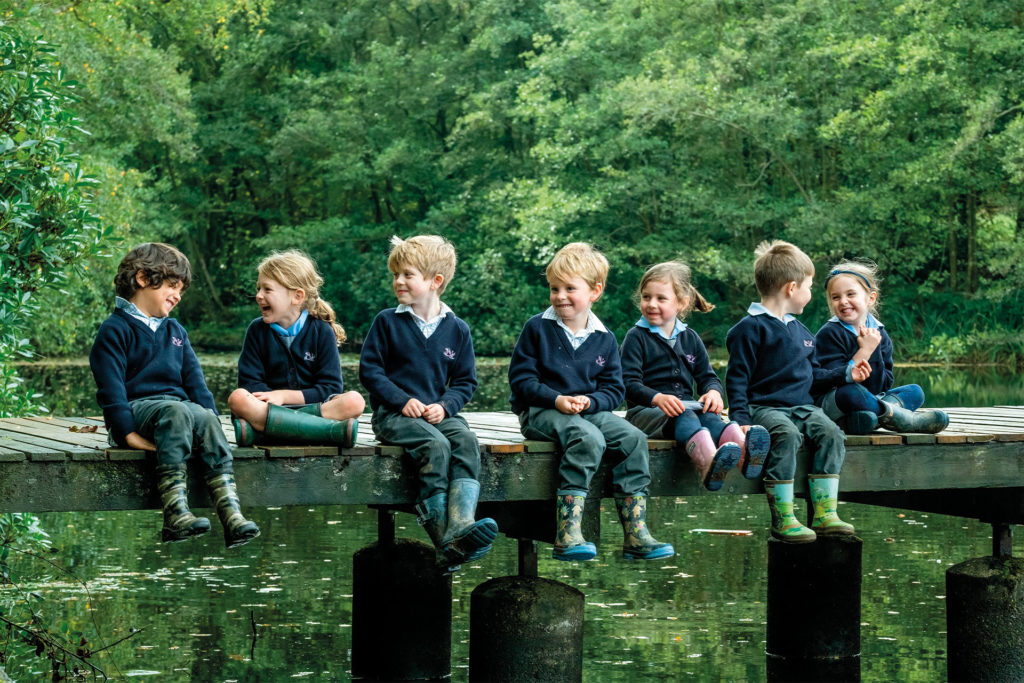 As well as sports, water is of course important for learning and for an awareness of the environment. What could be more fun than doing biology or geography in situ rather than in the classroom? And what's more paramount, in these times of climate change, than knowing about the importance of clean waterways?
'We also have Holbrook Creek on our doorstep, which is an area of outstanding natural beauty, and which offers excellent bird watching,' says Royal Hospital School's Simon Lockyer. 'We use it for biology lessons, and our children are also allowed to wander along the sea wall, which is a popular way to spend an hour or so.'
The school's environmental group and eco-committee are very active. 'The school relies on its own boreholes and sewage plant, so pupils know where our water comes from, and are particularly mindful of the importance of clean water. Being in one of the driest parts of the UK, pupils are particularly attuned to the impact of drought on farming and the region.'
'An early awareness of conservation and the natural world is hugely important,' says Tom Rogerson. Cottesmore won the inaugural School House magazine Green Champion Award this year through its sustainability programme. 'We teach about pollution and cleaning up after yourself and teachers take pupils down to the lake for science and geography lessons,' he says.
As well as using their lakes in biology 'great for sampling' and geography – 'we take pupils down to look at topography' – Craig Sutton says that Stowe is committed to teaching pupils about ecology.
Last year, the school had a full climate conference, inviting other schools to join them in discussing and learning what needs to be done to get to carbon net zero. 'Our kids are very aware of the planet they're inheriting, the importance of looking after waterways and that wasting water has a negative effect on the environment,' he says.
During the summer 2022 drought, this was brought into practical effect as they were asked to manage their water use and what was used on the sports pitches.
St Peter's School is part of the Eco Schools programme and achieved the internationally-recognised Eco-Schools Green Flag award in 2021. 'Respect for water literally flows through the school.' Says Jeremy Walker, 'Our regular eco clubs and forest schools often focus on waterside activities and sustainability.'
And the sea is just as important as lakes and rivers. 'One of the ten pillars in our Adventure Education Programme is to treat the environments you enter and the cultures and people you come into contact with dignity and respect,' points out Sam Moore. 'The bigger picture is that you are influencing the environment, and you need to look after it to the best of your ability.'
See the schools online listings: Royal Hospital School, Dauntsey's School, Stowe, Cottesmore Prep School, Shrewsbury School, Dulwich College and St Peter's York.