It's back to school season! For those at boarding school this brings the important question: how am I going to make my living space… liveable? Whether you're heading to a dormitory or your own school bedroom, it is important to make the space yours. Here is the most essential dormitory decor to make you the envy of your house mates…
1. Funky and fresh bedding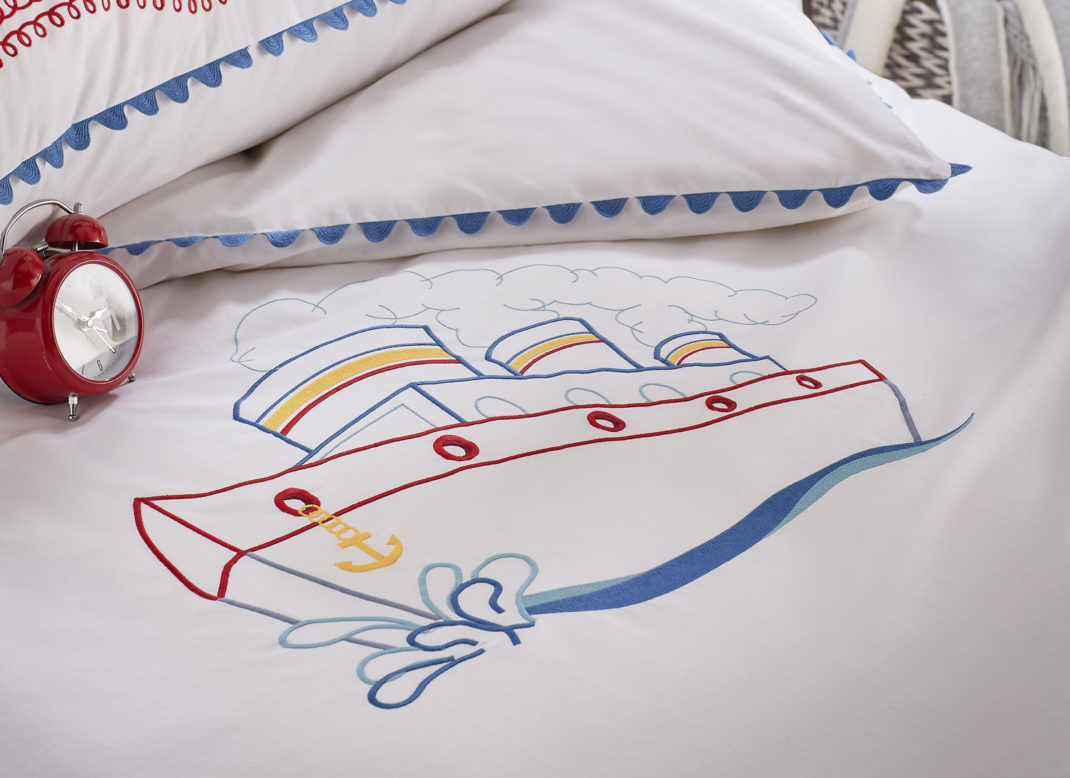 Your bed is probably going to be the largest item you have in your living space; make sure it draws the eye! You definitely don't want the school linen which has seen generations upon generations of pupils through the nights. Start fresh with the beautifully handmade sheets and bedding from Peter Reed. 
2. The Lava Lamp
Go retro with an old classic – the lava lamp! Mathmos invented this icon in 1960 and are still producing them today. Place this in your dorm and it will not only look cool, but we all know how relaxing it is to gaze at a lava lamp on your way to sleep.
3. Don't wipe your shoes on it!
What's the point of making the effort to decorate your dorm or bedroom if there is a drab and old carpeted floor underneath it all. Inject a bit more colour into your living space with this carpet from John Lewis. As well as style, you can also be glad of good quality!
4. Posters… lots of posters
It doesn't have to be Bowie, although I challenge you to find someone who would turn this poster down! You will be kept busy for hours browsing Posterlounge and its selection of posters. You can have your favourite film, musician, sports start, artist and everything in between (or all of the above!). At cheap prices, you don't need to see a speck of wall in your dorm!
5. Get your family and holiday snaps… for free!
This app lets you get photographs printed free of charge – you only have to pay the postage. That means it's perfect for getting photos of your family, friends, and favourite memories to bring to school! But before you get those printed, make sure you have enough of your beloved pet!
6. All those photos, where to put them?
You put them right here! Easily wall mounted (but make sure you ask your housemaster or mistress before you hammer it to the wall!!!), this pin board can house all of your photos. Or if you've had a summer that none at your school can rival, you can fill it by pinning a photo on every country you visited!
7. Your room's looking great! So keep that desk tidy!
Simple, stylish and at a very good price, Container Store is the only place you need to go to ensure a tidy desk. Keep your pens, papers and prep neat and accessible with these desk organisers.
8. An important luxury
Be the envy of pupils AND teachers at your school with Nespresso's baby model espresso machine. It's subtle, compact, looks good and will make your dorm smell beautifully like an Italian deli. With one of these you'll be the teachers favourite as they flock to your dorm at break to sample the best coffee in school!
9. WonderBOOOOOM
Small, simple and with unrivalled sound quality, Ultimate Ears' base model speaker is all you need for dorm parties with your friends! Share your favourite tunes and get great suggestions back. It's robust and waterproof so will survive being taken up to the sports pitches. And then it can join you in the shower afterwards!
10. Get your greens in too
A room plant has so many benefits! It is great for a bit of ascetic variety, it aerates the room and looking after it gives you a bit of a side project, with a surprising amount of satisfaction! Patch Plants has a fantastic selection of reasonably priced plants, so you can peruse at your pleasure and pick the one you like the most.
BONUS BROWNIE POINTS
Originally published in 1869, Leo Tolstoy's War and Peace is widely regarded as one of the most important novels in world literature. Typically thought of as intensely long and complex, those who have read it in its entirety are to be considered learned scholars. YOU DON'T NEED TO READ IT!!! Just have a copy lying about your space to win this reputation from your teachers! Read a quick synopsis, and then when asked about it say nothing more than, 'I'm getting on well with it , but I am struggling a bit with all the Russian names…' Trust me, it works every time!
READ ABOUT THE BEST AND HOMELIEST BOARDING SCHOOL ACCOMMODATION HERE
---