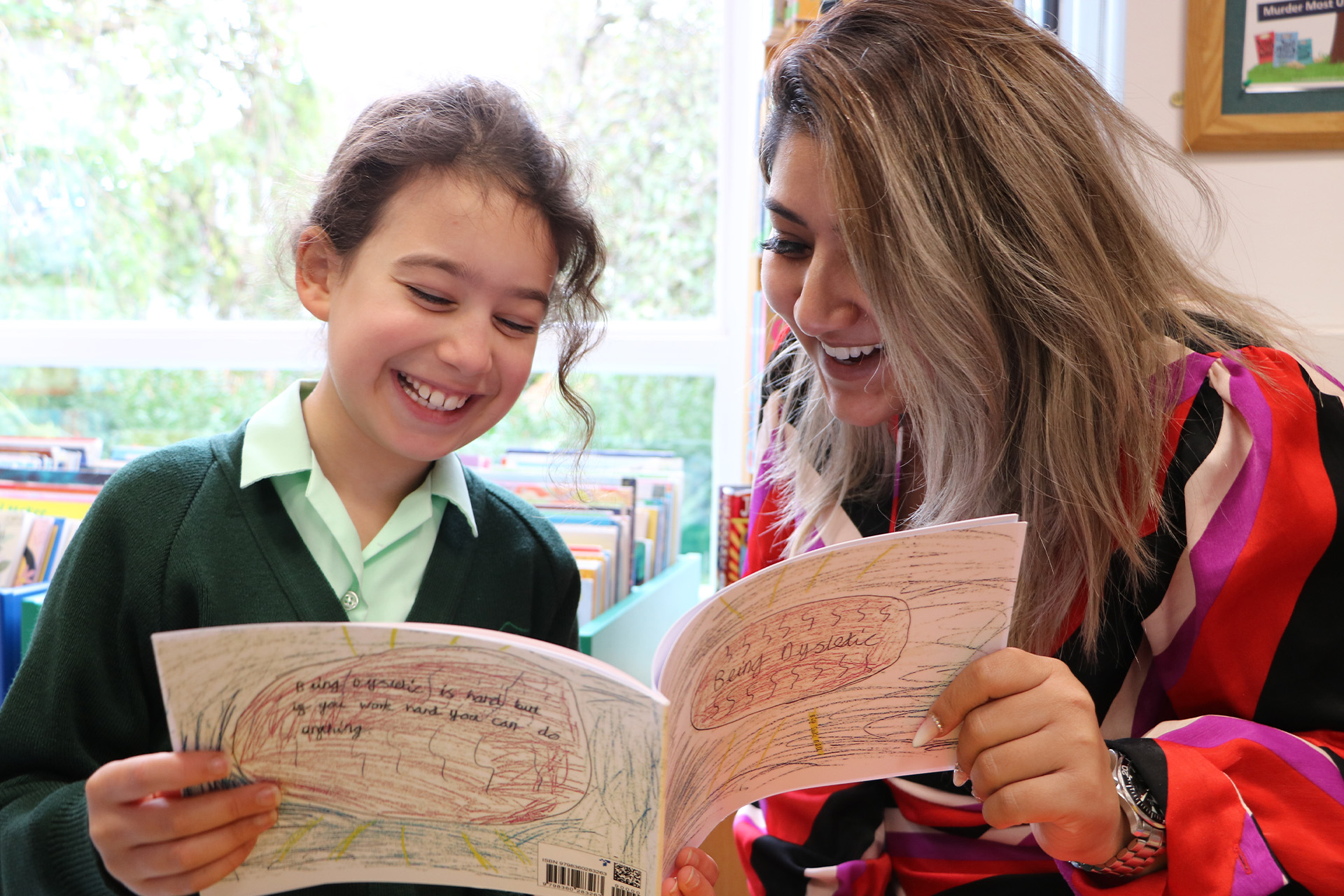 Sarum Hall Pupil Dedicates Her New Book To Former Teacher
A Year 4 pupil at Sarum Hall School with dyslexia has surprised the teacher who taught her when she was 5 years old by dedicating her book 'Being Dyslexic' to her. 
The book is a short story written and illustrated by Sukie Dell who is now 8 years old. It documents Sukie's experiences and feelings at school and aims to help and inspire other children who may be struggling to cope with their dyslexia. The back-cover states 'Being dyslexic is hard, but if you work hard you can do anything'.
Sukie says: 'I was diagnosed with dyslexia when I was 6 years old. It had a big impact on my life and school, but I know that I was surrounded by my friends, special people, and my family. I wrote this book to help other dyslexic children realise that they are smart in their own way.'
Miss Paul, Sukie's Year 1 teacher says: 'I was overwhelmed when Sukie dedicated her book to me. Sukie is an excellent story teller with a wonderful imagination. It was really important to me that her dyslexia should not be a barrier to her future learning. I'm delighted that she has published her first book, and I hope there will be many more to come!'
The school offers individualised support to pupils with dyslexia and uses a variety of teaching strategies to ensure children have the confidence and skills to succeed.
Miss Karen Coles, Headmistress at Sarum Hall School, says: 'We are incredibly proud of Sukie. She has demonstrated great courage and resilience throughout her time at Sarum Hall School. We strive to encourage pupils to help each other, and this book is a wonderful demonstration of Sukie's kindness in wishing to help other children who might be struggling to overcome some of the obstacles she has faced.'
You can buy Sukie's book here.
All profits go to the British Dyslexia Association.