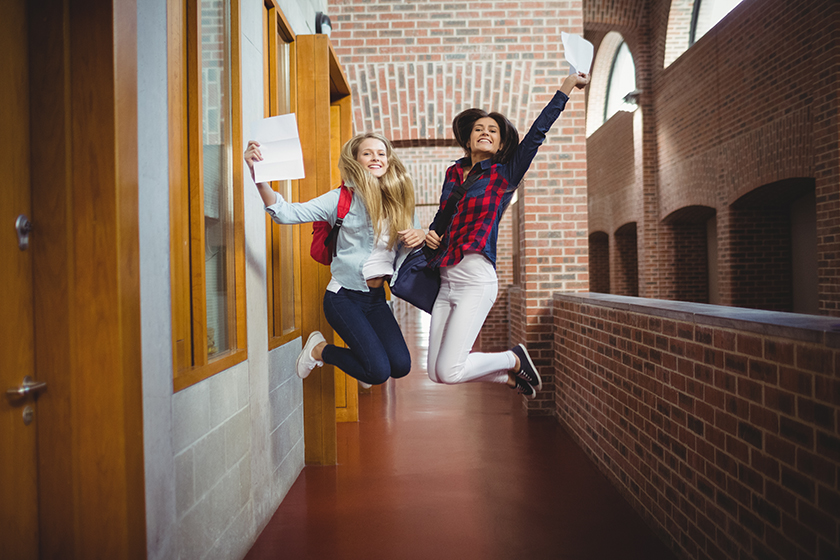 5 Things you Need to Know About the IB
As students across the country celebrate their IB results, we take a closer look at the international diploma
Having offered the IB Diploma for over 15 years, the head of upper school at Oakham School, Simone Lorenz-Weir, is best placed to tackle some of the myths and misconceptions surrounding the qualification.

The IB is just for the children of diplomats or for overseas boarders
The IB Diploma is for any parent who wants to open doors in their child's future. While the IB Diploma has always been one of the world's most highly regarded and academically rigorous educational programmes, it has remained less well known in the UK. However, with all the recent changes to A-levels and with an eye on the post-Brexit future, it is now, perhaps more than ever before, an exceptionally good choice for British families.
It's more difficult to get a university offer if you study the IB
In our experience, the exact opposite is true. The IB Diploma is not only widely accepted by universities, but a growing number have come to really value its merits. Our impression at Oakham is that IB students are very much in demand.
In recent years, some universities have lowered their standard offer for IB applicants, perhaps because they recognise IB 'graduates' are so well prepared for university life. For example, last year Birmingham University put in place a minimum offer of 32 points for candidates who have studied the IB across all of its courses, including medicine. Entry into medicine and similar courses is hugely competitive, however, over the years we have noticed that students who have studied the IB are able to maximise their chances of securing an offer for clinical courses. This is because they have the opportunity to gain points from six academic subjects as well as the core activities. Those individuals may not have been able to do this as well, had they chosen the more specialist route of just three A-level subjects.
Only the academically elite study the IB
This misconception is most likely due to the fact that IB students have to take six subjects: English, another language, mathematics, a science, a humanities subject and a sixth subject of their choice.
Many people don't realise that there are, in some subjects, different levels to suit the academic ability of each student. For example, there are three different levels of mathematics, and languages can be taken 'ab initio'  (as a beginner).
Students also have a range of different science options, beyond just chemistry, biology and physics. These include design technology, sports exercise and health science.
Crucially, IB students aren't just tested on the retention of knowledge for final exams (there is a high proportion of alternative coursework assessments). This means the diploma suits students with a range of aptitudes.
The IB Diploma is more time-consuming to study than A-levels
This is wholly dependent on how many subjects a student chooses to study at A-level. However, at Oakham, an IB student has 26 periods (five per higher level subject, three per standard level subject and two for theory of knowledge). This is only two periods more than their A-level counterpart who is taking four subjects (24 periods). This doesn't include the time spent by the IB student's extended essay or community action and service, nor the A-level student's time spent undertaking the EPQ or their voluntary action or D of E activities.
Ultimately, there is no denying that the IB is a demanding two-year programme and students must carefully plan how to make the best use of their time. However, by experiencing this challenge within a supportive school environment means that by the time they leave school, students of the IB will have developed their time management skills and resilience to thrive in a university atmosphere.
It's harder to get top marks if you do the IB Diploma
Last year students needed to get an average of 90 per cent for an A* grade. While the marks needed for a 7 (the top grade) in the IB Diploma vary from subject to subject, our recent experience suggests that somewhere around 80 per cent is required.
While striving for top marks are, of course, important, the IB offers so much more than just grades on a piece of paper. IB students learn, develop and hone their skills in communication, independent research and teamwork. Through the Theory of Knowledge course, IB students also learn how to question facts and opinions, and they become more discerning and critical about what they accept as the truth.
Indeed, we are repeatedly told by universities that IB students 'hit the ground running' because their academic skills – the ability to research, write or present, as well as making citations – are, quite simply, top of the class compared with A-level students.