Headmistress, Jane Gandee, explains why St Swithun's needed help from an external organisation to find bursary pupils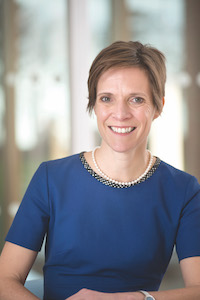 Private schools are often portrayed as bastions of privilege, producing young men who dominate so-called 'top jobs'. Rarely are there mentions of the many former pupils, both women and men, who go onto work in other professions, such as the NHS, as scientists or in the voluntary sector. At St Swithun's, our ethos is not of world domination, but of compassion and integrity; it is our mission to produce young women who will make a positive impact on the world. 
These are fine words, but we wanted to illustrate them in a practical way by offering free places to young people, sometimes in difficult circumstances, who would not otherwise be able to afford a St Swithun's education. Yet, 15 years ago when we started looking for girls for whom studying at St Swithun's would be a genuinely life-changing opportunity, it was difficult to find them. 
We were therefore delighted to come across Springboard. With their network of partner organisations – local authorities, community and mentoring organisations, charities, and state schools, all concentrated in areas classified as being in the most deprived areas of the UK – it became much easier to target and find girls who would genuinely benefit from boarding. Over the five years that we have been working with Springboard, we have welcomed four girls to St Swithun's, one of whom has completed her time with us and gone on to study psychology at King's College London.
We can see the impact that being at St Swithun's has had on them. As one of our Springboard pupils put it, 'I am incredibly excited to start the next stage of my life at university. St Swithun's could not have provided a more supportive, compassionate and caring environment in which I felt my confidence, and importantly, my self-esteem, develop, giving me courage to pursue the challenges that will lie ahead.'
And what of the other students at St Swithun's? What do they make of our bursary holders? By and large, they have no idea who does or doesn't hold a bursary. Caritas, or compassion, is one of our three core values, and all our students are expected to be warm and understanding towards others, whatever their background. We are remarkably inclusive and welcoming, accepting every student for who they are and ensuring that they can be themselves. 
Although our other students might not be aware of individual stories, they do know that our Bramston Bursary Foundation is central to St Swithun's. We have repositioned our bursary fundraising recently to focus on girls in care, or on the edge of care, and initiated a flagship event, the St Swithun's Way Challenge, to raise money through sponsorship. Participants run or walk chunks of the St Swithun's Way – a long distance footpath from Farnham to Winchester. This term, due to Covid restrictions, we took part wherever we were in the world, which allowed former students and the families of international boarders to take part as well.
For our students, the focus on raising money for girls like themselves, who find themselves in difficult circumstances through no fault of their own, has been an important one. They are now more aware of hardship and inequality, more determined to make the world a better place and more generous-spirited. Having a permanent link with Springboard gives us an important and enduring mission, meaning that our actions reflect our words.
This article was originally published in the 2020/21 issue of Scholarships & Bursaries