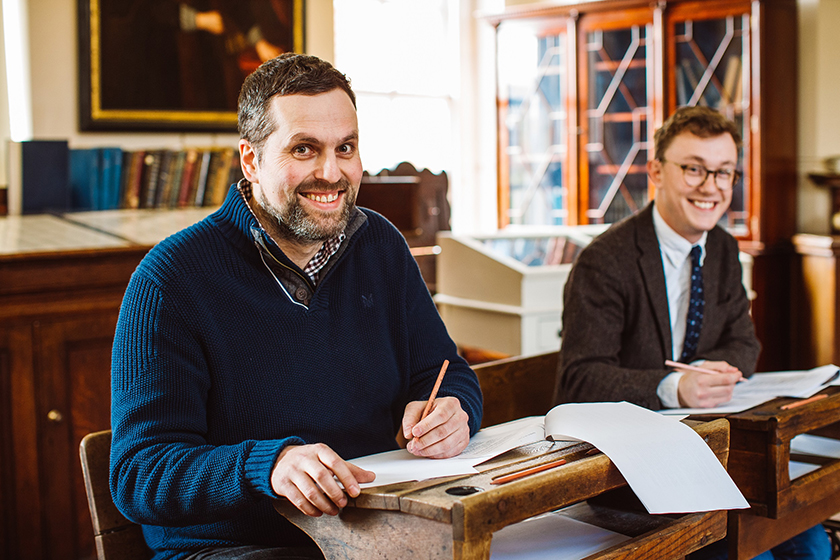 Former Pupils sit old Entrance Exam Papers
Christs Hospital welcomed over 500 alumni back to school (and the exam hall)
Most pupils assume they would sit their entrance exam only once, but Christ's Hospital alumni traveled back in time to face the paper once more.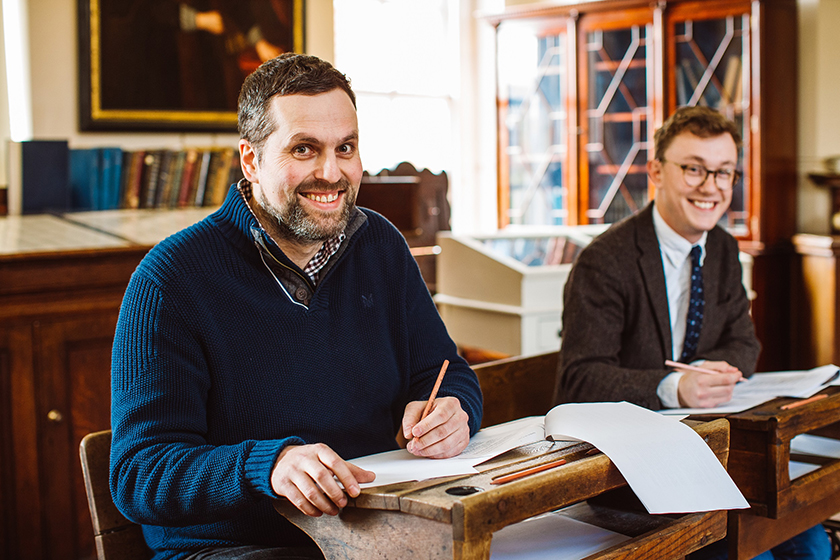 The 'Old Blues' returned to their aluma mater for a day of music, memories, fun activities and, for the more serious, an old-school entrance exam in the museum.
Christ's Hospital also acknowledged alumni who have made an important contribution to society in the Old Blue Recognition Awards. Winners of the awards are highly distinguished in their chosen career fields.
Winners in recent years have included James Hooper, one the youngest Britons to climb Everest;  Josh Leakey who was awarded the Victoria Cross in 2015 for his bravery in Afghanistan and Joe Launchbury, England Rugby star.
Old Blue Special Awards 2017 winners:
Roger Allam, actor on stage, screen, television and radio, he was the first Javert for the original London 'Les Miserables' and TV work includes 'Endeavour'
Professor D Keith Bowen, facilitator of important advances in materials science at the nanoscale
Dr Judy Evans, plastic surgeon and the first woman ever to gain the FRCS (Plast)
Major General Buster Howes, former Commanding General of the Royal Marines
The Rt Hon Lord Justice Rupert Jackson, called to the Bar in 1972 (Middle Temple) and Lord Justice of Appeal since 2008
Elizabeth Llewellyn-Smith, CB, former Principal of St Hilda's College, Oxford and has undertaken various influential positions in government
Christopher Pearson, former Chairman and Managing Director for a division of Price and Pierce Ltd
Geoff Stearn, management consultant and highly regarded classical musical philanthropist in Australia
Reverend Father Paul Uwemedimo, founder of organisations in the UK and in the Philippines which aim to help children and youth make the church relevant in their lives.
Dr Francis Warner, writer of poems, plays and lyrics who has held positions at Oxbridge.
John Franklin, headmaster of Christ's Hospital was delighted to present the awards. He said: 'This was the most well attended Old Blues gathering in recent history. It was a pleasure to see so many former pupils and their families return to their old school. Their support of Christ's Hospital and its work is incredible and we look forward to seeing even more return to the fold in the future.'