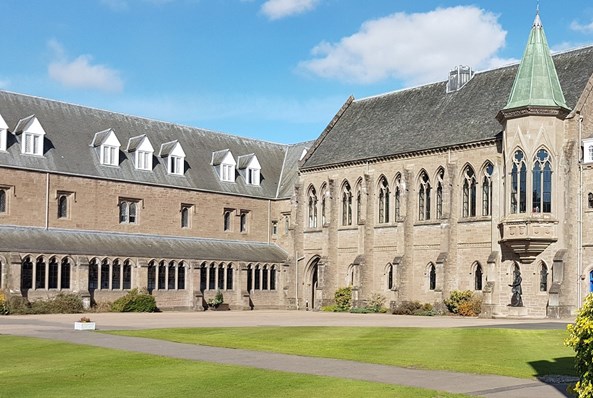 Glenalmond College Battlefields Tour 2017
Archie Galbraith, pupil of Glenalmond College, tells us about his half term trip to the WWI Battlefields of Belgium and Northern France. They paid tribute to OGs and Archie visited the grave of his great, great uncle.
During Michaelmas half term, a group of fourth and fifth form from Glenalmond College embarked upon an educational trip to the World War One battlefields of Belgium and Northern France. This proved to be an extremely informative and enjoyable experience for all involved.
Travelling on the overnight ferry to Zeebrugge in Belgium, we experienced fairly rough seas, but awoke to a beautiful sunrise. Our first stop was the Pool of Peace, a WW1 mine crater, which had, over time, turned into a pond. Despite the destruction caused by the huge explosion over 100 years ago, this is now a remarkably peaceful and tranquil area: a powerful start to our trip.
Next stop was the atmospheric Messines Church, used as a German HQ during the Battle of Messines and where a young, injured Hitler was taken for treatment. At the Black Watch Corner, we learnt how the bravery and quick thinking of this Perthshire Regiment saved many lives. Finally, we went to the memorial of the Australian 'tunnellers' and visited several sturdy concrete defence forts, known as 'pillboxes' – a term first used in The Scotsman newspaper on 13 September 1917.
On the second day everyone was woken at 06:15 by the sound of pipes and drums blaring out of our tour guide's phone alarm! After a delicious breakfast, boarding the bus, we were handed a booklet of trench songs from the Great War and sung all the way to the Somme. Two pupils had brought their bagpipes to Belgium and, at the 51st Highland Division Memorial in Newfoundland Park, the boys piped in front of the statue of an unknown Scottish soldier. Every one of us felt very moved by this experience.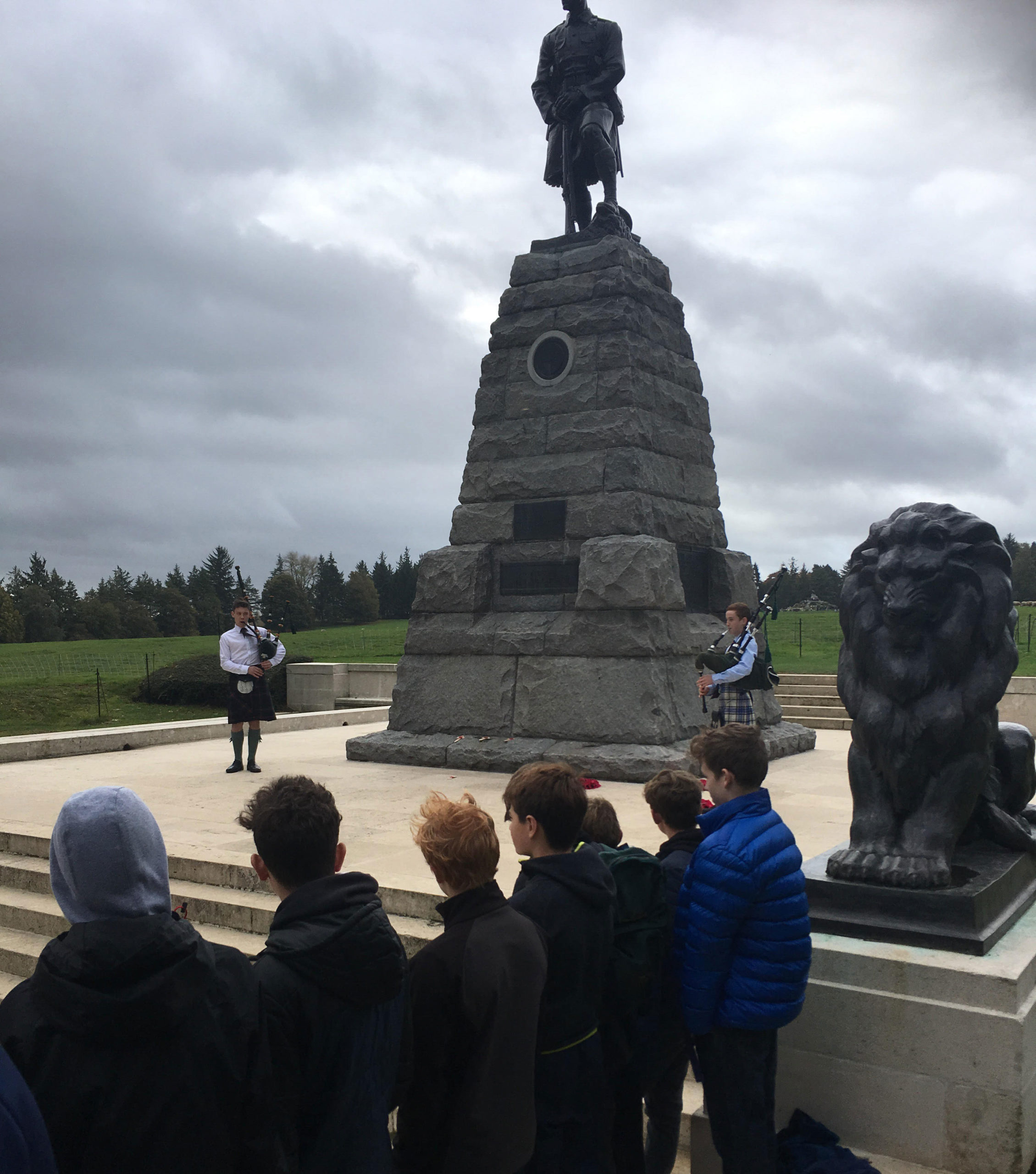 "At the 51st Highland Division Memorial in Newfoundland Park, the boys piped in front of the statue of an unknown Scottish soldier."
Thiepval War Memorial was our next stop.  This magnificent memorial marks the 'Missing of the Somme' (some 72,246 British and South African servicemen who died in battle) and which included the names of ten Old Glenalmonds. Next morning we held a commemoration for Old Glenalmond, Sholto Herries Skrine (nephew of Glenalmond Warden John Huntley Skrine) and a member of the Royal Field Artillery who was killed on 19 September 1917, aged 30. Afterwards, we headed to Essex Farm, where the body of a 15-year-old soldier, Rifleman Valentine Joe Strudwick of the 8th Battalion Rifle Brigade, lay. We all found this scene particularly moving: unbelievable to think that a child our age could have gone through the horrors of WW1.
At the Poelcapelle British Cemetery there were an unimaginable number of unknown graves. Hard to even begin to understand. Following this visit, we were piped up to Tyne Cot Cemetery from Passchendaele Ridge. This cemetery had over 12,000 graves and it was truly mind-blowing to realise that each one of the rows of white stones, which seemed to stretch for miles, represented a lost life.
To finish the Battlefields experience, we watched the incredible Last Post ceremony at the Menin Gate, followed by a very moving candlelit ceremony at the grave of Francis Faithfull OG. This former pupil left Glenalmond in December 1914 and died six months later, in July 1915, aged just 18. He was the youngest OG to perish on the Western Front. The next day we headed back to the ferry via the city of Bruges, where we had a good time exploring the culture, shops and food. Thankfully the return crossing was smoother after all that chocolate!
This Battlefields trip was an amazing experience for everyone, with the additional benefit of many pupils having the opportunity to pay respects to their fallen relatives. Personally, I was able to visit the grave of my great-great uncle, Lieutenant Norman Dunlop Galbraith, 7th Battalion Highland Light Infantry, who is buried in the Duisans British Cemetery in Etrun. 157 Old Glenalmonds were killed in WW1, which was the equivalent of the whole school population at that time. Every year, on Remembrance Day, these brave OGs are commemorated in the school's historic chapel. This trip, for us all, made their sacrifice so much more personal.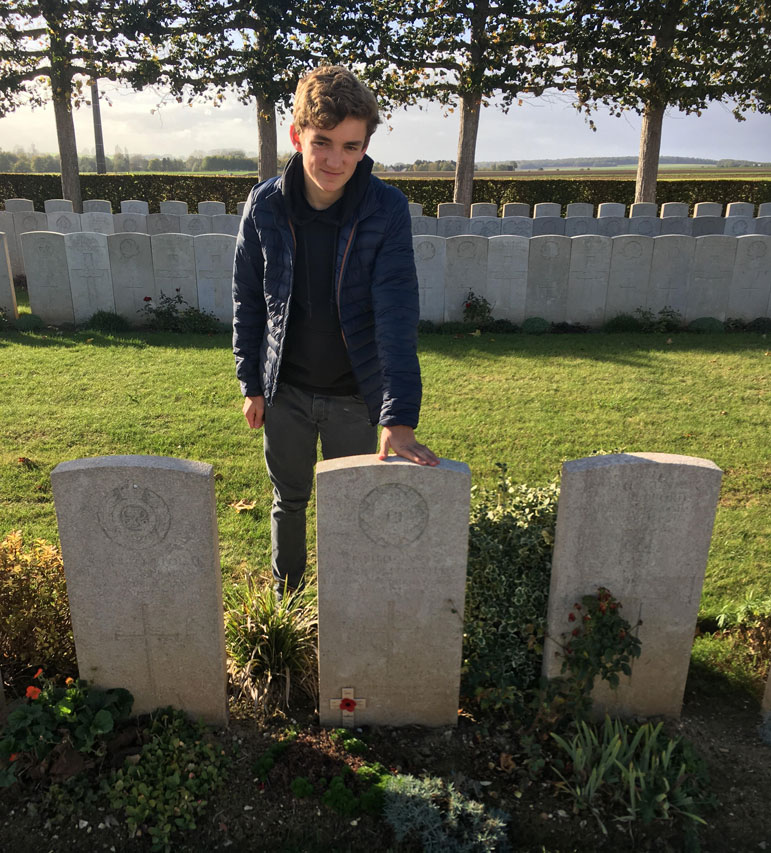 By Archie Galbraith, pictured above by the grave of his great-great uncle.
READ MORE: How Independent Schools Look Beyond the Curriculum | Ten of the Best Adventurous Schools | What We Learnt on Our School Trips