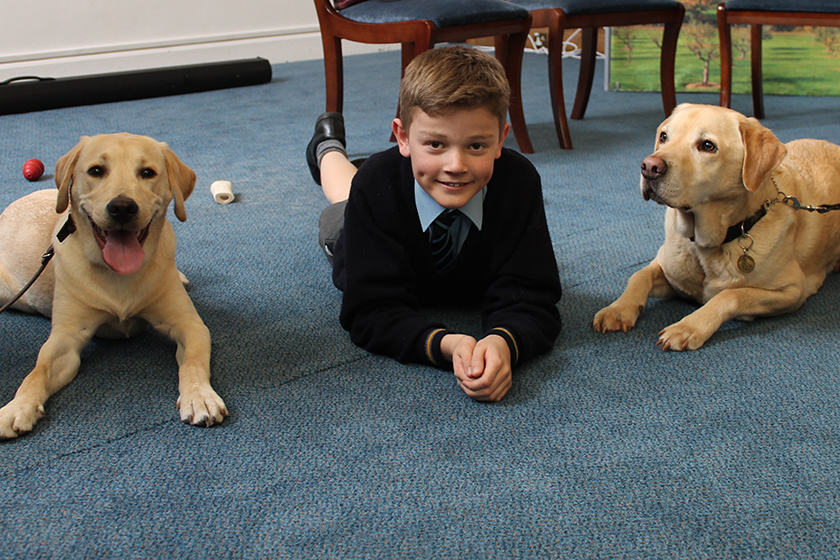 National Pet Day: Meet the Dogs of School House
Pupils at Cranleigh meet Austin the guide dog and schools submit photos of their residential pups
To celebrate National Puppy Day, we asked schools to submit photos of the pooches who play a key role in school life.
Here at School House, we know a little bit of pet therapy can go a long way. This is especially the case at schools where, increasingly, teachers and pupils are discovering the benefits, both academic and pastoral, of having animals on site.
Austin the guide dog
The Neve family and Cranleigh School pupils were delighted to meet Austin, a beautiful guide dog puppy, who they sponsored in memory of Austin Neve, a former pupil who loved dogs.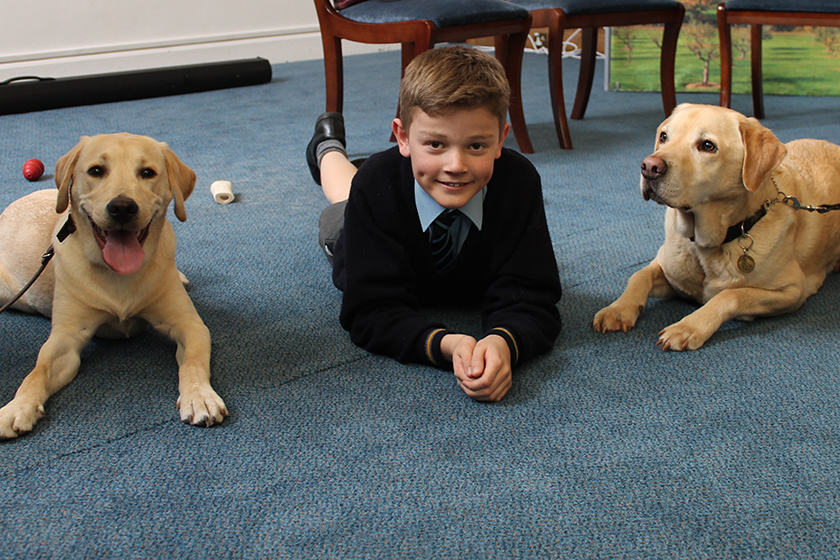 While in Form 6 at the Cranleigh Prep, Austin Neve's year group chose to raise funds for a guide dog. Austin was born on the 17 August and has settled in to his new home, learning a range of skills that he will need as a guide dog.  Now that he is over 17 weeks old, the pup was old enough for his first visit to the school.
This golden pup may be small but has already made a big impression on pupils at Warminster.
@School_HouseM we have a very new puppy! Honey, the newest member of Ivy House @Warminster1707#NationalPuppyDay#Adorablepic.twitter.com/gETRj2TYhh

— Warminster School (@Warminster1707) March 23, 2017
Winston from Truro
Handsome Winston belongs to one of the housemistresses at Truro School.

The staff and students at TIS have a bit of a wait, but Rookie will be a valuable member of the The Independent School community – once she's a little more grown! She is one of many school dogs brought in to be a calming influence on pupils.
@School_HouseM meet Rookie! Coming soon to The Independent School TIS Here she is at just 4 weeks old! #dogsofschoolhouse #NationalPuppyDay pic.twitter.com/5E9sFLgUCI

— TIS London (@tis_london) March 23, 2017
It is always such a treat to receive videos of school dogs. Martha is a working cocker, who clearly loves to play, and is the latest addition to the Cottesmore spaniel pack.
https://www.instagram.com/p/BSByE4pBEzT/
This lovely canine has earnt herself the name 'Duchess Darcey' for her grace and composure in her very important job role: that of a therapy dog.
Here's our school pup 'Duchess Darcey' @school_HouseM #NationalPuppyDay Darcey helps our students with #autism she acts as a therapy dog pic.twitter.com/97rFEHCvgy

— Gretton School (@gretton_school) March 23, 2017
With their unconditional love and patience, dogs are the perfect listeners for young readers, who are not confident orators. Reading dogs like Ted provide a therapeutic presence in the classroom giving children the confidence to read aloud. Whatever the book, Ted is all ears!
Meet Ted, Bredon School's newest canine! Ted will be School's 'Reading Dog' helping young readers relax! @School_HouseM #dogsofschoolhouse pic.twitter.com/zrCgkqpjC7

— Bredon School (@BredonSchool) March 24, 2017
Scruffy from Kingham Hill
This lovely labradoodle resides at Kingham Hill and enjoys his break time in the sun along with his classmates.
https://www.instagram.com/p/BSBY89UAvjA/
Minty from School House
Well since you asked, here is our gorgeous School House pup Minty with a nose for all things educational…