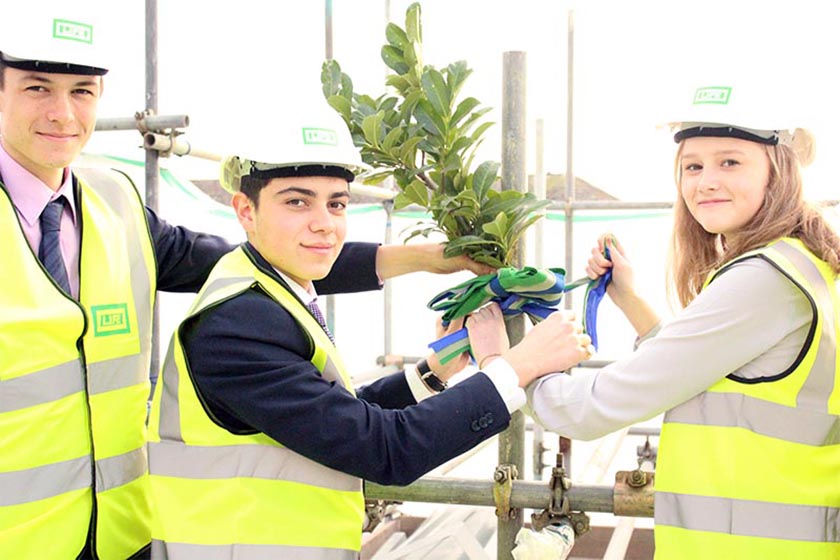 Topping-out Ceremony for New Sixth-Form Centre
Kew House pupils and staff donned their hard hats for a behind-the-scenes tour of the building site
Work has begun on a new sixth-form centre at Kew House School, which will open this September.
Facilities will include a large independent learning area on the ground floor containing a sixth-form café, library, social break-out spaces and quiet study areas. The building will also provide a roof deck, audio-visual suite, recording studio, classrooms and sixth-form seminar rooms.
To mark the progress so far, the school held a traditional 'topping-out' ceremony with the sixth-form students, who wore hard hards and high visibility vests to enter the site.
Taking the ceremony to the roof, headmaster Mr Mark Hudson said a few words and then handed a traditional Laurel branch, which symbolises peace and success, to the head boy and girl. Decorated in the Kew House colours, the branch was then placed onto the foundation pillars to complete the ceremony.
The traditional ritual of 'topping out' dates back to the pre-Dark Ages, with the practice of placing a tree on the top of a new building to appease the tree-dwelling spirits exiled by its construction. The ancient practice came to England with Scandinavian invaders in the 8th century and it is a tradition that has been upheld to this day.