RHS Creates Art Project to Commemorate Remembrance Day
Royal Hospital School (RHS) in Holbrook, Ipswich, is commemorating Remembrance Day this year with one of their biggest art projects to date. 
Drawing on the East Asian concept of the red thread of fate that binds people together, and taking inspiration from artist Chiharu Shiota, pupils at RHS have created an art installation that weaves a web of connections between those who have served for their country and people in their community – both in school and in the locality.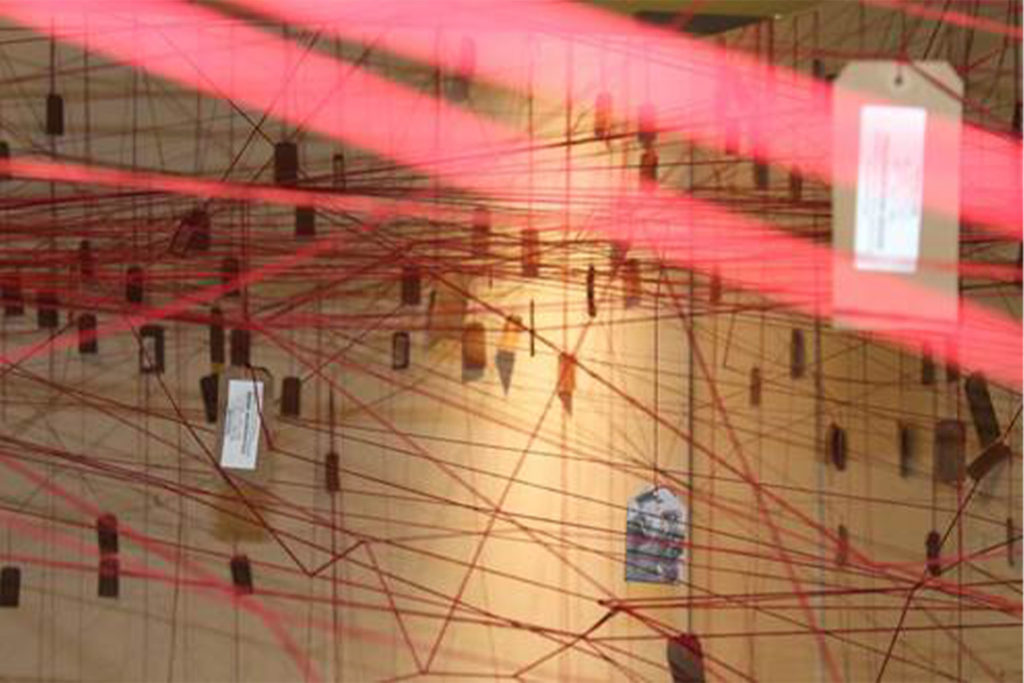 The 'Bloodlines' project has used the school's expansive art atrium space to create the installation. Unlike the equally poignant art installations created over recent years, this project has encouraged community engagement and interaction, with three local primary schools (Stutton, Holbrook and Oxford House) and three local care homes (St. Mary's, Oak House and Spring Lodge) involved. They were invited to create and connect their own labels to go alongside RHS pupils' work. The RHS History Department has also worked with the primary schools involved to help contextualise remembrance for their young pupils.
Emulating the labels on the cases and gas masks of evacuees, RHS provided two luggage labels to each individual involved. On one label the individual was asked to share something about themselves (even if it is just their name). On the other label, the individual was asked to share something about a relative, or family connection, who has been involved in military service for their country.
The pair of labels were then returned to the Art department and joined together by a red thread, each thread being intertwined to create a web of history and connections that binds the community together. Pathways and spaces within the intertwined threads have been created for visitors to walk into and through, in order to further connect with the piece.
The final touches of the project include audio of an ex-pupil – the grandfather to an RHS teacher and great grandfather to two of its pupils, talking about his experiences of RHS and of going to war. This audio is from a recorded interview by the Imperial War Museum. Finally, images of text from a memoir, from the grandparent of one of the teachers will be projected onto the walls, bathed in red light.
Harriet Barber, Head of Art at the Royal Hospital School, said: 'We are really proud of the finished installation and delighted by the engagement of our local community. It has been amazing to see the whole school taking part in the project, particularly those pupils who have a personal connection to someone who has served or is serving.
We hope that this will not only authenticate and contextualise remembrance for our community but also help to develop reflective and globally aware young people at RHS.'
RHS has a rich naval heritage and each year the school marks Remembrance Sunday by attending one of two Remembrance services in the School Chapel and taking part in a whole school Divisions (a term used by the Royal Navy to describe a formal parade). Over the past few years, the school has also created powerful art installations, allowing the whole school community to thoughtfully reflect in a more visual way.
From 11th November, the installation will be open for viewing for ten days by the RHS community, with the local primary schools involved being invited to visit during this time.
See The Royal Hospital School's online listing here.