How to Become a Ski Instructor on Your Gap Year
Sessions on the slope can develop a whole scope of skills desirable to employers and admissions tutors
Training as a ski instructor can reap dividends, argues Rob Stewart. 
Many people have an image of a ski instructor as young, tanned, athletic, carefree and only there for the 'lifestyle', but the profession has evolved into much more than a reason to head into the mountains to be a hedonistic 'ski bum'. There's a highly organised career pathway and opportunities for ski instructors to earn a good living from what's become a respected profession in Alpine countries such as France.
There are those who are looking for a long-term career as a ski instructor involving several years training. But for those who are looking to become a seasonaire or GAP Instructor, involving one or two seasons of experience in-between school and university or between university and starting a career in their chosen field, the benefits are endless.
A committed gap year instructor will be able to add to their CV many valuable skills including leadership, decision making, keeping people safe, dealing with paying (and possibly difficult) clients, learning about a potentially harsh and rapidly changing environment, improving your fitness and of course, having fun.
For others, it becomes a full-time career opportunity, as it did for Isla Marsh who found ski teaching a natural fit as she struggled to find what she wanted to do after her A-levels.
'When I set out to become a ski instructor two years ago, it was merely a hobby,' says Isla. 'Now I am currently working through the BASI system and taking my final exams this winter. For me, it is not only a career but a lifestyle I love. I thought it would be great to be able to teach other people to enjoy skiing the way I did while I was learning, and be able to live in the mountains while doing my job. I wasn't wrong. When I took my dreams and turned them into a reality, it lead to a winter in Niseko, Japan and I was living the dream. It turns out life can be just that good! Since qualifying, I have continued to teach, both in the northern and southern hemisphere. I'm working in Perisher, Australia during the UK summer and for the Cadet Centre's Adventurous Training during the winter, coaching cadets from the armed forces, whilst training on the side. Ski instructing is now my full time job and I get to spend ten months of the year in the mountains.'
Qualifying as an instructor
The British Association of Snowsports Instructors (BASI) is the UK training and grading provider that has four levels, right up to an international diploma, giving holders the right to work independently in any country.
Although instructors require a qualification to be able to teach, in most Alpine countries such as Austria, Switzerland, Italy and Japan, Level 2 in the BASI system is sufficient enough to gain employment with a recognised ski school. (Level 1 is purely for use within the UK on artificial or indoor snow slopes).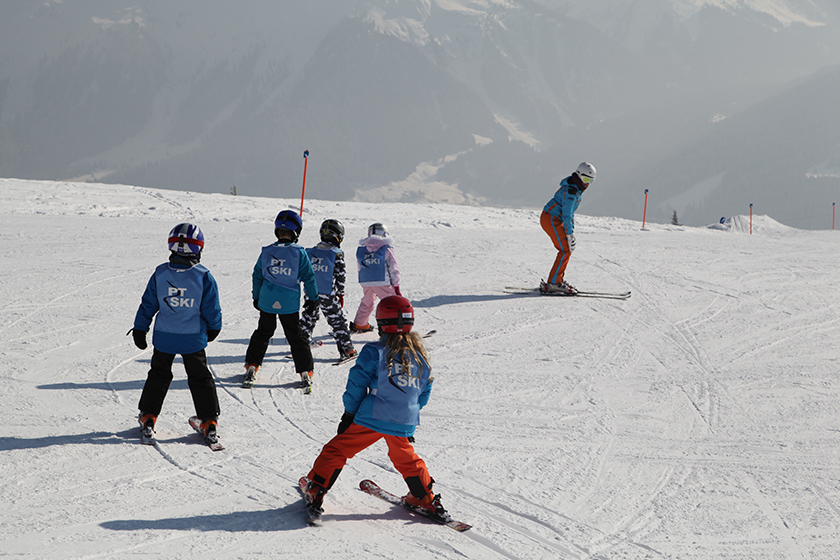 There are alternatives to the BASI route – for example, if you speak some German, you could qualify as an Antwärter (Austrian Level 1), which allows you to teach with a ski school in Austria. Snoworks GAP (snoworksgap.co.uk) offer a three-week programme during the summer that qualifies instructors with the Antwärter and guarantees a job afterwards for the winter in the resort of St Anton.
This might be the highest level of qualification required and if you want to work for one or two winters, then it's the quickest and easiest option.
Working as a ski instructor in France
For those who are looking for a career as a British ski instructor, France is the place to be. Apart from a huge choice of world-class resorts and a total market share of around 35 per cent of all British skiers, France pays the highest wages to ski instructors compared to any other country in Europe.
Many instructors want to work there and because of that, the minimum standard of qualification is high. Here are some facts for any British skiers wanting to work as a ski instructor in France:
•  If you gain a BASI Level 2 qualification and also pass what's called the 'Test Technique' (a timed slalom run), then you could work for a French ski school as a stagiaire (trainee) such as the ESF or UCPA. Although you are working legally, the wages are not what you would expect when fully qualified and because of the regulations (due to numbers of qualified instructors within the school), you cannot work for a British ski school or independently with stagiaire status.
•  To achieve this position you must gain a BASI Level 4 qualification along with a pass in the Euro Speed test, a giant slalom competition held with international regulations. Level 4 can take many years to achieve as there are many modules to attain along the way – but once completed, the opportunities for work and a salary in line with many other respected professions is available, whatever nationality you might be.
•  Of course, to qualify and work for a British ski school in France or work independently, you need to go through the system and work several winters as an instructor in other countries first. This can be achieved by gaining a BASI Level 2 or Antwärter and working in Austria, Switzerland, Italy, Scandinavia, Japan, Australia, South Korea, New Zealand or North America. Not such a chore and an exciting way to get a qualification that could last a lifetime should you wish to keep it updated.
•  Snoworks GAP run GAP ski instructor courses in Tignes, France, during the late autumn to qualify as a BASI Level 2 instructor and Hintertux, Austria, during the summer, where on completion of the course and qualification of the Antwärter there is a guaranteed job for the following winter with the St Anton ski school.