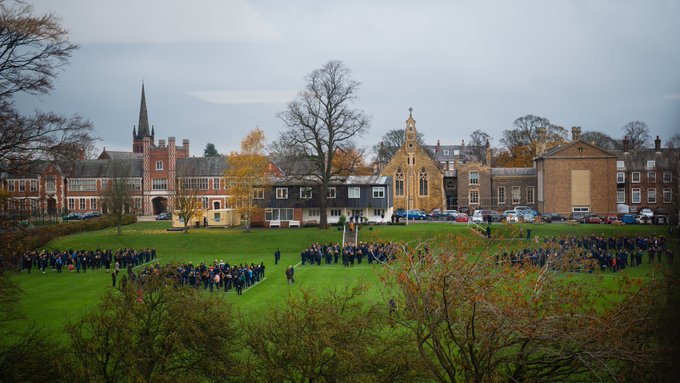 Pupils and staff at St Peter's School, York, gathered as a whole school community for the first time in eight months on 11 November to mark Remembrance Day.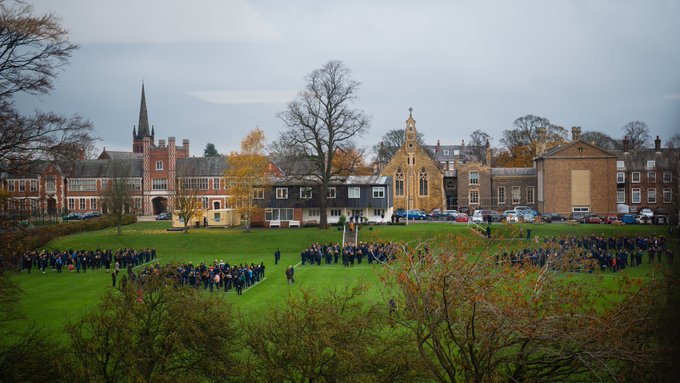 The St Peter's School community usually gathers in the chapel for a special service of Remembrance, but today's commemoration was held outside to enable pupils and staff to observe social distancing guidelines.
The service was conducted on one of the school's sports pitches before afternoon games, with readings and prayers delivered from the embankment in front of The Pavilion.
Each year group bubble was arranged into zones, with pupils standing in rows of ten.
The service, which lasted just ten minutes, included an address from head master, Jeremy Walker, readings from pupils Percy Hill and Henry Butters, a two minutes' silence at 11am followed by reveille, and a Kohima blessing from school chaplain Rev Daniel Jones.
There were no hymns or laying of poppies this year, but pupils and staff alike were grateful for the opportunity to pay their respects as a whole school community after spending much of the year apart.
'The service marked a significant moment in the life of our school as we came together, along with the whole nation, to observe the act of remembrance,' Mr Jeremy Walker, head master of St Peter's School, said. 'It was significant also because it was the first time that we have gathered as a whole school community in the same place for eight months. We remembered former pupils who gave up their lives in sacrifice of others and joined with the nation and the world in a commitment to peace and an end to conflict. The path to peace begins with the individual commitment of each and every one of us to remember the past and in so doing turn our hearts and minds to the future.'
Find the St Peter's online listing here