Keeping Kids Healthy: Inspiring Schools & Top Tips
The best ways to keep your children fit and healthy at home. 
In the UK, one in four children starts school overweight and one in 10 is obese. By the end of primary school, the percentage of obese children has doubled to one in five.
Such shocking statistics has seen a surge in the amount of healthy eating and living interventions that independent schools are initiating around the country.
We've rounded up the best of a wholesome bunch to inspire your own cooking and activities over the Christmas holidays and into the new year.
Learn to Cook Like Reigate Grammar School Students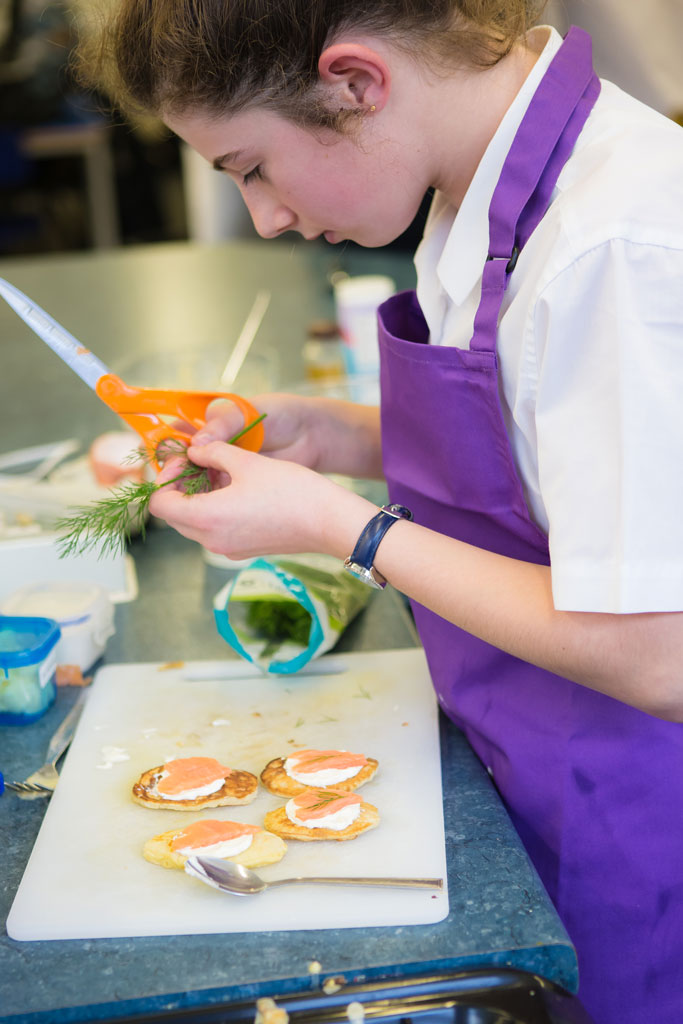 In November students at RGS honed their cookery skills as part of the school's very own version of The Great British Bake Off.
To get the students' creative juices flowing, the Food and Nutrition Department teamed up with the Heads of the four school Houses to run a cookery competition, a la Channel 4's Bake Off, with a focus on healthy ingredients.
Students submitted recipes to the judges and finalists from each House were challenged to prepare their recipes within 30 minutes and present them to the panel. The results were (mostly!) delicious and many deserved a 'Hollywood handshake'.
I am always delighted by our students' enthusiasm and sense of fun. The competition was an entertaining and engaging way to deliver an important message about health and wellbeing.

RGS Headmaster, Shaun Fenton
Top Tip: Competition, teamwork and creativity make cookery lessons much more fun. Challenge your child to a healthy Bake Off before Christmas and they may very well surprise you with some equally tasty but more nutritious alternatives to standard mince pies and gingerbread.
Join a Park Run Like Hazlegrove Prep, Somerset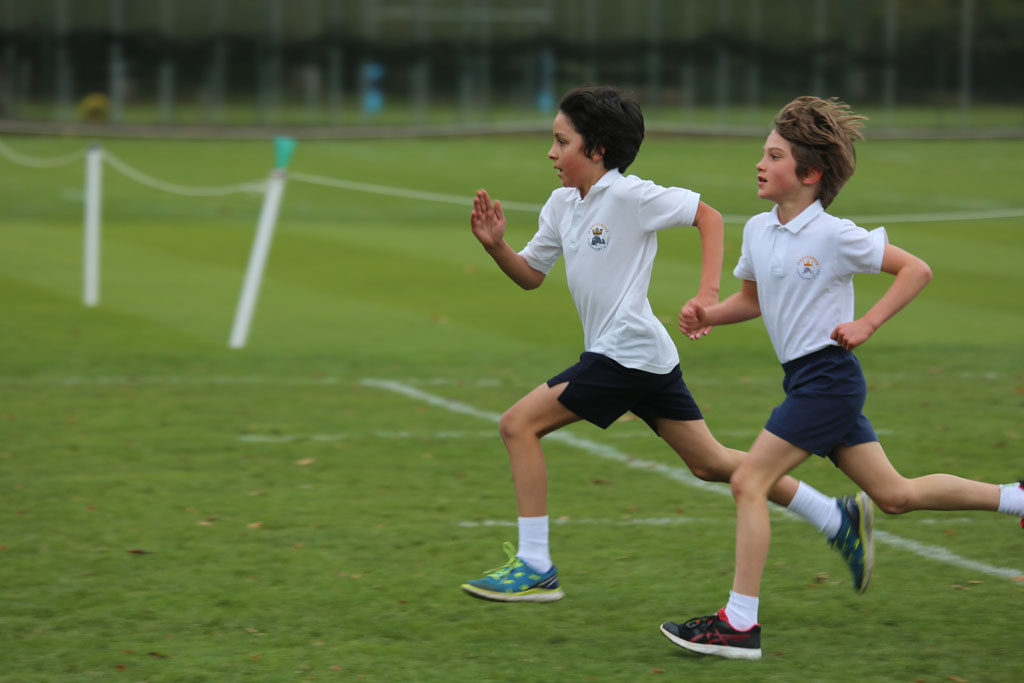 Park Runs are events that happen around around the country very Saturday at 9am. Twice a week at Hazlegrove Prep pupils from year three to eight are encouraged to change into PE kit and run the beautiful course through their 200 acres of parkland.
Compared to the public, adult Park Runs, which are 5km, The Hazlegrove Park Run is a shorter 1.8km, but pupils similarly can achieve and receive milestone tokens for the accumulation of runs at 15, 30, 40 and the final reward of a special memento, the HzG ParkRun T-Shirt, is awarded to those children who achieve fifty or more runs across the academic year. This encourages more children to go.
It is a great opportunity for pupils to improve their overall fitness or just take time out of the classroom and enjoy the peace and tranquility that running outside in the parkland can bring. We are delighted to present the first '15' milestone key-rings of the term to four of our pupils and look forward to seeing many more over the academic year

Sports teacher, Mrs Katie Cobb
Top Tip: Rewards can be a great motivational tactic, especially when thought about carefully so children can work towards them. Making a short group run a regular part of a child's weekly routine will help maintain momentum too. Try a local park run during the holidays. The junior events are 2km and open to all 4 to 14 year olds for free – so there's nothing to lose. Find your nearest run venue, here.
Walk and Talk like Bede's Prep, East Sussex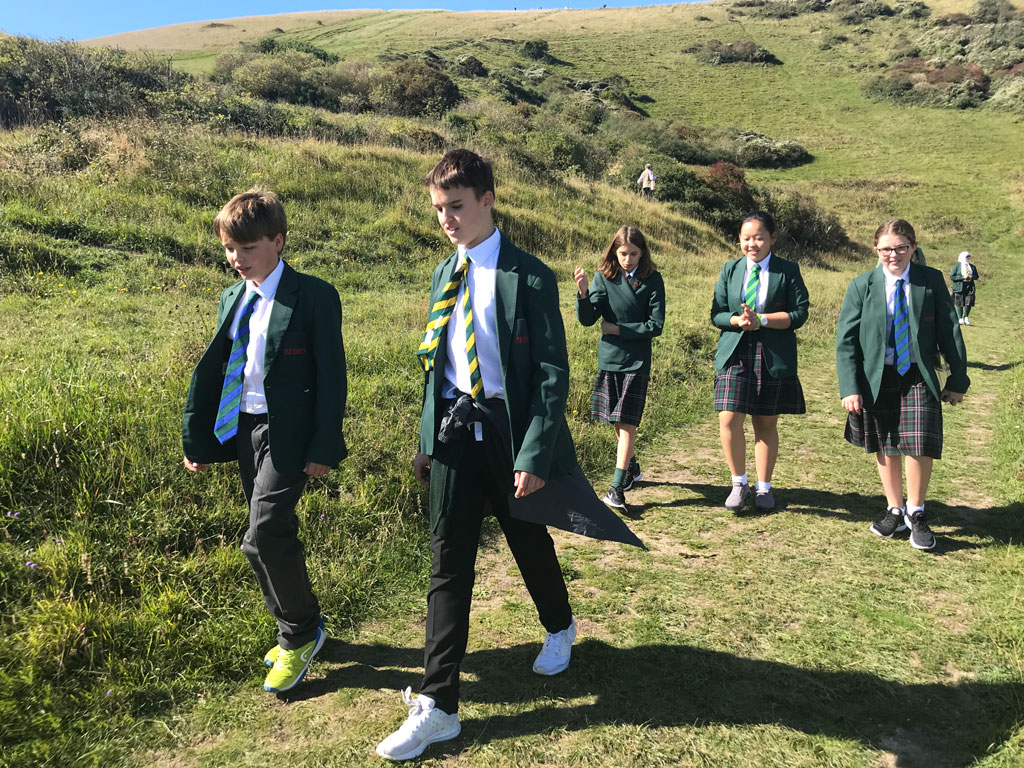 Studying for exams doesn't have to come at the expense of fitness and exercise.
At the end of September, Bede's Prep pupils took part in a walk from the school to the Hollow and Cow Gap, as part of Eastbourne Walk Fest. The informative walk featured lots of facts about the area's history, from Anglo-Saxon farming practices to the life of Mary-Ann Gilbert (who created an agricultural allotment system in the 1830s to help resolve poverty). The pupils also learnt about the links of the land with the Foyles family, and discussed the memorial benches where the children got a chance to rest and take in the views.
Mrs Lucas, who led the walk for the Bede's pupils, was passionate and inspirational with her words and wisdom regarding the Hollow and Cow Gap, talking not only about the history and landscape but also the importance of the preservation of this wonderful area (which the Prep School is blessed to sit next door to). The children thoroughly enjoyed the trip.

Mr Simon Gisby, teacher at Bede's Prep
Top Tip: Learning to appreciate the outdoors is an integral part of growing up that many now miss out on (a government-funded study in 2016 found that one in nine children in England had not visited a natural environment in 12 months), as the natural environment can serve to help people unwind, de-stress and feel calmer.
If you think your child doesn't have time, try incorporating walking revision sessions or let them take the lead with the map-reading and conversation starters – you may learn something new about them when they're relaxed and breathing fresh air.
READ MORE: Mental Health in Schools: Building Strength of Character