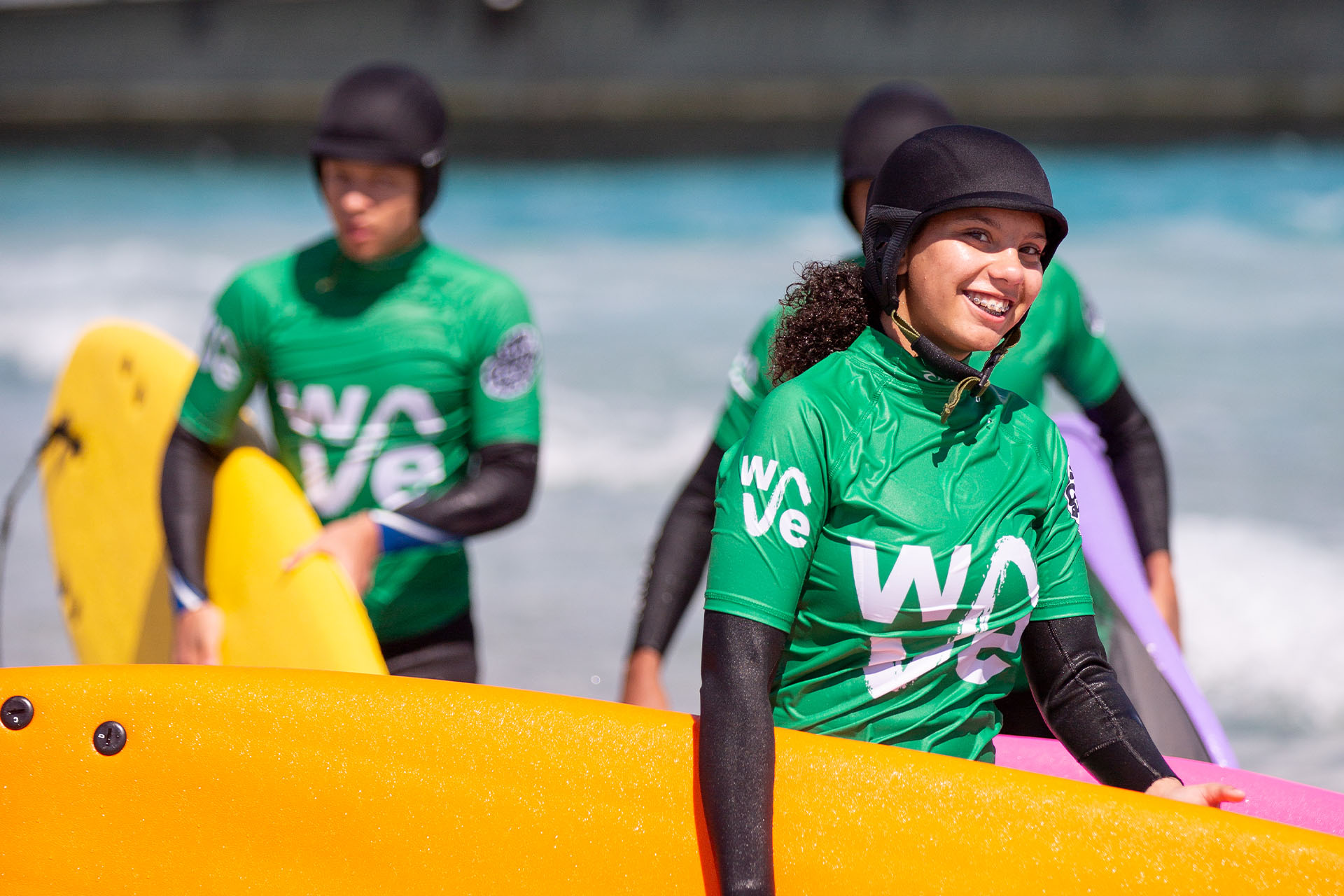 Rowena le Poer Trench and Kit Mackay go for surf lessons in the countryside at hi-tech, eco-friendly centre The Wave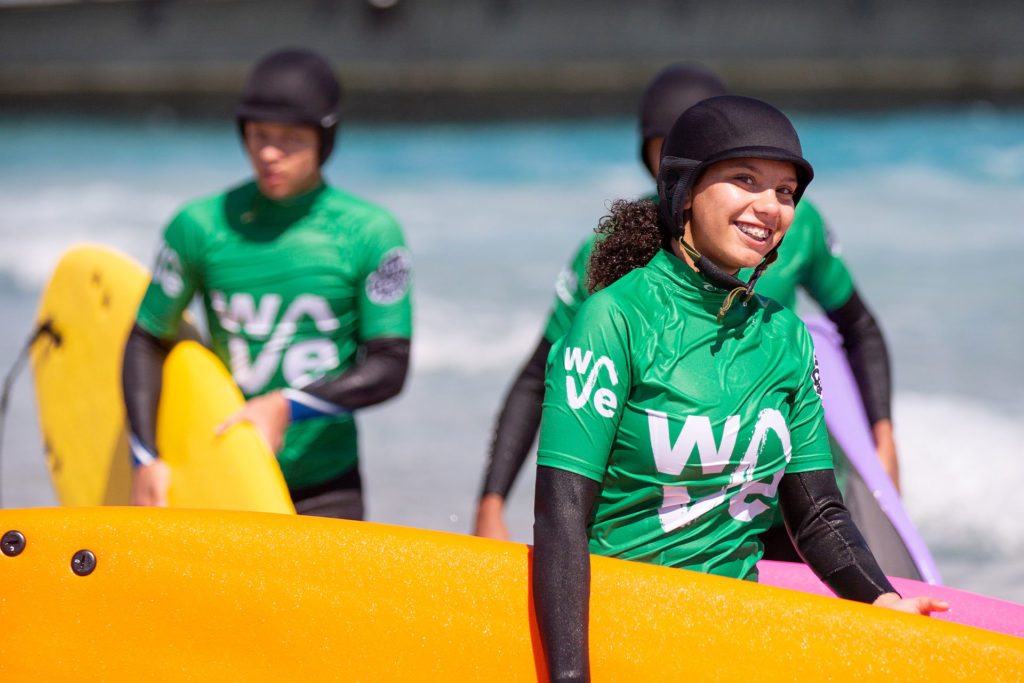 'Having surfed in Cornwall for several summers, I was keen to see what The Wave had to offer as an alternative. It's an extraordinary place: you drive into the middle of the countryside, and there is a giant lake, the size of four football pitches, split in two by a walkway for spectators. Each half has a small shoreline and is shaped like a triangle. The waves ripple out from the far end, up to a thousand per hour, ranging from 50cm (1.7ft) to almost 2m (6.5ft) in height, with a new wave produced every 8-10 seconds.
For the beginner session, we had low waves that were slow and even to help everyone get their confidence. Even though I had surfed before it was good to get extra one-to-one tuition, knowing that you would never run out of rideable waves. I appreciated the 30 minutes of training on land before we got in too.
There are wetsuits to hire and a café. I think we both liked looking through the photos of us surfing too, although there weren't many that made us look as nonchalant as we'd felt in the water. I'd really like to go back and have another session at the next stage up, Waikiki, which is for improving surfers who have caught many beginner waves and can ride in the bay with control. After that, The Wave offers intermediate lessons focused on developing brilliant technique, learning new manoeuvres and building up confidence. You can even have advanced tuition. One thing I appreciate is the centre is eco-friendly. The waves are produced by energy-efficient solar power (using 1kw to create a 6ft wave) and the lake does not waste water. The amount needed each year is about six percent of that used to keep a golf course green.' Rowena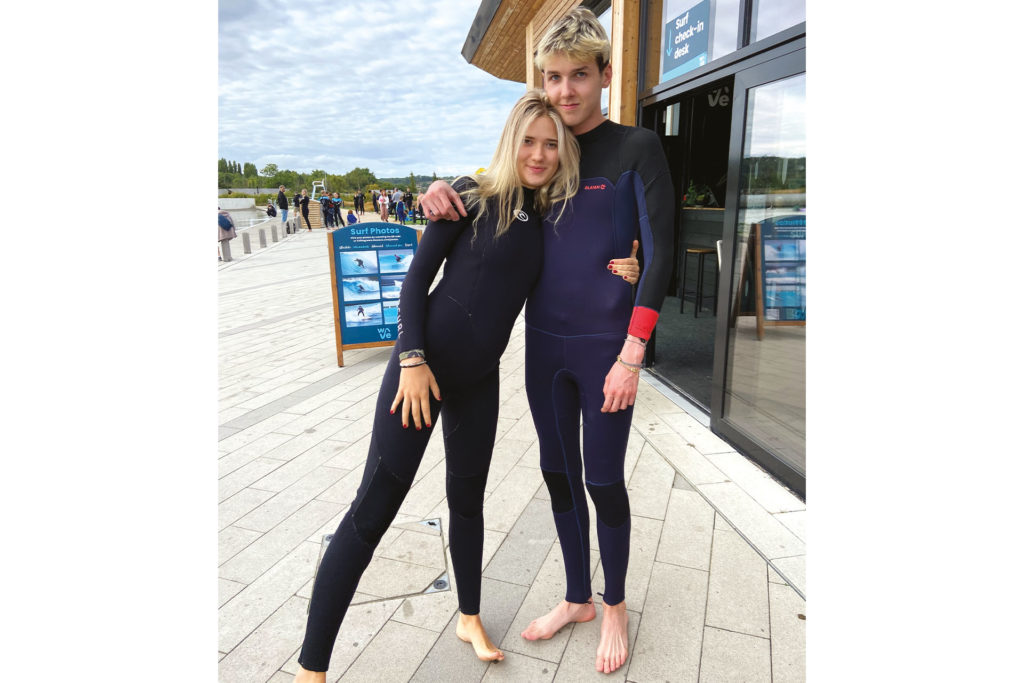 'This was an absolute delight! From the moment I arrived, I was impressed by the modern and well-maintained facilities. The wave pool, in particular, was a highlight, offering a range of exciting wave patterns and crystal clear, comfortably warm water.
But the fun didn't stop there – there were also plenty of other things to enjoy, such as the surf shop and a yummy restaurant. The staff were all friendly and helpful and really knew their stuff, adding to the positive atmosphere.
Overall, I had an incredible time and would highly recommend it to anyone looking for a fun and family-friendly activity. I will definitely be returning in the future and encourage others to check it out as well. You won't be disappointed!' Kit
Where to Stay
Combine your trip to The Wave with a weekend in Bristol, and stay at the Hotel Du Vin Avon Gorge, which has unforgettable views of the Clifton Suspension Bridge, especially at night. The hotel has a boutique feel; bedrooms are furnished in dark, distinguished colours – deep blue walls and green suede chairs, with ironic artwork and huge LCD TVs, only dwarfed by the size of the bed. Bathrooms are tiled in marble and provide drench showers. And if you really want to indulge, book the Laurent Perrier suite which has twin roll top tub baths with views across the gorge itself.
The hotel provides a cosy Lounge Bar with an extensive range of cocktails and wine – ideal if you need to warm up after watching your teenager surf for hours. Hunger can be sated at the hotel's restaurant Goram & Vincent, with its open kitchen for fire and theatre, coal-fired grills, smoker and bespoke clay ovens. 
The menu features hand-cut steaks but there are fish and veggie options, too, such as Cornish mackerel or gnocchi provençale. 
Here is where you'll find breakfast as well; generous helpings of grilled kippers and eggs Benedict to fortify you for a day spent shopping Bristol's vintage clothes emporiums or taking a canal boat tour of the river itself.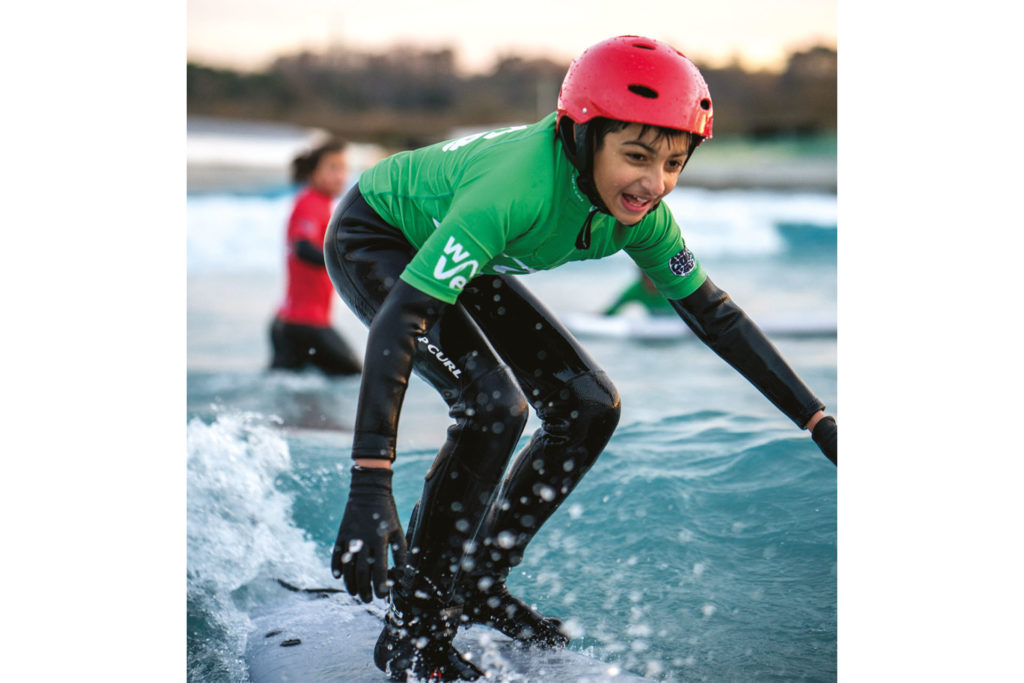 TEEN VERDICT: 'Can't wait to go back' 
PARENT VERDICT: 'Safe and enjoyable way to get into surfing'
The Wave: Beginner Lesson; wave height: 0.5m (white water); prices from £35 for 90 minutes.
The Wave, Washingpool Farm, Easter Compton Bristol, 0333 016 4133; thewave.com
Stay: A two-night break in a deluxe room with dinner, wine and breakfast from £415 at Hotel Du Vin Avon Gorge, Sion Hill, Clifton, Bristol, 0117 4030210, hotelduvin.com