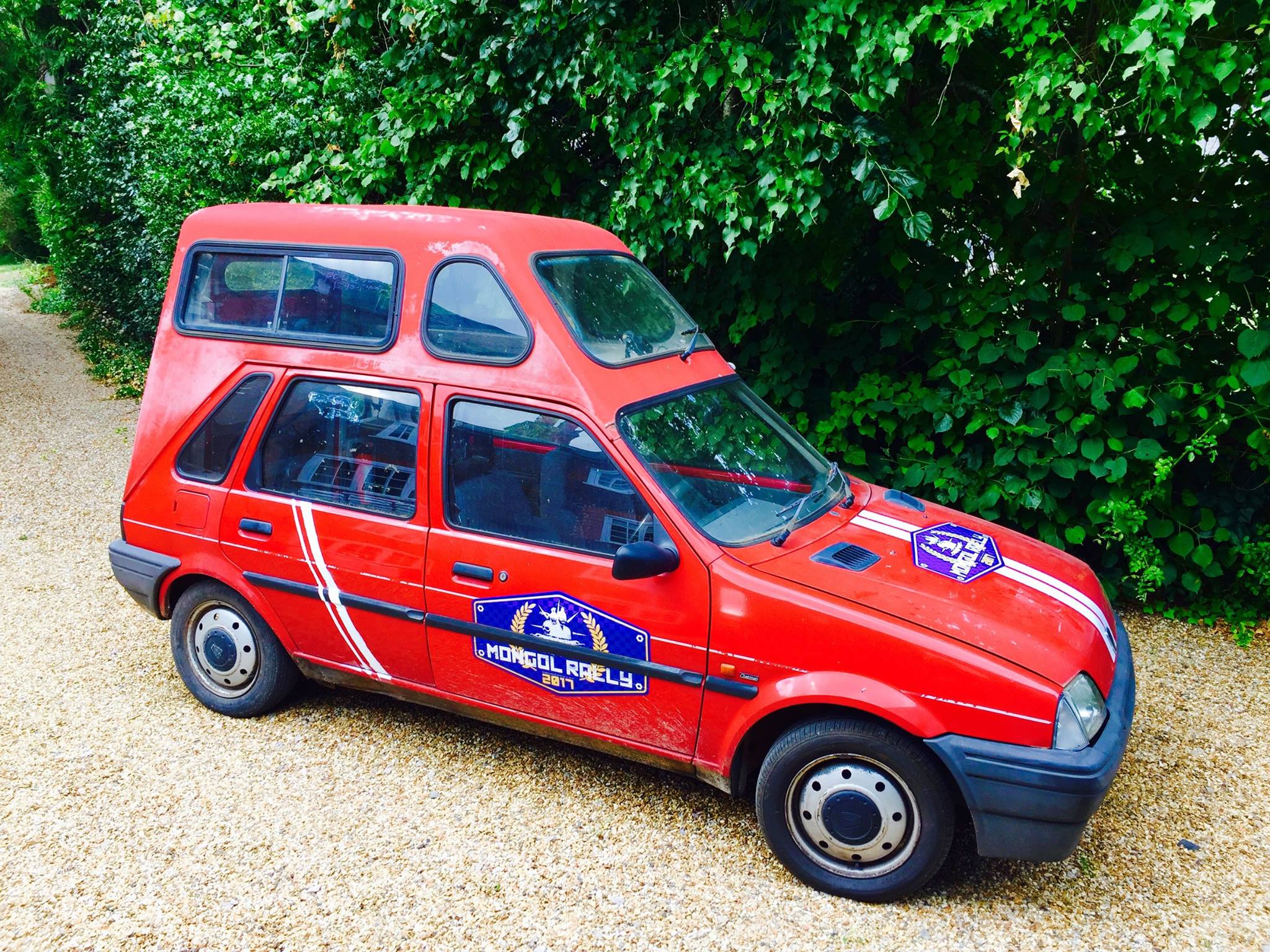 Teen Spirit: Race to Mongolia
Genghis Khan may have conquered half the world but the Mongol Rally could not defeat Old Shirburnian Finlay Thomson
The Mongol Rally describes itself on its website as 'the greatest motoring adventure on the planet'. We don't disagree – it involves covering 10,000 miles across the mountains, desert and steppe of Europe and Asia each summer in a very old and very small car.
It aims to raise as much money for charity as possible whilst providing participants with stories and memories to last a lifetime. The trials and tribulations of the Mongol Rally are legendary.
Finlay Thomson, who attended Sherborne School, wrote a piece for the SS18 issue of School House about his experience:
I was enjoying a half pint of Exhibition cider when a friend studying at the University of Bristol asked me if I wanted to go on an adventure in the summer break. The rules of the Mongol Rally state that we would have to drive from England to Mongolia in a car over ten years old, with an engine no bigger than 1.2l. I said yes immediately.
Before I could go anywhere, I needed a driving licence. The question of whether I would pass my test dominated the next few months. I made it, after two failed practicals and with only four days to spare.
Our mode of transport was a 1992 Rover Metro which had been converted for wheelchair access and which we nicknamed The Popemobile.

The Popemobile, a 1992 Rover Metro converted for wheelchair use
Our first stop, after driving through France, Belgium, Luxembourg and Germany was a Mongol Rally party in Prague. Nothing the Pope can't handle, we said, but we hadn't bargained on the rally organisers thinking that it would be fun to invite 250 drunken ralliers to break the world record of numbers squeezed into a car, using the Popemobile.
The fact that the Pope soon required a bottle of coolant a day could be because of the 37 people that we squeezed in, killing the previously robust suspension. Or it could be due to the lorry driver who took off half a door and a mirror wing (and was split seconds from removing my arm as well) as we pushed through Slovakia, Hungary, Romania and Bulgaria to Istanbul. I don't know. But by the time we reached Ankara, the Pope was on its knees and soon, three bottles of coolant weren't enough.
Eleven days later, still in Ankara, we resigned ourselves to the fact that we would have to cover the next 7,864 km to Mongolia on public transport and promptly donated the Pope to a grateful Turkish government.

Harry, Finlay and Tom did not remain a trio for long
So, Georgia was a seventeen hour bus ride. Azerbaijan to Kazakhstan was a miserable 35-hour ferry trip across the Caspian Sea in 43°C heat, in a cabin with no air con or windows. In Kazakhstan, we found wifi and re-grouped to push onto the city of Aktau but it was here that we lost one of our trio. Overwhelmed by the prospect of a 30-hour train ride to Nukus (Uzbekistan) in the third class of an overpacked 1960s Soviet train with wooden seats, Tom decided to go home. His Russian visa wouldn't let him in without a car so he decided to give up.
Harry and I took the train. The carriages were crammed but it wasn't all bad. A lovely old man shared his tea and biscuits with us and somebody offered me a plank to lie on. But they didn't like my feet. It is customary to take your shoes off but I had been wearing mine for two weeks with a limited supply of socks and the entire carriage erupted in anger over the stench. It was my 19th birthday.
For £15 each we hired a taxi for the next thousand kilometres to the city of Samarkand. But, in Almaty, Harry also decided to call it a day. He too couldn't get into Russia without a car. I desperately wanted to go home with him but I had to finish. I had scraped a third in my uni exams the year before and I wasn't proud of myself. I needed to prove that I could do it.

A very proud Finlay at the official finishing point of the Mongol Rally
And thanks to Riccardo, an Italian PhD student, I did. But at a price. Riccardo is the axe-wielding champion of the live-action medieval warfare community and, for seven hours, I endured thrash metal music all the way to the Russian border until, miraculously, I ran into two other ralliers; British students driving a VW polo who generously gave me the wheel. I was back in the game.
An hour later I crashed into the back of a Toyota Prius and spent the next 20 minutes repeating 'niet Rusky' to an irate and obviously deaf Russian who only understood me when I handed over $20 in compensation. Eleven hours driving later we crossed the Mongolian boarder.
It was freezing. I had ditched my warmer clothes in Turkey. We camped in the wild and stunning Gobi desert, and then drove 2000 kilometres on mainly unpaved roads to the capital,  Ulaanbaatar before making a final push to the Russian city of Ulan-Ude.
Two days later, 42 days after leaving England, I crossed the finishing line with a huge sigh of relief and an amazing sense of achievement. Against all odds I had done it, without a car or for that matter, a credit card. Genghis Khan may have conquered half the world but Mongolia had not defeated me. It wasn't an easy ride, but the memories will stay with me for the rest of my life.
Sherborne School, Dorset
READ MORE: The Pentathlon: A Modern Sport | Why Schools are Teaching Life Skills