VIP Sporting Stars Visit Brackenfield Children
The children at Brackenfield School in Harrogate were treated to a VIP visit from two successful sporting alumni brothers – British Champion runner, George Mills, and skilled professional footballer, Stanley Mills.

The outstanding-rated prep school, which is steeped in history and known for its family-focused ethos, welcomed the stars who offered the children some inspiration and motivation, highlighting the importance of their time at the school in nurturing their love of sport.

George Mills is an elite 1500m runner, crowned British Champion in 2020, ranking 20th in the world with an impressive personal best of 3:35.3 minutes. George was able to share his experiences of the importance of hard work and dedication with the children, illustrating the possibility for success with the right 'can-do' attitude.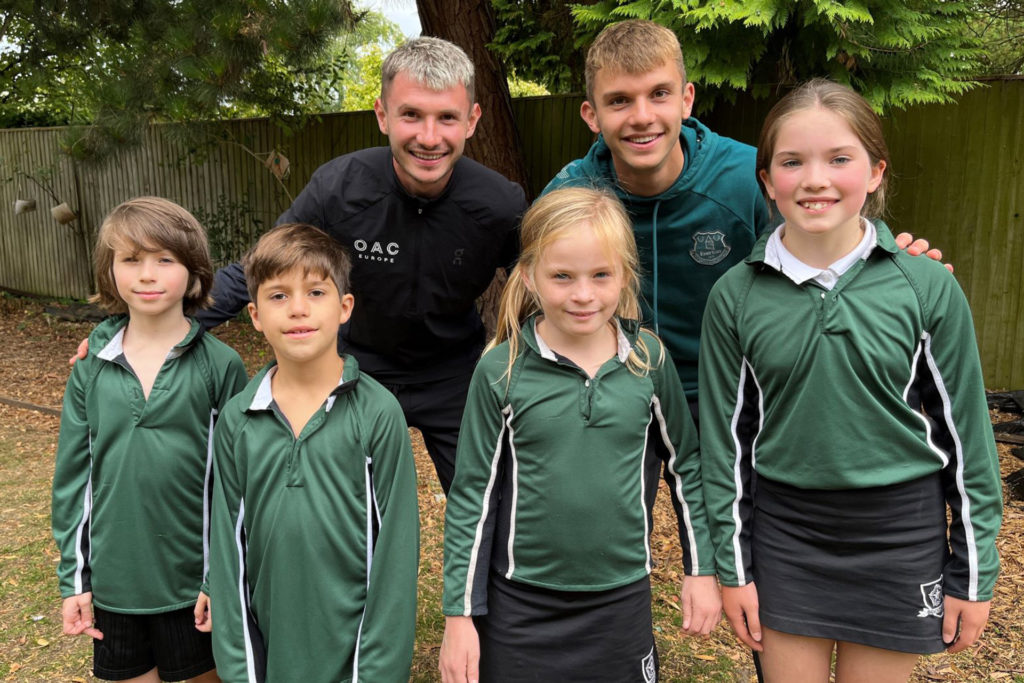 Stanley Mills made his debut for Everton's first team in August, with a remarkable performance, topped off with a superb goal. He started his impressive football career at Leeds United at the age of 8, later joining Everton aged 14.

The enthusiastic duo discussed the importance of the Brackenfield values – kindness, honesty, respect, initiative, perseverance, and confidence – all of which were attained by George and Stanley throughout their time at the school and during their sporting successes.

George Mills said: 'I loved speaking to the children and having the opportunity to share the excitement of achieving your goals and working in a job you love! The school community lay the foundations for both of our achievements, instilling the importance of perseverance and confidence in reaching your full potential.

'Both Stanley and I have fond memories of our time at Brackenfield and felt it was time we visited again to share news of our recent successes. I have just represented Great Britain as a member of On Athletics Club Europe (OAC Europe), based primarily in South Africa and Switzerland, in the World Indoor Championships, so now felt like the perfect time whilst the experience was still fresh in my mind.'

The sports stars gave an exclusive talk to the whole school on Tuesday 20th of September 2022, and shared pictures to bring the details of their fantastic achievements to life.

A year 5 pupil said: 'I loved having George and Stanley come and visit, I enjoy football so I really hope I can be just like Stanley one day. Sport is really important to me, so I am going to work hard and keep practising.'

As well as talking to the sports stars, pupils were also able to take part in a masterclass. George taught the children some interesting facts to improve their running skills and Stanley shared his football top tips.

Stanley Mills said: 'It has been a great experience to come back to the school and share our career successes to date, we hope we have inspired some future sports men and women! Brackenfield supported our early interest in physical activity and gave us some fantastic opportunities to explore different sporting possibilities, something which the school continues to pride itself on.'

Research has found that an impressive 44.7% of 11- to 15-year-olds and 31.4% of 5- to 10-year-old children play football on a monthly basis. These high statistics are carried into adulthood as England's 'Football Universe' currently shows that a staggering 8.2 million adults play, including both men and women.

Headmaster Mr Joe Masterson, said: 'We always love knowing where our children end up and hearing about their accomplishments, which is why we were incredibly pleased to welcome George and Stanley back to school for a chat with our current cohort of children. Here at Brackenfield, we aim to instil a desire for success within all our pupils, and we always feel immense pride when this is achieved.

'The children thoroughly enjoyed this once in a lifetime opportunity, learning first-hand the different avenues for success. We would like to thank George and Stanley for their time and hope they keep us updated on their future endeavours.'
Read more:
Bristol School Opens Doors For TV Series | St Mary's School Welcomes New Senior Appointments