We Do Like to be Beside the Seaside
We've all heard of forest school, but what about beach school? Emma Reed uncovers nurseries which teach on the beach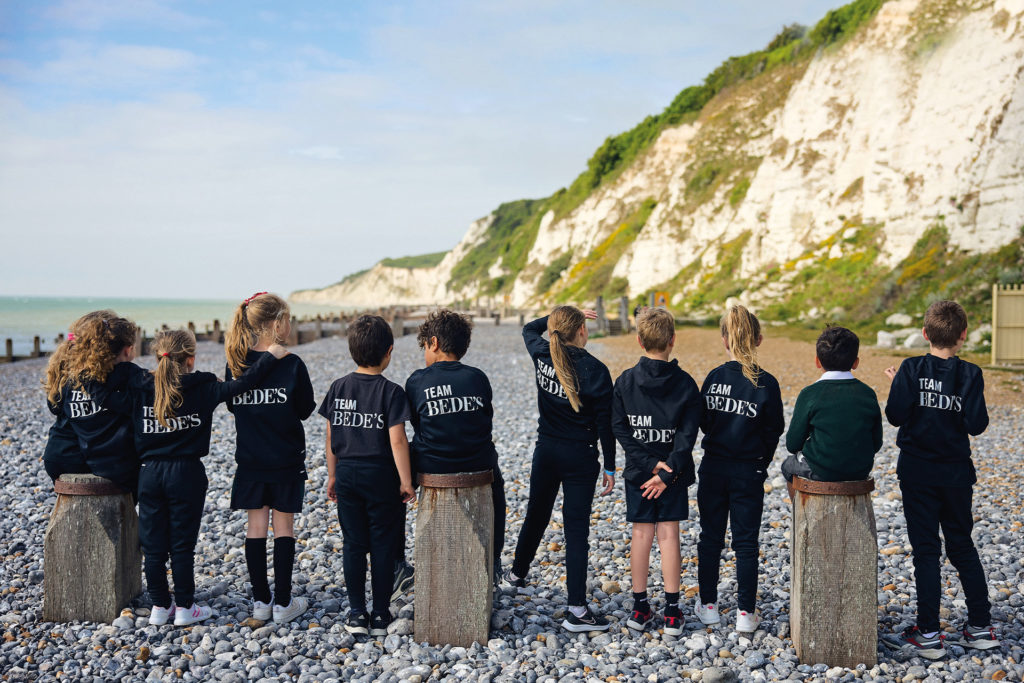 Location, location, location. We're all too aware of its importance when looking for a house, but what about when choosing a school? While many of us may equate time on the beach with a much longed-for holiday, these nurseries and schools have harnessed the advantages of their coastal location, weaving it into the education of their young charges for their immediate and long-term benefit. There's a beautiful symbiotic relationship between these schools and their environment. Imagine starting your educational journey with lessons on the beach. Here we look at those lucky ones who don't have to imagine, because it's very much part of their everyday life.
Every Wednesday, children in Reception at St Peter's Preparatory School, Exmouth, pull on their wellies and don bright pink salopettes for a morning spent at Beach School. The school overlooks the Exe Estuary with the seaside a mere ten minutes away. Rachel Jupp, Director of Admissions at St. Peter's notes that the location helps make learning more tangible for the children. 'In science, for example, the children are not just taught the importance of protecting our environment, but instead, discover this for themselves. Uncovering aquatic life in rock pools and spotting the endangered birds that call this corner of Devon home, lay the foundation for a lifelong appreciation of nature,' she says.
The benefits of Beach School go beyond topic learning. At St. Peter's, while the benefits of children being able to race around in the sea air are obvious, a mindful approach is also introduced. Jupp explains how teachers lead the children through mindfulness exercises on the beach with a particular favourite being 'earthing.' 'It's a practice that encourages our pupils to attune themselves to this environment, feeling the sand between their toes and the crash of the waves. Incorporating pockets of calm in this invigorating environment teaches children to self-regulate their emotions.' This is something also espoused at Brighton College Prep School where children are taught yoga on the beach from the age of three. 'Our children enjoy taking their mindful activities to the beach, facilitating spiritual growth,' says Leah Symes, Marketing and Communications Co-ordinator.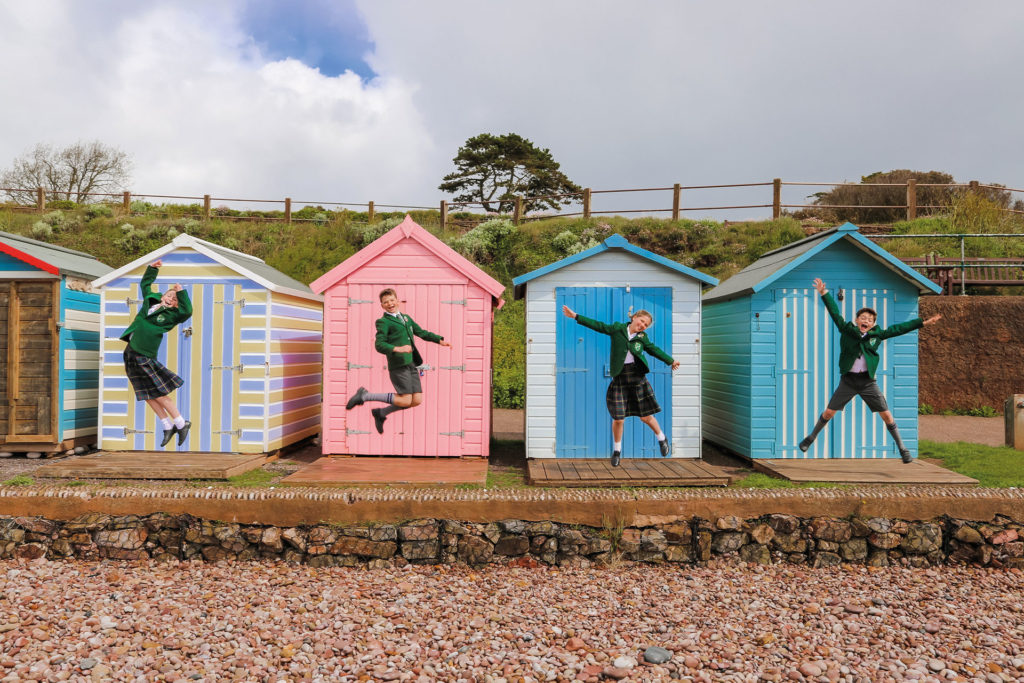 For young children, the beach acts almost as a giant whiteboard. 'Our beach school entwines sensory play with education,' says Jupp. 'Tracing letters and numbers in this much bigger 'sand tray' reinforces the bedrock of regular writing practice and fine motor control.' Alison Napier, Head of The Prebendal School in Chichester, has seen that children feel the freedom to have a go at something when they are on the beach as there are no mistakes. She cites the example of making marks on the beach and doing sums. 'They are so much more engaged and excited,' she says. 'They can just take their hand and sweep it across, or the sea is going to wash it away. It's not like putting it down on paper.' Following a visit to Arundel Castle, Napier notes how the children's learning about castles was reinforced by creating their own castles on the beach and talking through their features.
Bede's Pre-Prep and Prep, located on Eastbourne seafront, also echoes the view that much learning takes place beyond the confines of the classroom. 'Learning in a multi-sensory environment helps children remember the skills they are being taught,' says Lucy Ross. The beach provides learning opportunities across the curriculum: 'In science, when studying animals adapting to their environment, the beach provides the perfect place to analyse the birds or sea life. For geography, Bede's fortnightly Beach School gives the pupils the opportunity to study physical geography, carrying out fieldwork when looking at coastal erosion and increasing sea levels. Even within art and design, the seashore becomes our pupils' inspiration. Especially for young children, discovering new sights, sounds and textures in a stimulating new environment encourages their imagination and curiosity. Even our littlest Bedians, our nursery pupils, enjoy daily beach buggy walks, whatever the weather.'

At Brighton College, the Beach School initiative forms part of the curriculum from nursery up to Year 8 and as the children progress through the year groups they participate in their annual 'Make a Difference Day', taking part in beach cleans helping the local community. With kindness being one of the school's core values, nursery pupils create 'Kindness Rocks,' where they paint inspirational messages on pebbles, leaving them behind for others to find. 'To enhance their learning, children collect natural objects from the beach, observe their textures through a magnifying glass and make observational drawings of their discoveries. Storytelling on the beach enables pupils to practice active listening, helping to build focus and attentiveness, and learning is enhanced through team-building exercises such as beach scavenger hunts and stimulating group activities, fostering friendships through discovery and imagination. Our specialist teachers provide an emotionally safe environment for children to explore whilst promoting the importance of staying safe by the coast,' Symes explains.
In today's world, children are often wrapped up in cotton wool and not afforded the freedom to explore or test their physical boundaries. This is where Beach School can help. At Prebendal, Napier says that their ethos is to say to the children, 'This is your space. This is your freedom.' There are no walls for children to bounce off and the barriers are taken away. She explains that the children are encouraged to work out risks safely for themselves, building their resilience and independence. 'They will say 'can we jump off the dunes?' Napier says. 'I'll say, 'well how could we do that safely?' and we'll talk it through.' There's no such thing as bad weather and Napier mentions that they've even been on the beach in the snow. She highlights how the children love being able to be tactile with their environment and seeing how they flourish. 'It's about respecting our environment, respecting our space, our community, learning about the planet. They learn about the moon and the tides and it's so much more than me just sharing information with them and then us talking about it. It's transformational.'
At St Peter's, the Beach School concept comes into play across several sites as the children progress through the school. In Year 4, a trip to Seaton takes place to integrate with their unit on electricity, Year 5 spend their afternoon 'golden time' at their own Beach School, where they learn to be responsible guardians of the coastline and learn about beach safety, and pupils in Year 8 get to challenge themselves in the surf at a weekend residential at Sennen in Cornwall. There's also the opportunity to learn how to sail in the summer term.
'Returning to Beach School throughout the St. Peter's journey gives all our children the opportunity to enjoy an added dimension to their learning, as well as a myriad of physical and mental benefits,' says Jupp.
It's clear that the beach serves as a wonderful extra classroom for these schools, playing a vital formative role in the learning and the wellbeing of their pupils. I'm sure they would agree with Jacques Cousteau's view that, 'The sea, once it casts its spell, holds one in its net of wonder forever.' How lucky they are.
See the school's online listings here: St Peter's Prep, Bede's Prep School