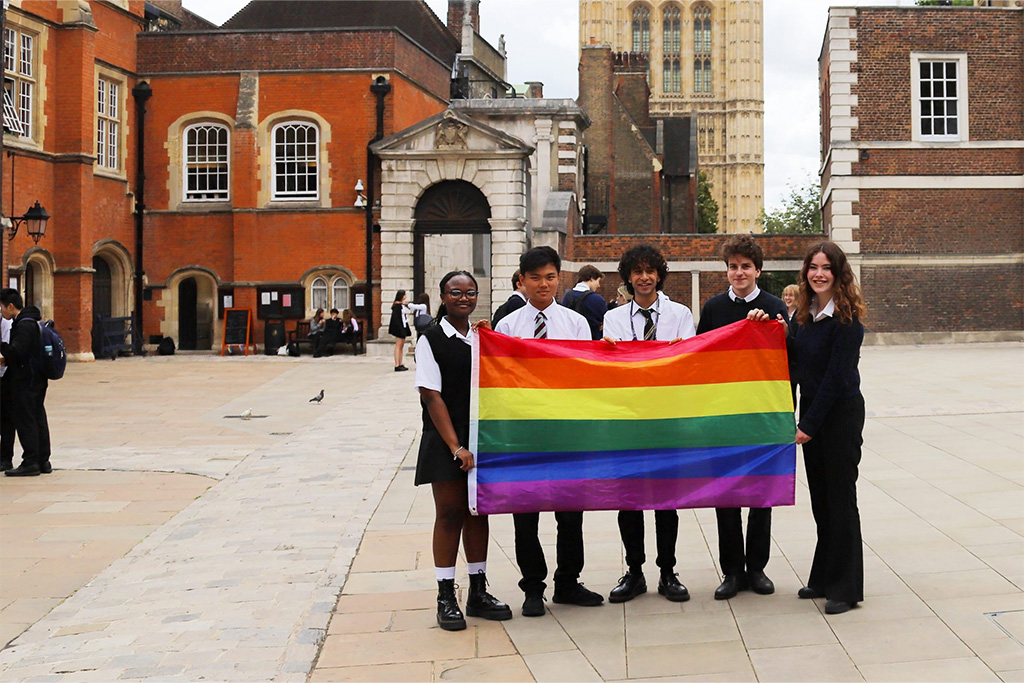 Westminster School's Pride
Westminster School's Pride Society celebrated the 50th Anniversary of Pride Month and LGBTQIA+ communities all around the world in June.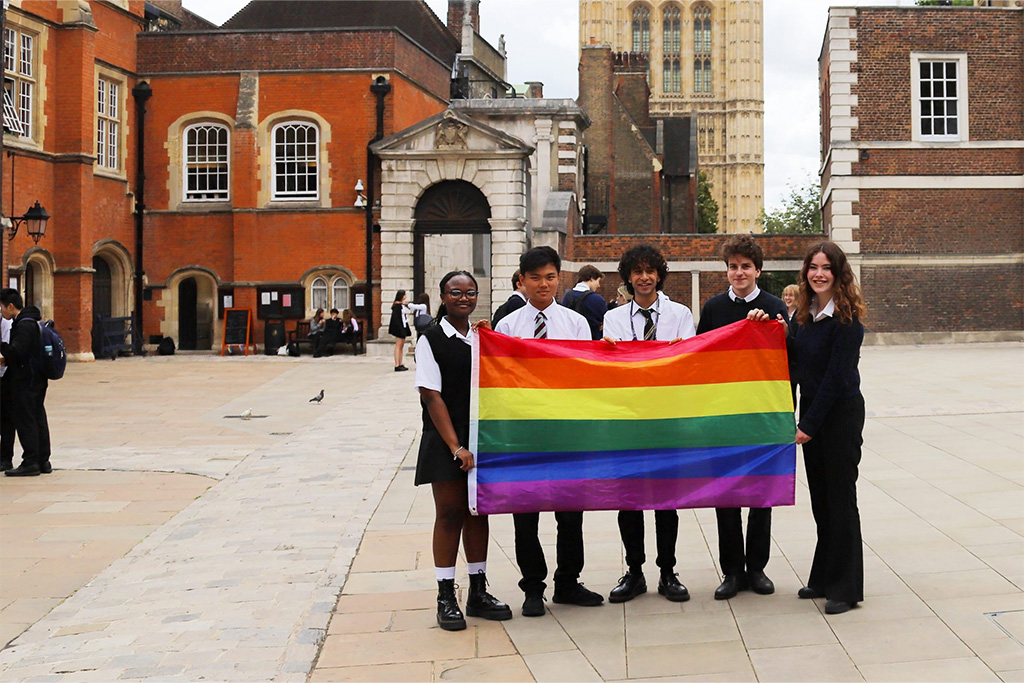 As we approach the end of Pride Month, which has been celebrated across the School throughout June, we asked the Society's incoming committee members about their thoughts on Pride Month and their plans for Pride Soc for the coming year.
As a committee, Manon (Sixth Form, HH), Kelvin (Sixth Form, GG), Kadijah (Sixth Form, AHH), Joseph (Sixth Form, CC) and Zain (Upper Shell, LL) answered our questions:
Q. What does it mean to be part of the new Pride Soc committee?
Being part of Pride Soc is a lovely opportunity to have an environment in School with people who are part of the LGBTQIA+ community and those who may not be. As well as learning queer history and educating pupils and staff including ourselves, there's a pastoral aspect that's unique to Pride Soc. We hope to create a safe space and support system within the Westminster community.
Q. What does it mean to celebrate Pride Month?
Pride Month was started to honour the 1969 Stonewall Uprising in Manhattan, which was a tipping point for Gay Pride in the USA. Now, we use it to shine a light on LGBTQIA+ stories and celebrate the community. At Westminster, it is important to celebrate Pride Month as it shows people they are not alone and are supported by the school community, helping to continue to improve the School's culture. However, it is important to recognise that celebrating Pride cannot be confined to the month of June. Instead, Pride must upheld by everyone, all year round. Pride Month should be a culmination of a continuous culture of inclusivity and celebration of LGBTQIA+ people and stories.
Q. How do you see your role in making an impact in the school community?
Pride Soc can and should have a real positive impact for the school community – as much as we want to see Westminster as an accepting environment, it does not always feel that way, especially for queer pupils in the younger years. The role of Pride Soc in part must be to make queer people visible and to show anyone struggling with their sexuality or gender that things do get better and to provide a safe space for the discussion and celebration of queer issues. As members of Pride Soc we, therefore, have a role in making sure that Westminster is as safe and accepting an environment as possible for all people, as well as in celebrating queer experiences, culture and history.
Q. What is your favourite thing about Westminster School?
My favourite thing about Westminster School is the respect people have for each other. This goes beyond simply respecting each other's identities and backgrounds, which is unfortunately still a luxury for many. In a competitive environment both academically and outside of the curriculum, opinions and ideas often conflict and the mutual respect between two sides often allows for healthy debate and conversation. This in turn helps individuals and communities to excel.
See Westminster School's online listing here.