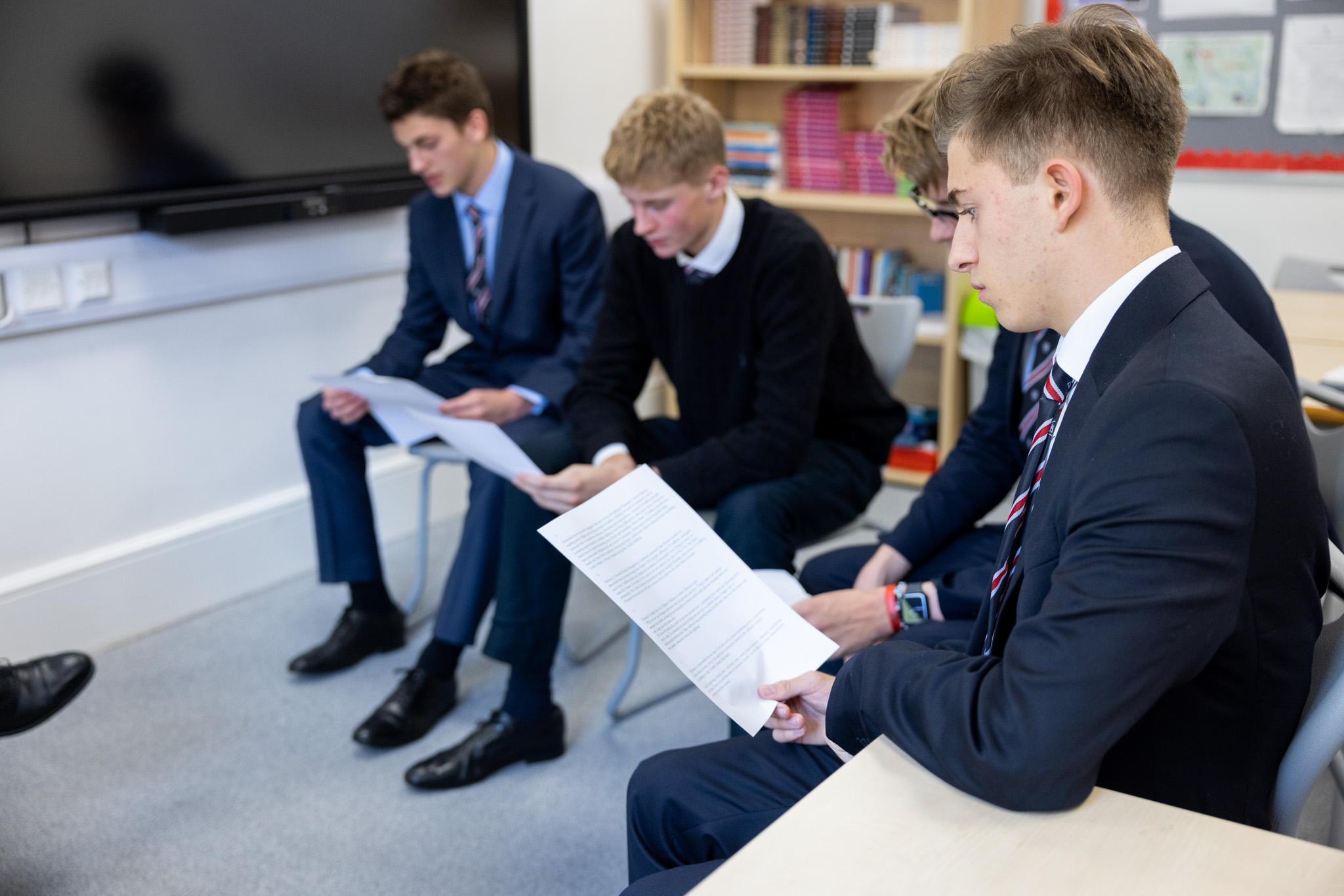 Wetherby Senior Students Prepare for University
As applying to top universities becomes more competitive, Wetherby Senior's unique team of university advisors are providing bespoke advice much earlier than most schools.
Starting from Year 11, every Wetherby Senior pupil is assigned a member of the School's specialist university advisor team. These advisors work closely with each boy, exploring their strengths and interests as they work towards their higher education goals. The advisors remain academically ambitious, looking to maximise the future success of every pupil with personalised guidance on courses, universities, and additional tests or work needed to support college applications.
Mr Silvester, Wetherby Senior's Headmaster, said: 'By starting so early, our advisors get to know our pupils really well, building excellent relationships and offering a truly bespoke service. All have extensive experience of supporting young people, and our fantastic results speak for themselves – 87% of our sixth formers secured their first-choice university in 2022, and 97% their first- or second-choice. Of those staying in the UK, 76% joined Russell Group universities but, as 47% of that cohort applied to study abroad, we now have even more Wetherby Senior alumni at top colleges in North America and across continental Europe.'
Mrs Deedat, Head of Sixth Form, explains: 'Our team have developed strong expertise in supporting multiple applications to universities across the UK, continental Europe, and North America. Although it is only early January 2023, Wetherby Senior already has four sixth formers holding offers to study in the USA next autumn, including an Ivy League institution, two to NYU Stern and one to Notre Dame Mendoza, with other boys still waiting to hear about the progress of their applications. We also have five sixth formers who recently interviewed at Cambridge or Oxford, so expect their outcomes in the next few months.
'I'm proud that, in the last three years, our sixth formers have received over forty offers to study in the USA and Canada. This includes, from our Class of 22, nine alumni joining a US college (including our first Ivy League institution), five at universities in Canada (including one awarded a prestigious McGill University scholarship), and four studying in Spain, Italy or The Netherlands.'
Since applying to a North American college differs dramatically to the UK's UCAS system, Wetherby Senior employs two US Advisors to support applications to the USA or Canada. These experts are from UES Education, specialists in US college applications. They provide one-to-one guidance on the North American admissions process, plus weekly group sessions on preparing application essays.
Current Year 13, Stepan, has been accepted to read economics at the prestigious NYU Stern. He said: 'Wetherby Senior staff have been incredibly supportive, particularly when I was preparing my application. Our US Studies Advisors met me weekly to offer advice and guidance. It is always helpful to have someone to talk to, but their specialist knowledge and expertise was invaluable.'
Mrs Deedat added: 'Study abroad remains hugely popular, with our boys recognising this wonderful chance to enjoy a different culture and way of life first-hand. This means representatives from UK, European and North American institutions are frequent visitors to our Marylebone home, and our university fair each spring provides a valuable opportunity for boys to talk with staff from institutions across the UK and beyond.
'We hold a US University Forum every autumn, and run a diverse annual programme of talks, workshops, and events. This includes twilight seminars to our parents on university options, workshops with our sixth formers on North American admissions and on applying through UCAS, and talks by university representatives. We also take our young people to visit UK universities, so they can see what undergraduate life is like.'
Mr Silvester said: 'I'm delighted that we have such brilliant team of university advisors available at Wetherby Senior. Our School's bespoke advice and guidance supports our current pupils in achieving their university ambitions, so they can join Wetherby Senior alumni at top institutions around the UK, across Europe and in North America.'
See Wetherby Senior's online listing here.