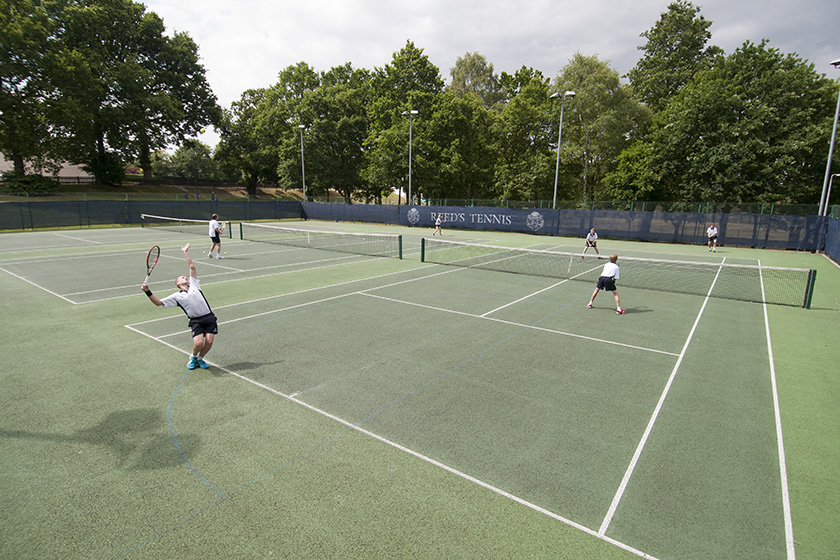 Wimbledon 2017: Best Schools for Tennis
Tennis, anyone?
Now Wimbledon is in full swing, it's time to celebrate the independent schools that are ahead of the game when it comes to tennis. 
From tennis domes (for more inclement spells of weather) to coaching backed by Judy Murray, budding tennis pros couldn't be better served than in these independent schools.
Queenswood School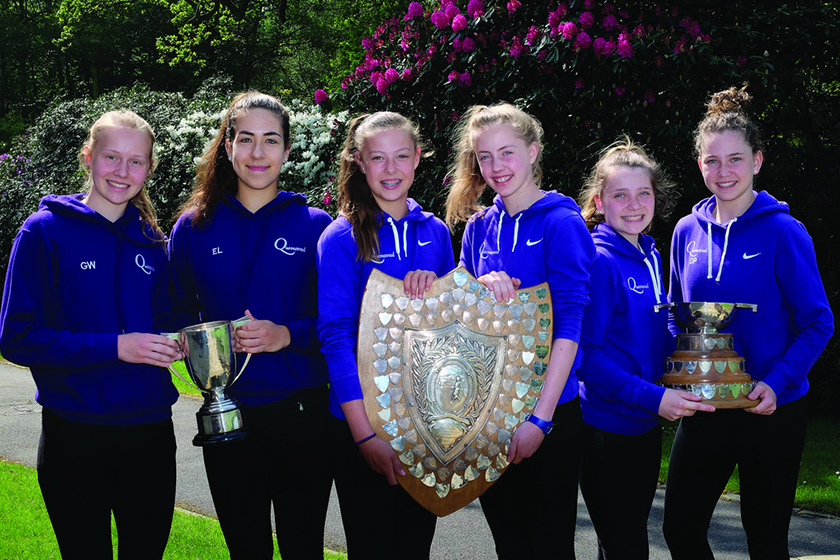 Queenswood School has one of the largest tennis centres of its kind in the country. With a total of 27 courts – two indoor, 13 artificial grass and 12 American 'fast-dry' green clay courts, it's easy to see why the London girls' school attracts some of the best young players in Europe
'Tennis for All' is Queenswood's ethos and is backed up by the school's two-tier tennis scholarship programme. The school works with the Gosling Tennis Academy to train girls who show the potential to be ranked in the top five of their age group nationally, and works closely with the Lawn Tennis Association to identify talent.
Queenswood has consequently had many successes in senior and junior national leagues, county leagues and school competitions. The school has won every National Schools Aberdare Cup from 2011 to 2016, and in 2013, achieved the silver medal in the World Schools Tennis Competition in Australia.
Beyond the scholarship programme, every Queenswood girl has the opportunity to develop her skills and techniques. Their coaching programme caters for all needs, from those who want to just play for enjoyment to high performance players.
Reed's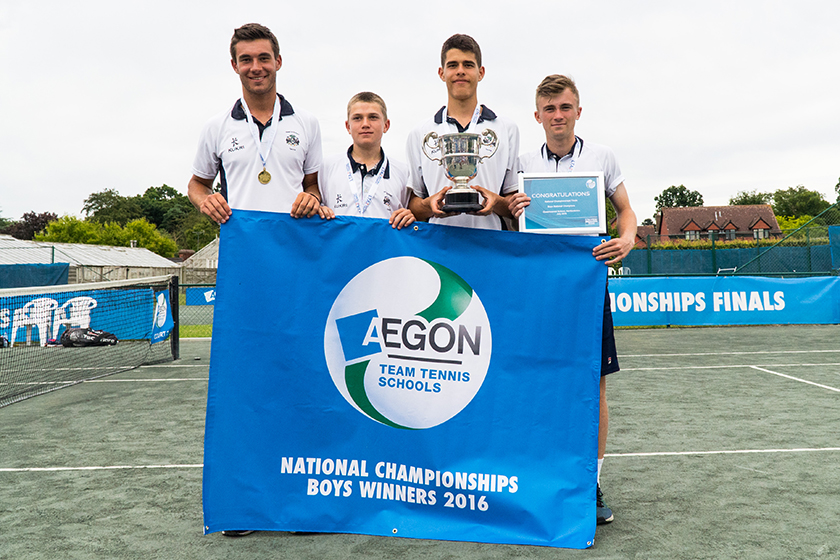 Reed's School, Cobham, alma mater of Tim Henman, has its very own tennis academy (RSTA) making it one of the country's premier tennis schools.
In the 1980s, The Slater Foundation financed the training and schooling of a number of British junior tennis players in partnership with the Surrey boys' school and David Lloyd. To this day, the school continues to produce some of England's most promising young tennis players.
The academy (which is supported by the Lawn Tennis Association) is the only school in the world to have won the World Schools' Championships three times. It also holds the record for having been national champions every year for the last ten years. No surprise then that players go on to compete in Junior Grand Slams and the Junior Davis Cup. Many too gain scholarships to elite american sporting universities, including Cornell, Yale and Berkeley.
Make no mistake, the assessment for a place in the RSTA has demanding entry requirements. Not only do the young players have to demonstrate that they have the physical and technical attributes, but they also need to show resilience and mental stamina to compete at the top level.
But despite the tough atmosphere there is a great support network. Coaches are experts in understanding the requirements of being a top international players, and boys have a full, individually assessed, strength and conditioning programme. Players attend pilates, mindfulness courses, track and field sessions and have access to first-class facilities, including outdoor courts and a fitness suite and an indoor tennis centre. Add to this an indoor tennis centre, boasting three additional courts inside, and it's game, set and match.
Millfield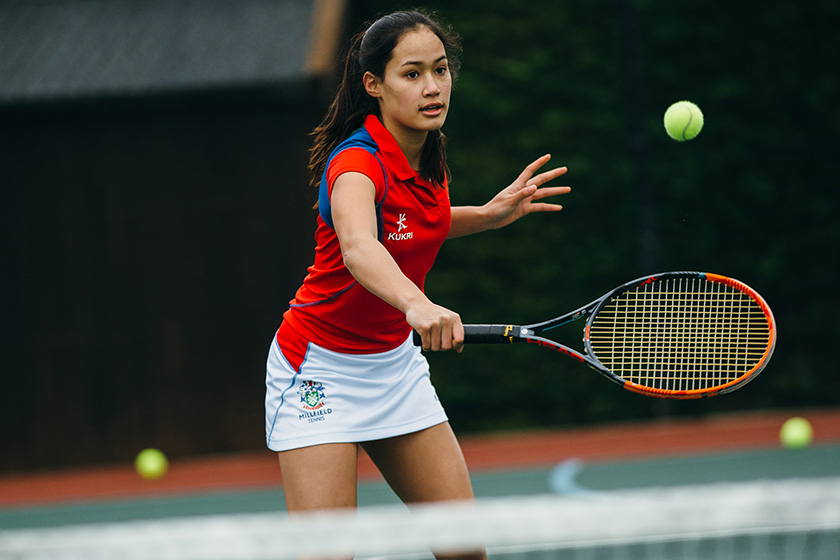 Millfield is renowned for its sporting offering, but that doesn't mean it ever takes its eye of the ball when it comes to the wider issues. Tennis pupils, coaches and staff members at Millfield are helping to improve girls' involvement in the sport by joining 'She Rallies', a grassroots initiative led by Judy Murray.
The mother of Wimbledon champion Andy Murray and former doubles world number 1 Jamie Murray has launched the campaign with the Lawn Tennis Association to empower and expand the number of women and girls coaching and playing tennis across the UK.
Sixteen girls and eight female staff members took part in one of the coaching sessions designed by Murray with Amanda Stonier, 'She Rallies' ambassador from the South West, to learn new skills and techniques to help maintain girls' engagement in the game. Meanwhile, 11 staff members are set to become 'activators' for the campaign, meaning they will be trained to use the skills they learned at the session in other sports and games lessons in the future.
Millfield's director of tennis Kate Warne-Holland said, 'As a school, we are committed to getting more girls involved in tennis to help close the gender gap, and buck the trend for girls to stop playing in their teenage years. It is an honour to be one of the first schools in the country to embrace "She Rallies" in our programme, and we were proud to have such a positive response from our girls after their session. The skills our coaches learned will become a fundamental part of games tennis and other sports in the school.'
Stonyhurst College

British summer time can be unpredictable to say the least – as any Wimbledon spectator knows all too well – which is why Stonyhurst College invested a cool £580,000 in its new weather-protected tennis facility.
The 1,375 sq meter air dome, titled The Glassbrook Dome took two months to build before being officially opened by four-time Wimbledon semi-finalist Tim Henman last spring. It's already had a big impact at the school, as director of tennis JJ. Garcia Comez explains, 'now, Stonyhurst and St Mary's Hall doesn't have to push tennis only in the summer term, and we can offer a decent amount of tennis to our pupils year-round.'
That said, he is certainly aware of the spike in popularity that the sport receives in the summer, thanks to Wimbledon. 'Those two weeks are a fantastic way for Great Britain to show off. Even being a child back in Spain in the early 80's, when the media was not as global as it is now, I was aware of how big Wimbledon was.'
St Francis' College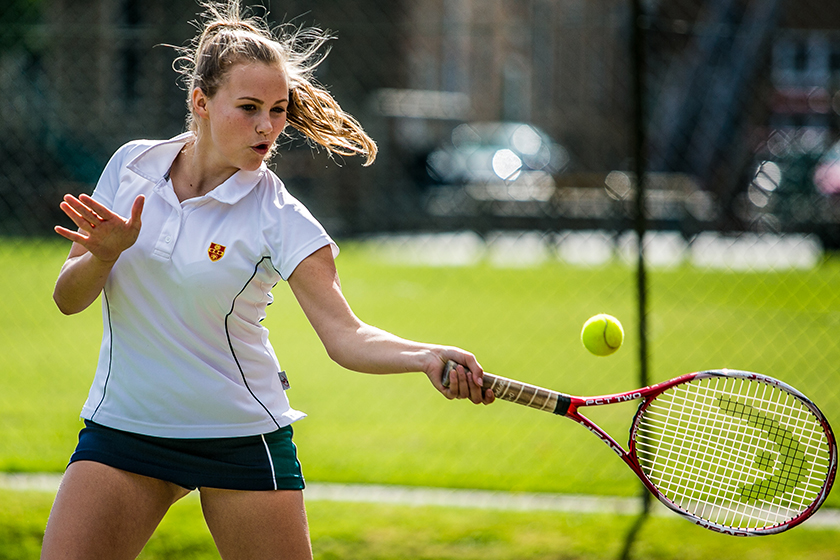 Girls at St Francis' College needn't be concerned about rain stopping play at their holiday training camp. That's because it's located at the Soller Tennis Club in sunny Mallorca, making it a very popular bi-annual tour indeed.
Back on home turf, the Hertfordshire college benefits from five outdoor courts and links with the local Letchworth Tennis Club, which boasts three indoor tennis courts, eight floodlit outdoor courts and four mini tennis courts, with private individual and group lessons offered to budding players. The college is also in a very fortunate position to have invited back two past pupils who are inspiring role models within the sport. The Watts twins, Sophie and Annie have now returned to the UK after completing their university studies in the USA on tennis scholarships. They have been busy helping to coach KS3 pupils and providing masterclasses to tennis players after school.
The college is keen to compete too, taking part in the local league 'Nicola Mabbitt Trophy', the Team Tennis Schools Singles and Doubles competition run by the Tennis Foundation and the AEGON County Schools Championships. And they return with the trophies: U13, U14 and U15 teams all recently won their local district league.
Bonus: Real Tennis
Canford, Radley, Clifton and The Oratory School, Berkshire have their own real tennis courts and others, including Warwick School, Dulwich, Sherborne and Eton, offer it as an option. Like rackets, its quirkiness and perceived exclusivity can bring career benefits.
'It definitely helps your CV,' admits former Oratory sports director Steve Tomlinson, a real tennis professional who mentored the Earl of Wessex. 'Many well-connected people in the city and the professions play it. It's a complex sport and the kids who play are often slightly eccentric with plenty of oomph. We play matches against senior sides from Lord's and Queen's Club; the kids meet their adult opponents in a relaxed atmosphere. Sometimes seniors say, "What are you doing when you leave school? Why not give us a ring".'