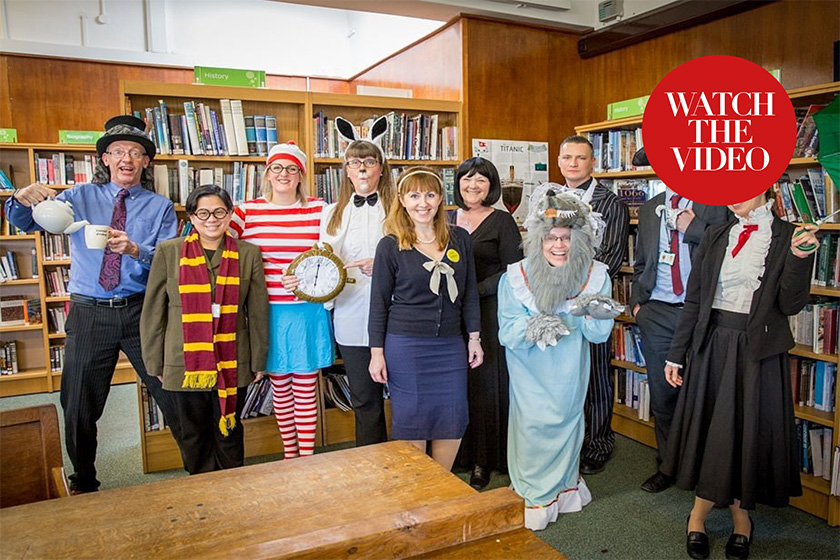 World Book Day 2017: How the Schools Celebrated
A round up of all the best costumes, guests and, of course, the books!
Here at School House, we celebrated World Book Day in various ways. Tom Palmer shared his top tips for getting reluctant readers to pick up a book, we looked ahead to ask what's next for children's literature in the digital age, and asked Peggy Travers, a librarian with 20 years experience, provide her top 20 favourite children's books from around the world.
But our favourite part of World Book Day is seeing all the events going on at schools around the country. So here is the Best of World Book Day…
Cooking up a storm at Cranleigh
Cranleigh Prep celebrated non-fiction books, with a particular focus on cookery and food. Celebrity chef and presenter, Gino d'Acampo, Seni Glaister and Kathryn Mills were guests of honour. Watch the video below for highlights…
Guess who at St Benedict's
Leading by example, the staff at St Benedict's School in Ealing were not to be outdone by the pupils, turning up to school in a wonderful array of costumes.
Guess who ? Group shot Staff book characters for #WBD2017 #WorldBookDay #stbenedictsschool #bennieslibrarywbd #schoollibraries #books pic.twitter.com/PK1pPUDC0T

— St Benedicts Library (@BenniesLibrary) March 5, 2017
Three little pigs
There were lots of classic book characters cropping up at schools for World Book Day. At St Catherine's Bramley, the three little pigs cosied up to the big bad wolf.
The Three Little Pigs relaxing in the library with the big bad wolf #WorldBookDay pic.twitter.com/Mv4LLd2Gbm

— St Cats Bramley (@stcatsbramley) March 2, 2017
Windy reading at Windlesham
Windlesham House School took reading to new heights and extremes be entering pupils into the World Book Day Extreme Reading Competition.
Well done to our winner of the @WindleshamTweet World Book Day Extreme Reading Competition – amazing photo! #WorldBookDay pic.twitter.com/REyvP4ERzV

— Windlesham House (@WindleshamTweet) March 7, 2017
We're going on a book hunt….
St Edmund's School Canterbury had to go the extra mile to obtain their reading material for this year's World Book Day, following a trail set by English teacher Mr Dawson.
Enthusiastic Year 9 pupils solving clues on Mr Dawson's Book Hunt #WorldBookDay pic.twitter.com/JlHjfJBUEu

— St Edmund's School (@StEdsCanterbury) March 2, 2017