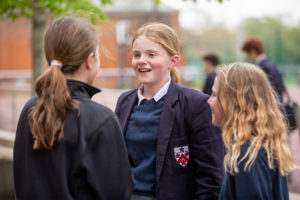 Address: Townley Road, Dulwich, London SE22 8SU
Website: www.alleyns.org.uk
Founded: 1619
Number of pupils: 1143
Ages: 11-18
Fees: £25,020
Head Teacher: Mrs Jane Lunnon
Religious Affiliation: Alleyn's is a Church of England Foundation that warmly welcomes children from all backgrounds, whatever their faith position.
Entrance Procedure:

Pupils must register for entry, pass an entrance exam and interview and obtain positive references.
Contact: Louise Mawer (Registrar)
The Curriculum
At Alleyn's, our curriculum is designed to equip our students with an excellent academic education alongside the knowledge, skills and character they need to flourish in the wider world, both now and in the future.
Games and The Arts
We have thriving programmes for sports, DofE, CCF, volunteering, and all the arts. Every day there are opportunities to learn, achieve and excel, whether a pupil chooses to get stuck into art. drama, dance, music, sports – or all of them!
Pastoral Care
Safeguarding and well-being are at the heart of the Alleyn's experience everyday and we promote an environment in which any concern about a child can be given immediate consideration. We believe that proactive pastoral care is what works; keeping our pupils busy, informing them, engaging them on issues, and equipping them with the skills to talk things through and be part of the solution.
University Places
Our leavers go to Oxbridge, Russell Group and other prestigious universities in the UK and around the world.
Head Teacher's Philosophy
Outstanding Characteristics
Alleyn's is where 400 years of heritage, tradition and resourcefulness meet the liberal, exciting energy of southeast London – it is dynamic, enterprising, creative, and full of fun! We focus on character and Alleyn's ROCCK (Respect, Opportunity, Curiosity, Courage and Kindness) values are central to supporting young people so they can go on to positively impact the world around them.
---
---