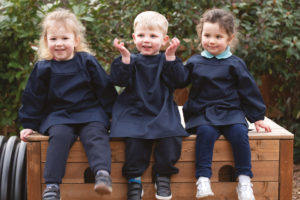 Address: 192 Ramsden Road, SW12 8RQ and 50 Nightingale Lane, SW12 8TE
Website: broomwood.com
Founded: 1984
Number of Pupils: 200
Ages: 3-7
Fees: £6,600 per term
Head Teacher: Mrs Caron Mackay; Group Principal: Kevin Doble
Religious Affiliation: Church of England – but all welcome
Entrance Procedure: Little Broomwood (pre-school) register from 12 months, Reception random ballot 18 months pre-entry
Contact: The Admissions Team, 020 8682 8830
Email: [email protected]
School Visits: Open Morning 7 October 2023. Also hold regular Friday tours. Book in advance. 
The Curriculum
Broad and innovative and designed to provide a strong foundation in the basics. Specialist teaching in arts, sports, music, and French from the start. Strong emphasis on Maths Mastery, the 'big write' and thematic learning. 'Learning Powers' of Confidence, Resilience, Communication, Curiosity, and Independence embedded in all we offer.
Games & the Arts
Emphasis on building confidence, improving skills, and having fun! Five periods of PE and Games a week. Weekly art, drama, and music. A multitude of clubs including karate, coding, art and cookery and more. Every child takes part in one major drama/music production
a year.
Pastoral Care
Happiness is central to our offer, and we are proud to offer outstanding pastoral care. The school is split between two buildings, a short walk from one another. Each site is small enough for children to be well-known to all staff. We have a strong pastoral team including learning support, a full-time nurse and qualified school counsellor.
Moving On
Automatic entry – providing it is right for the child – to Broomwood Prep – Girls or Broomwood Prep – Boys.
Head Teacher's Philosophy
Happiness and wellbeing go hand in hand with ambitious academic standards. Teaching is tailored to the needs of each child to deliver an outstanding education that excites, stimulates and nurtures in equal measure and leaves them brimming with confidence, ready for the next stage.
Outstanding Characteristics
Latest Independent Schools Inspection, 'Excellent in all areas'. Children at Little Broomwood (aged 3-4) enjoy a stimulating education with indoor and outdoor classrooms, before moving seamlessly into Pre-Prep. Pupils join with older boys and girls at Broomwood Prep for some activities and share in the expertise of teaching staff and facilities. A happy childhood, outstanding results. 
---
---