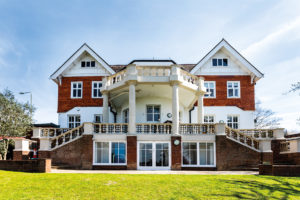 Address: North End Road, London, NW11 7SX
Website: www.ivyhouseschool.co.uk
Founded: 2016, as St Anthony's School for Girls
Number of pupils: 100 – Boys and Girls
Ages: 2.5-11
Fees: (per term) Reception – Year 6: £ 7,060 ; Nursery – from £3,220
Head Teacher: Mr Donal Brennan
Religious Affiliation: Non-denominational
Entrance Procedure: Children may join the Nursery after their second birthday and stay on from Reception to Year 6. Other entry points are at Reception (4+) and Year 3 (7+). Children will take an age appropriate assessment and meet the Head and key staff.
Contact: Margaret Vaughan
Email: [email protected]
The Curriculum
Our curriculum is tailored to the needs of the pupil and combines traditional methods with current pedagogical research. Our individualised learning programme prepares pupils for entry into the finest senior schools in London and beyond. A state of the art science lab and multi-purpose dining hall strengthen our provision. Pupils are taught by specialist teachers for IT, music, sport and languages.
Games & the Arts
Through curriculum sport lessons, our pupils learn to set targets for themselves; and compete against others, individually and as team members. The sporting activities available vary as the children move through the school and will include athletics, swimming, gymnastics, dance and team games such as football, netball, rounders, tennis, hockey and touch rugby.
Pastoral Care
Ivy House School equips each pupil with the academic ability, social awareness, confidence and self-motivation required for a natural transition to senior school. Ivy House School pupils are encouraged to contribute to the wider life of the school by participating in the School Council and our various charity committees. The older pupils support our newer recruits, helping them to settle into and enjoy the routines of school life.
Recent Scholarships
Academic scholarships at Channing, Francis Holland, Mill Hill, Queen's College, Dwight International School. Music scholarships at Queen's College.
Head Teachers' Philosophy
Exploring a pupil's natural gifts, in addition to covering the core subjects such as English, mathematics and science, encourages individual learning, motivating each child to continue with that learning throughout their life, becoming a curious and confident learner for life. 
Outstanding Characteristics
A happy, calm and purposeful school, where pupils are supported and challenged to achieve academic and personal success through individual attention to their academic and pastoral needs. Immersed in the green spaces of Golders Hill Park, Ivy House School enjoys excellent facilities inside and outside of
the classrooms.
---
---