Ravenscourt Park Prep School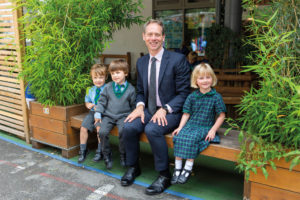 Address: 16 Ravenscourt Avenue, London W6 0SL
Website: www.rpps.co.uk
Founded: 1991
Number of Pupils: 420 (210 boys, 210 girls)
Ages: 4–11
Fees: (termly) £6,632 for all ages
Head Teacher: Carl Howes MA (Cantab) PGCE
Religious Affiliation: Non-denominational
Entrance Procedure: Register from birth. Entry by ballot; priority given to siblings. Non-selective
Contact: Charlie Hayden, 020 8846 9153
Email: [email protected]
School Visits: By appointment or Open Event: www.rpps.co.uk/admissions/open-mornings
The Curriculum
Our curriculum far exceeds the national average in both breadth and depth and has been carefully crafted to enable each child to fulfil their individual potential.
Games & The Arts
We offer a plethora of opportunities for our pupils to immerse themselves in music, arts and sport. Our pupils participate in competitive sporting fixtures, perform in regular concerts, or learn an instrument. Pupils frequently take part in external competitions.
Pastoral Care
The pastoral care and well-being of our children is paramount. Our 'Open Door' policy reflects a genuine partnership between teachers and parents – the family atmosphere is noticeable when you visit. The behaviour we encourage and expect from our children is based on a whole-school ethos of respect and tolerance. All children subscribe to the RPPS Code of Conduct which emphasises the importance of good manners and treating others with kindness.
Recent Scholarships
Francis Holland, Notting Hill & Ealing, Hampton, Latymer, University College School, Ibstock Place, City of London, Queen's Gate, St Benedict's.
Head Teacher's Philosophy
At RPPS, laughter and learning go hand in hand and we ensure that the years with us are happy, successful and fulfilling for each and every child. Our pupils engage in the excitement of learning and develop the confidence to question, analyse and express their opinions.
Outstanding Characteristics
RPPS is a thriving school, situated on Ravenscourt Park. We pride ourselves on our excellent pastoral care and believe that learning should be limitless. All our children from Year 3 to Year 6 take part in residential weeks which help to develop teamwork, resilience and perseverance. Following an inspection in November 2021 by the Independent Schools Inspectorate, the judges rated RPPS 'excellent' in both key outcomes.
---
---